MODERASI BERAGAMA DAN KEARIFAN LOKAL: MENUMBUHKAN JIWA MODERASI BERAGAMA MELALUI NILAI MODERASI DALAM SELOKO ADAT JAMBI
Keywords:
Local Wisdom; Religious Moderation ; Seloko Adat
Abstract
Moderation and local wisdom are actually two important parts of religious life and cultural customs. Both of them began to be fragile and faded in the era of globalization and modernization. Globalization and modernization on the one hand have a negative impact on national unity that is intact in differences and the existence of the spirit of religious moderation and local wisdom which is part of culture. So that it can lead to sources of division in the form of actions or attitudes that are intolerant, exclusive, extreme, radicalism, crime, and liberalism. In addition, Indonesia is a country that is rich in local wisdom. Through local wisdom that exists in each region, it can be used as a formulation in strengthening religious moderation and local wisdom. Therefore, if one of them is then both sides can respect the moderation of religion and local wisdom. Cultivating the spirit of religious moderation through the values ​​of moderation contained in the Jambi traditional seloko is a powerful formula that can simultaneously foster the spirit of moderation in Jambi. In analyzing this, this research uses a descriptive qualitative approach through literature study. The results of the implementation of this study indicate that in Jambi local wisdom in the form of traditional seloko there are moderating values ​​in the form of fellowship and nature contained in seloko take seeds, measles is sarap and seloko is a little bit of washing, many become enemies and leadership values ​​contained in seloko step up, down betanggo. In the end, this paper offers a solution to implement the values ​​of moderation contained in traditional seloko to foster a spirit of religious moderation through education, religious moderation workshops, competitions and festivals, and publications in scientific journals and social media.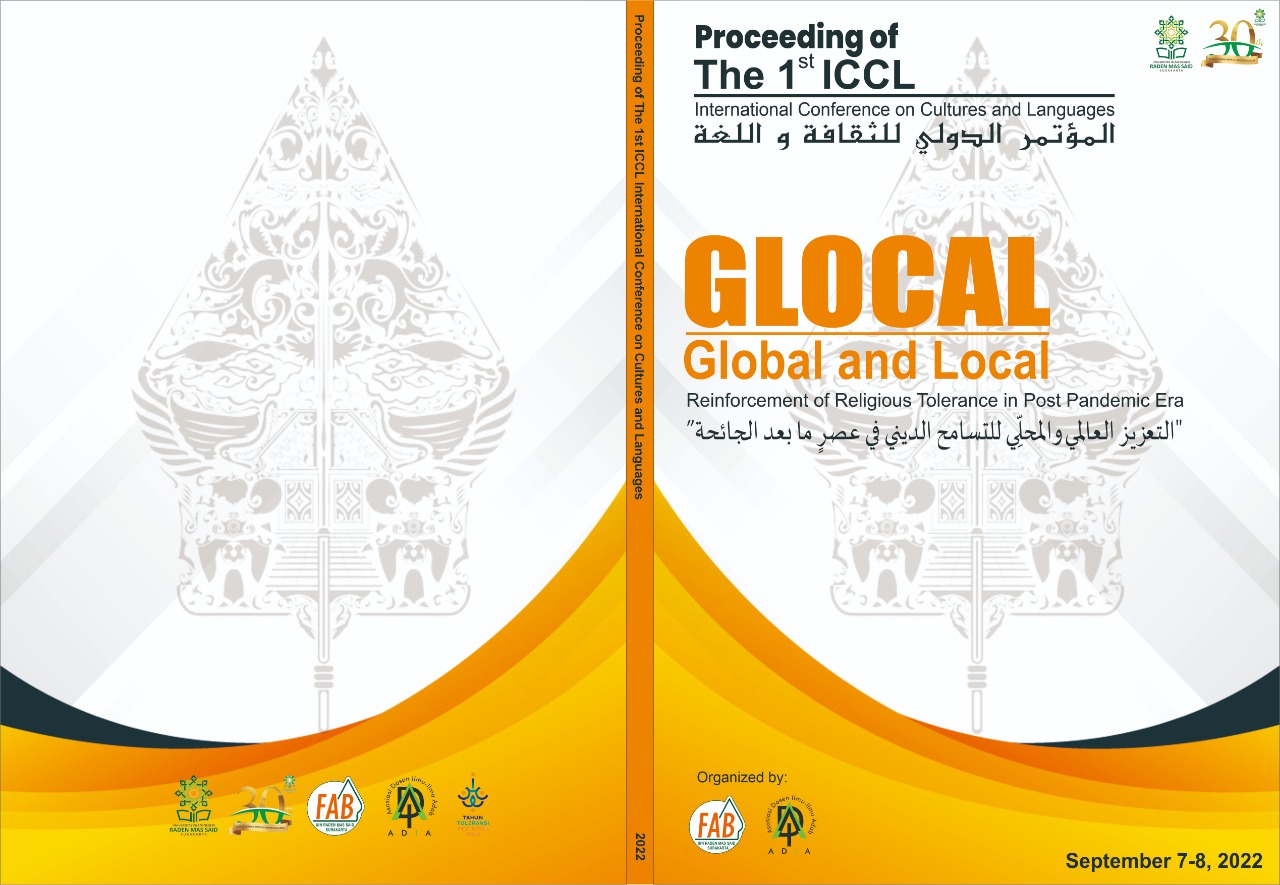 Downloads
How to Cite
Andika, A., & Yunus, E. M. . (2022). MODERASI BERAGAMA DAN KEARIFAN LOKAL: MENUMBUHKAN JIWA MODERASI BERAGAMA MELALUI NILAI MODERASI DALAM SELOKO ADAT JAMBI. International Conference on Cultures & Languages (ICCL), 1(1), 42–57. Retrieved from https://ejournal.uinsaid.ac.id/index.php/iccl/article/view/5756