Efforts to Eradicate Illegal Cigarettes Through Puppet Play Performance "Pandawa Rise" as a Form of Religious Moderation in Welcoming the Islamic New Year 1 Muharram 1444 H in Cepogo District, Boyolali Regency
Keywords:
illegal cigarettes, wayang performances, Pandawa Rising, religious moderation, Islamic new year
Abstract
The spread of illegal cigarettes is a case that harms many parties, because there are no customs levies in it. The sale of illegal cigarettes in Cepogo District, Boyolali district needs to be eradicated. People who are not aware of customs, of course prefer to buy cheap cigarettes with the same taste. The approach and explanation of this is done through socialization which is wrapped in wayang kulit performances. This paper aims to explain the government's efforts to eradicate the spread of illegal cigarettes through  puppets performances with the play "Pandawa Rise" as a form of religious moderation in welcoming the Islamic New Year 1 Muharram 1444 H in Cepogo sub-district, Boyolali district. This type of research is a qualitative descriptive research, with data sources are interviews, observations and documentation. Interviews were conducted with the Cepogo sub-district government, the puppeteer, the people who enjoy wayang / who attend the performance and the general public in Cepogo District. The data validation technique uses triangulation of theories and methods, while the qualitative data analysis technique uses the Spardley model. The results of the study indicate that there are several principles of religious moderation that exist in the government's efforts to socialize the prohibition of the spread of illegal cigarettes. These principles include: (1) Tawassut (taking the middle way), (2) tawazun (balance), (3) I'tidal (straight and firm), (4) tasamuh (tolerance), (5) Musawah ( equality) between the local community and the government in enlivening the performance, (6) Ishlah reforming the way to approach the community, (7) tathawur wa ibtikar (dynamic and innovative) and 8) tahadhdhur (civilized). The results also show that the Pandawa Rising play is a depiction of the wrath of anger that will always lose to virtue. This is illustrated by the figure of sengkuni and his friends who want to burn the pandavas and their mother in the palace of wanabrata. The perpetrators of distributing illegal cigarettes are described as such figures because they are felt to be detrimental to many parties. Meanwhile the government, tax-abiding people, and people who don't want to consume cigarettes and try to eradicate them are described as pandavas. The socialization also conveys the existence of strict legal sanctions if there are people who intentionally sell and or buy illegal cigarettes.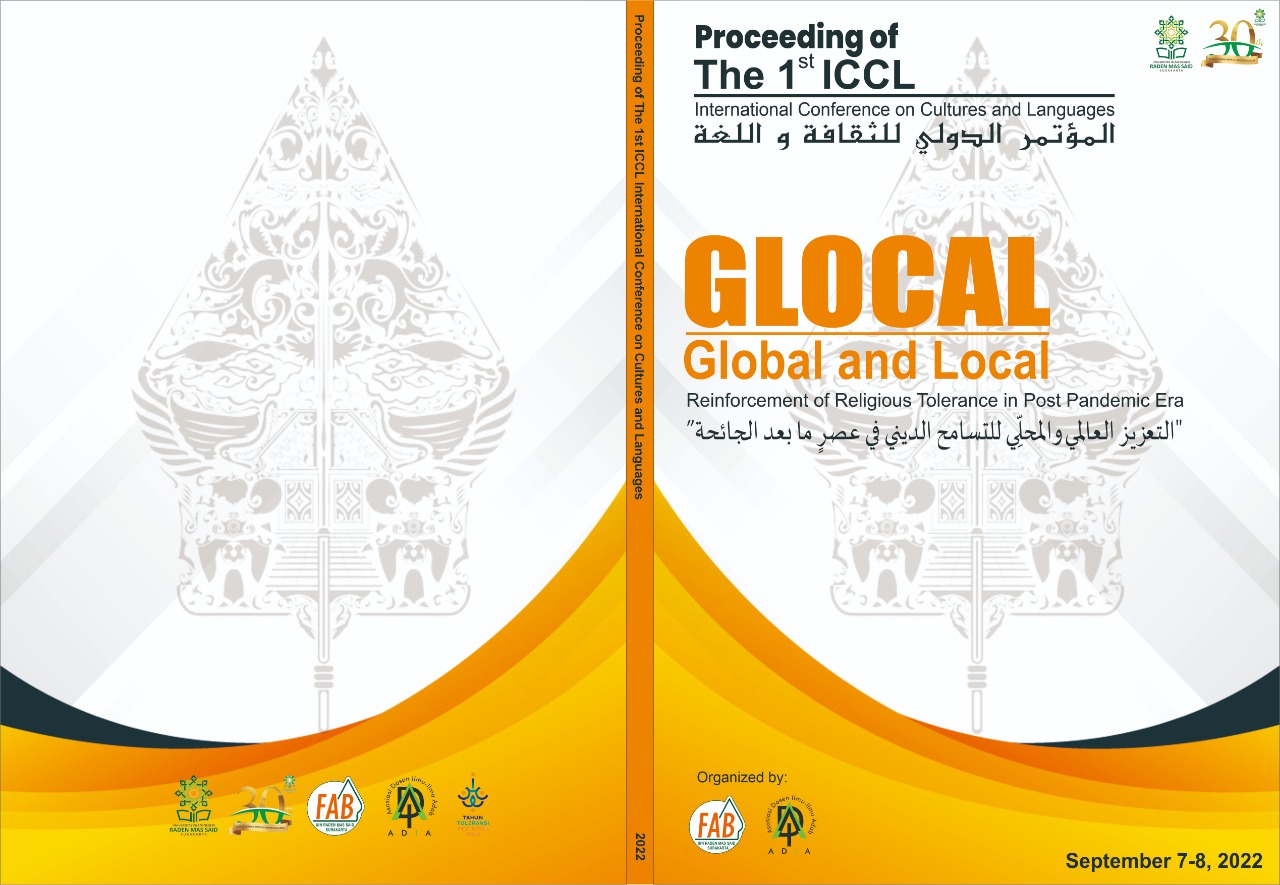 Downloads
How to Cite
Lestari, S. ., & Nuraini, A. . (2022). Efforts to Eradicate Illegal Cigarettes Through Puppet Play Performance "Pandawa Rise" as a Form of Religious Moderation in Welcoming the Islamic New Year 1 Muharram 1444 H in Cepogo District, Boyolali Regency. International Conference on Cultures & Languages (ICCL), 1(1), 611–624. Retrieved from https://ejournal.uinsaid.ac.id/index.php/iccl/article/view/5790