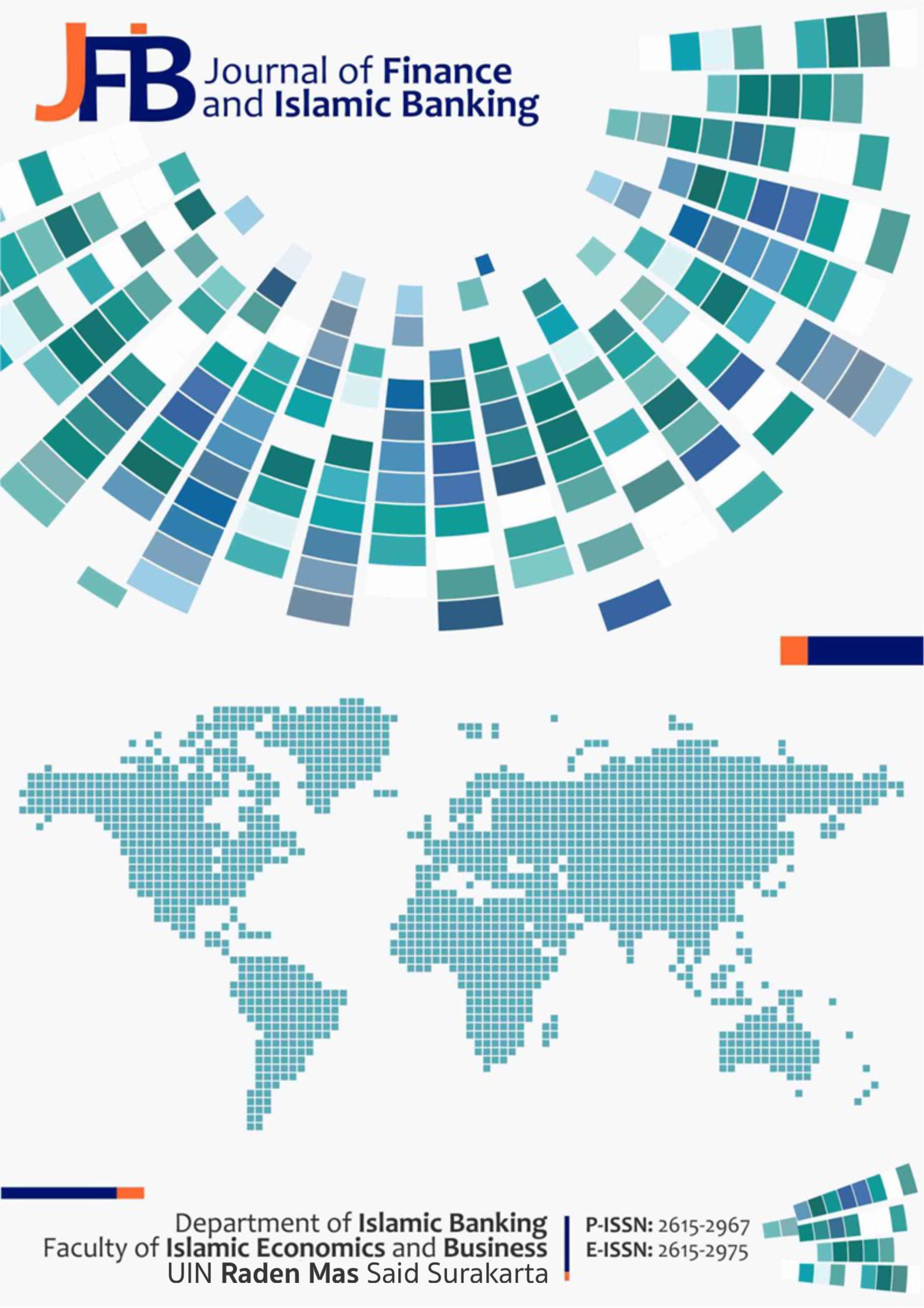 Pemilihan Alternatif Investasi Dana Haji dalam Mendorong Pertumbuhan Ekonomi: Pendekatan Analytic Network Process (ANP)
Declarations
Publisher's Note
Institut Agama Islam Negeri Surakarta remains neutral with regard to jurisdictional claims in published maps and institutional affiliations.
References
Abimanyu, Anggito,2018, Pengelolaan Keuangan Haji dan Program Investasi BPKH, "Seminar Nasional Pembiayaan Pembangunan Infastruktur Untuk Percepatan Pembangunan Ekonomi: Dana Haji Sebagai Salah Satu Sumber Pembiayaan Pembangunan Nasional", Aula DJPK, Kemenkeu, 9 Mei 2018, Jakarta.
Antonio, Muhammad Syafi,i, 2011, Economy of Hajj: The Neglected Fortune, Jaringan Pengusaha Muslim Indonesia, Jakarta.
Ascarya, 2005, "Analytic Network Process (ANP) Pendekatan Baru Studi Kualitatif". Makalah disampaikan pada Seminar Intern Program Magister Akuntansi Ekonomi di Universitas Trisakti, Jakarta
Azis, Iwan J (2003), "Analytic Network Process with Feedback Influence: A New Approach to Impact Study, mimeo, paper presented in a seminar organized by the Department of Urban and Regional Planning, University of Illinois, Urbana-Campaign.
Basyuni, M.Maftuh, 2004, Pokok-Pokok Perbaikan Pelaksanaan Haji Tahun 2005 dan Hubungan dengan Arab Saudi, disampaikan pada acara Lokakarya Nasional Penyelenggaraan Haji Tahun 2004, Mediacita, Jakarta.
Gozali, Ahmad, 2010, Keuangan Syari'ah, Halal, Berkah, Bertambah, Mengenal dan Memilih Produk Investasi Syariah, Elex Media Komputindo, Jakarta
Herlianto, Didit, 2013, Manajemen Investasi plus Jurus Mendeteksi Investasi Bodong, Goysen Publishing, Yogyakarta.
Karim, Adiwarman, 2017, Optimalisasi Pengelolaan Dana Haji untuk Kemaslahatan Umat, disampaikan pada Seminar Nasional Masyarakat Ekonomi Syariah, tanggal 29 November 2017, Jakarta.
Mankiw, N Gregory, 2006, Principles Of Economics, Pengantar Ekonomi Makro, Salemba Empat, Jakarta).
Manurung, Haymas Adler, 2003, Memahami Seluk Beluk Instrumen Investasi, PT. Adler Manurung Press, Jakarta.
Metwally, Teori dan Model ekonomi Islam, Bangkit Daya Insana, 1995, diterjemahkan oleh Husein Sawit, Bangklit Daya Insana, Jakarta.
Muhammad Nasib ar-Rifa'i, 1999, Tafsir Ibnu Katsir Ringkasan, kemudahan dari Allah, Penerjemah Syihabuddin, Gema Insani Press, Jakarta.
Peraturan Pemerintah Nomor 5 Tahun 2018 tentang Pelaksanaan Undang-Undang Nomor 34 Tahun 2014 tentang pengelolaan Keuangan Haji.
Rahardjo, M.Dawam, 2004, Pemberdayaan Ekonomi Umat Melalui Dana Haji: Perlu Dipikirkan "Tabung Haji Indonesia", disampaikan pada acara Lokakarya Nasional Penyelenggaraan Haji Tahun 2004, Mediacita Jakarta.
Saaty, Thomas L. (2001), "Decision Making with Dependence and Feedback: The Analytic Network Process", RWS Publication, Pittsburgh.
Sahroni, Oni, Investasi Dana Haji, Konsultasi Syariah, Republika, 6 Agustus 2018, Jakarta.
Tanjung, H., 2010, Hikmah Ibadah Haji Terhadap Ekonomi, Journal Ekonomi Islam Al-Infaq Program Studi Ekonomi Islam, Universitas Ibnu Khaldun, Bogor.
Undang-Undang Republik Indonesia Nomor 34 Tahun 2014 Tentang Pengelolaan Keuangan Haji.
Wibisono, Yusuf, Ekonomi Haji, Republika 14 September 2017, Jakarta.
Yusdianto, Sigit, Langkah Strategis Menuju Pertumbuhan Ekonomi yang Berkualitas, Komite Ekonomi dan Industri Nasional.
Bibliographic Information