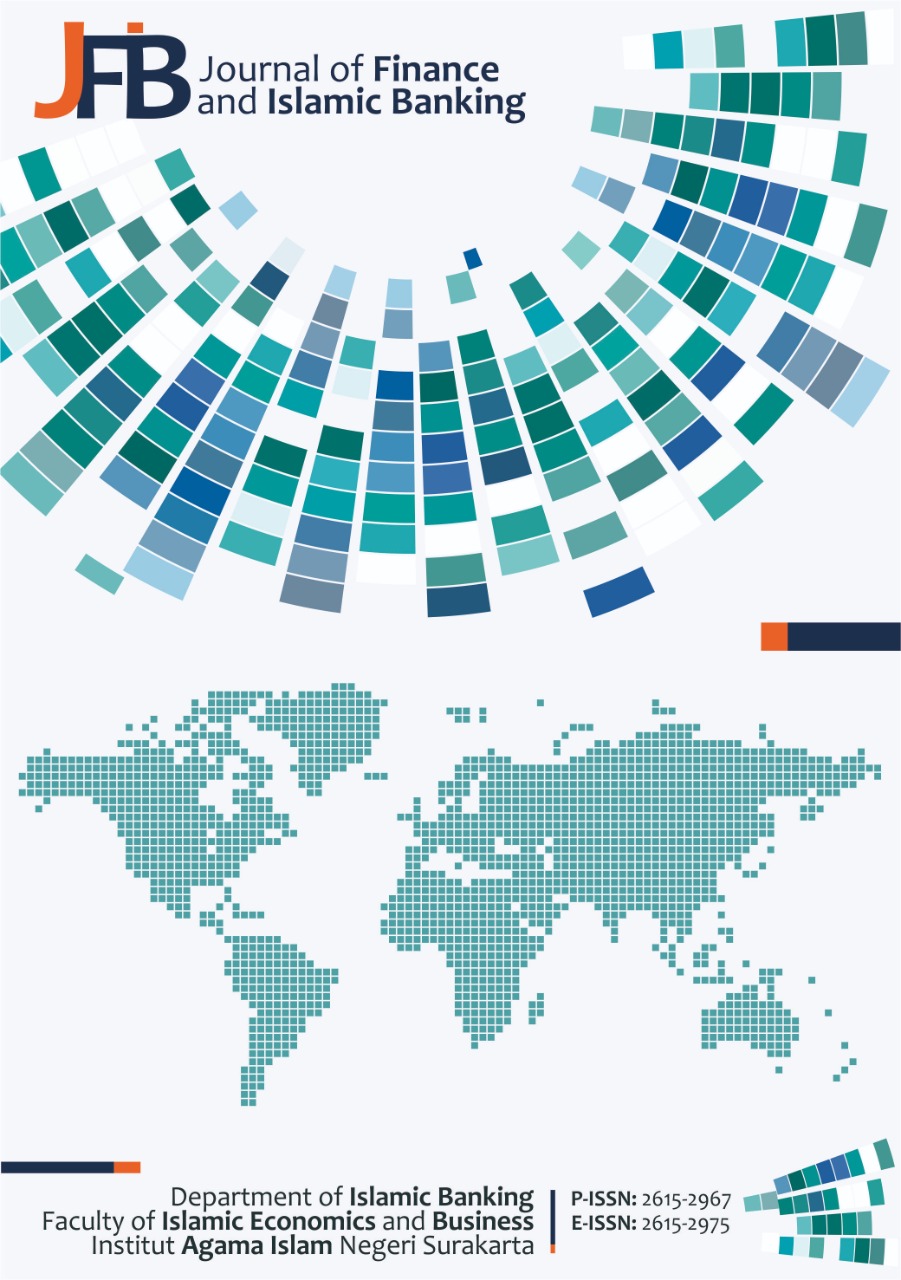 The Analysis of Franchise Fee and Royalty Fee Systems in the Business of Nyoklat Klasik™ Based on al-Mu'amalah al-Maliyah Perspective
Keywords
Franchise, Franchise Fee, Royalty Fee, al-Mu'amalah al-Maliyah
Declarations
Publisher's Note
Universitas Islam Negeri Raden Mas Said Surakarta remains neutral with regard to jurisdictional claims in published maps and institutional affiliations.
References
Adebayo, E., Lashitew, A. A., & Werker, E. (2021). Is conventional wisdom about resource taxation correct? Mining evidence from transparency reporting. World Development, 146. https://doi.org/10.1016/j.worlddev.2021.105597
Alon, I., Drtina, R., & Gilbert, J. (2006). Does franchising provide superior financial returns? Service Franchising: A Global Perspective, 79–91. https://doi.org/10.1007/0-387-28256-4_5
Anon. (2000). Western Forest sues B.C. over royalty fees. Pulp and Paper Week, 22(12).
Ascarya. (2006). Akad dan Produk Bank Syariah : Konsep dan Praktek di Beberapa Negara. In Rajawali Pers. Bank Indonesia.
Babich, V., & Tang, C. S. (2016). Franchise Contracting: The Effects of the Entrepreneur's Timing Option and Debt Financing. Production and Operations Management, 25(4), 662–683. https://doi.org/10.1111/poms.12497
Berezina, K., & Cobanoglu, C. (2010). A financial analysis of the payment card industry compliance journey of a hotel: A case study. Journal of Hospitality Financial Management, 18(2), 31–45. https://doi.org/10.1080/10913211.2010.10653893
Bordonaba Juste, V., Lucia-Palacios, L., & Polo-Redondo, Y. (2009). Franchise firm entry time influence on long-term survival. International Journal of Retail & Distribution Management, 37(2), 106–125. https://doi.org/10.1108/09590550910934263
BordonabaJuste, V., Lucia Palacios, L., & Polo Redondo, Y. (2011). An analysis of franchisor failure risk: evidence from Spain. Journal of Business & Industrial Marketing, 26(6), 407–420. https://doi.org/10.1108/08858621111156403
Brüggemann, J., & Meub, L. (2017). Experimental evidence on the effects of innovation contests. Information Economics and Policy, 39, 72–83. https://doi.org/10.1016/j.infoecopol.2017.03.001
Clark, C. W. (2006). Fisheries bioeconomics: Why is it so widely misunderstood? Population Ecology, 48(2), 95–98. https://doi.org/10.1007/s10144-006-0255-2
Darmawan, W. (2016). Analisis Sistem Penetapan Franchise Fee Dan Royalty Fee Pada Franchise Brc. Al-Iqtishad: Journal of Islamic Economics, 2(1). https://doi.org/10.15408/aiq.v2i1.2472
Fernández, B. L., González-Busto, B., & Castaño, Y. Á. (2013). The Dynamics of Growth in Franchising. Journal of Marketing Channels, 20(1–2), 2–24. https://doi.org/10.1080/1046669X.2013.747857
Flores Villanueva, C. A., & Gaytán Ramírez, M. del C. (2020). The factors that determine franchising intensity: An analysis in an emerging economy. Thunderbird International Business Review, 62(6), 647–659. https://doi.org/10.1002/tie.22173
Grannemann, H., & Whitaker, A. (2019). Artists' royalties and performers' equity: A ground-up approach to social impact investment in creative fields. Cultural Management: Science and Education, 3(2), 33–51. https://doi.org/10.30819/cmse.3-2.02
Harun. (2011). Bisnis Waralaba di Indonesia Perspektif Hukum Islam Tinjauan Hukum Muamalat. Jurnal Suhuf, 23(2).
Hong, X., Zhou, M., & Gong, Y. (2021). Dilemma of quality information disclosure in technology licensing. European Journal of Operational Research, 294(2), 543–557. https://doi.org/10.1016/j.ejor.2021.02.002
Idri. (2015). Hadis Ekonomi Dalam Perspektif Hadis Nabi. Prenada Media Group. https://books.google.com/books?hl=en&lr=&id=s-pADwAAQBAJ&oi=fnd&pg=PR5&dq=properti+ekonomi+syariah+di+industri+halal&ots=CngN0cLLcf&sig=7ET7z1X_ll5lq6POMgxVbW42G4A
Israhadi, E. I. (2020). Copyright law protection competence in paying royalty as exclusive rights substance. Journal of Advanced Research in Law and Economics, 11(3), 863–869. https://doi.org/10.14505/jarle.v11.3(49).20
Jiang, S. S., & Li, J. M. (2021). Do political promotion incentive and fiscal incentive of local governments matter for the marine environmental pollution? Evidence from China's coastal areas. Marine Policy, 128. https://doi.org/10.1016/j.marpol.2021.104505
Jiang, Y., & Seidmann, A. (2014). Capacity planning and performance contracting for service facilities. Decision Support Systems, 58(1), 31–42. https://doi.org/10.1016/j.dss.2013.01.010
Kamal, M. S. (2018). Frinchise Fee dan Royalty Fee pada WaralabaDitinjau dari Hukum Islam dan Hukum Perlindungan Konsumen. IAIN Tulungagung.
Kementerian Perindustrian. (2018). Indonesia Butuh 4 Juta Wirausaha Baru untuk Menjadi Negara Maju. Kementerian Perindustrian. https://kemenperin.go.id/artikel/19926/Indonesia-Butuh-4-Juta-Wirausaha-Baru-untuk-Menjadi-Negara-Maju
Kominfo. (2017). Peluang Besar Jadi Pengusaha Di Era Digital. Gerakan Nasional Pemerataan Ekonomi Digital Bagi UMKM Indonesia. https://kominfo.go.id/content/detail/9503/peluang-besar-jadi-pengusaha-di-era- digital/0/berita
Kountur, R. (2005). Metode Penelitian. Bumi Aksara.
Kulczycka, J., Wirth, H., & Hausner, J. (2017). Polish tax policy - its impact on the mineral sector. Resources Policy, 52, 72–80. https://doi.org/10.1016/j.resourpol.2017.01.013
Lee, K. J. (2010). The firm's value of franchising and its investment timing and royalties - A real options approach. International Research Journal of Finance and Economics, 43, 128–138.
Lubis, M. A. F. (1996). Prinsip Dasar Muamalah Keuangan Syariah (Maliyah). Ekonomi Syariah, 1(1), 1–26. http://www.wahanaislamika.ac.id/index.php/WahanaIslamika/article/download/2/2
Malta, M., Sumardjo, S., Fatchiya, A., & Susanto, D. (2018). Keberdayaan Transmigran dalam Berusaha Tani di Kabupaten Banyuasin dan Ogan Ilir Provinsi Sumatera Selatan. Jurnal Penyuluhan, 14(2). https://doi.org/10.25015/penyuluhan.v14i2.19039
Manjunatha, B. L., Rao, D. U. M., Dastagiri, M. B., Sharma, J. P., & Burman, R. R. (2016). New Indian seeds bill: Stakeholders' policy advocacies to enact. Journal of Intellectual Property Rights, 21(2), 73–88.
Mardani. (2012). Fiqh Ekonomi Syariah. In Kencana. Kencana.
Mendelsohn, M. (1993). Franchicising: Petunjuk Praktis bagi Frinchisor dan Frinchisee. PT Pustaka Binaman Press Indo.
Mushlih, A. Al, & Ash-Shawi, S. (2008). Fikih ekonomi keuangan Islam: ma la yasa al-tajira jahluh. Darul Haq.
Mustofa, A. (2014). Reorientasi Ekonomi Syariah. UII Press.
Naqvi, S. N. H. (2009). Islam, Economics, and Society. Pustaka Pelajar.
NYOKLAT KLASIKTM. (2019). It's Really ICE/HOT Chocolate. http://nyoklat-klasik.blogspot.com/
Nyoklat KlasikTM Indonesia. (2019a). Paket Franchise. https://www.nyoklatklasik.co.id/
Nyoklat KlasikTM Indonesia. (2019b). Tanya-Jawab. https://www.nyoklatklasik.co.id/faq
O'Neill, J. W., & Carlbäck, M. (2011). Do brands matter? A comparison of branded and independent hotels' performance during a full economic cycle. International Journal of Hospitality Management, 30(3), 515–521. https://doi.org/10.1016/j.ijhm.2010.08.003
Pérez Trento, N. (2021). The conflict over GM soybean seed saving in Argentina: ground rent, social actors, biotechnology, and intellectual property rights. Globalizations, 18(2), 155–173. https://doi.org/10.1080/14747731.2020.1752969
Polo-Redondo, Y., Bordonaba-Juste, V., & Palacios, L. L. (2011). Determinants of firm size in the franchise distribution system: Empirical evidence from the Spanish market. European Journal of Marketing, 45(1), 170–190. https://doi.org/10.1108/03090561111095649
Rau, H., Budiman, S. D., Regencia, R. C., & Salas, A. D. P. (2019). A decision model for competitive remanufacturing systems considering technology licensing and product quality strategies. Journal of Cleaner Production, 239. https://doi.org/10.1016/j.jclepro.2019.118011
Rodríguez, A., Caballer, V., & Guadalajara, N. (2011). Assessing the intangibles transferred in franchise businesses. Service Business, 5(1), 29–46. https://doi.org/10.1007/s11628-011-0100-3
Sabbaghnia, A., & Taleizadeh, A. A. (2021). Quality, buyback and technology licensing considerations in a two-period manufacturing–remanufacturing system: a closed-loop and sustainable supply chain. International Journal of Systems Science: Operations and Logistics, 8(2), 167–184. https://doi.org/10.1080/23302674.2020.1716095
Sarikhani, Y., & Lankarani, K. B. (2013). Mixed payment method, the experience of a new payment method for health service providers in family physician program in Iran. Shiraz E Medical Journal, 14(4). https://doi.org/10.17795/semj16651
Shane, S., Shankar, V., & Aravindakshan, A. (2006). The effects of new franchisor partnering strategies on franchise system size. Management Science, 52(5), 773–787. https://doi.org/10.1287/mnsc.1050.0449
Sinisterra, R. D., Speziali, M. G., Guimarães, P. P. G., & Da Silva, A. M. (2013). Panorama of the intellectual property, technology transfer and innovation for the brazilian chemistry and comparison with the bric countries. Química Nova, 36(10), 1527–1532. https://doi.org/10.1590/S0100-40422013001000008
Stange, J. P., Sylvia, L. G., Da Silva Magalhães, P. V., Miklowitz, D. J., Otto, M. W., Frank, E., Yim, C., Berk, M., Dougherty, D. D., Nierenberg, A. A., & Deckersbach, T. (2016). Affective instability and the course of bipolar depression: Results from the STEP-BD randomised controlled trial of psychosocial treatment. British Journal of Psychiatry, 208(4), 352–358. https://doi.org/10.1192/bjp.bp.114.162073
Sulistyaningsih, P., Heniyatun, H., & Hendrawati, H. (2017). Sistem Bagi Hasil Dalam Perjanjian Waralaba ("Franschise") Perspektif Hukum Islam. Jurnal Hukum Novelty, 8(1), 137. https://doi.org/10.26555/novelty.v8i1.a5530
Sumathisri, B. (2013). Moving money across borders in the perspective of international taxation. International Business Management, 7(3), 151–157. https://doi.org/10.3923/ibm.2013.151.157
Van Wyk, G., & De Jager, J. (2010). Franchisees' level of satisfaction with the opportunities and threats of franchising. Tydskrif Vir Geesteswetenskappe, 50(3), 328–345.
Warde, I. (2014). Islamic finance in the global economy: Second edition. In Islamic Finance in the Global Economy: Second Edition. Edinburgh University Press.
Widjaja, G. (2004). Lisensi atau Waralaba. PT. Raja Grafindo Persada.
Wijaya, G. (2001). Seri Hukum Bisnis : Waralaba.
Yafie, A. (2004). Fikih Perdagangan Bebas. Teraju.
Zhang, R. (2007). Study on the behaviors of franchisor and franchisee in franchise system. Proceedings of China Private Economy Innovation International Forum 2007, 32–38.

Copyright and permissions
This work is licensed under a Creative Commons Attribution-NonCommercial-ShareAlike 4.0 International License.
Bibliographic Information