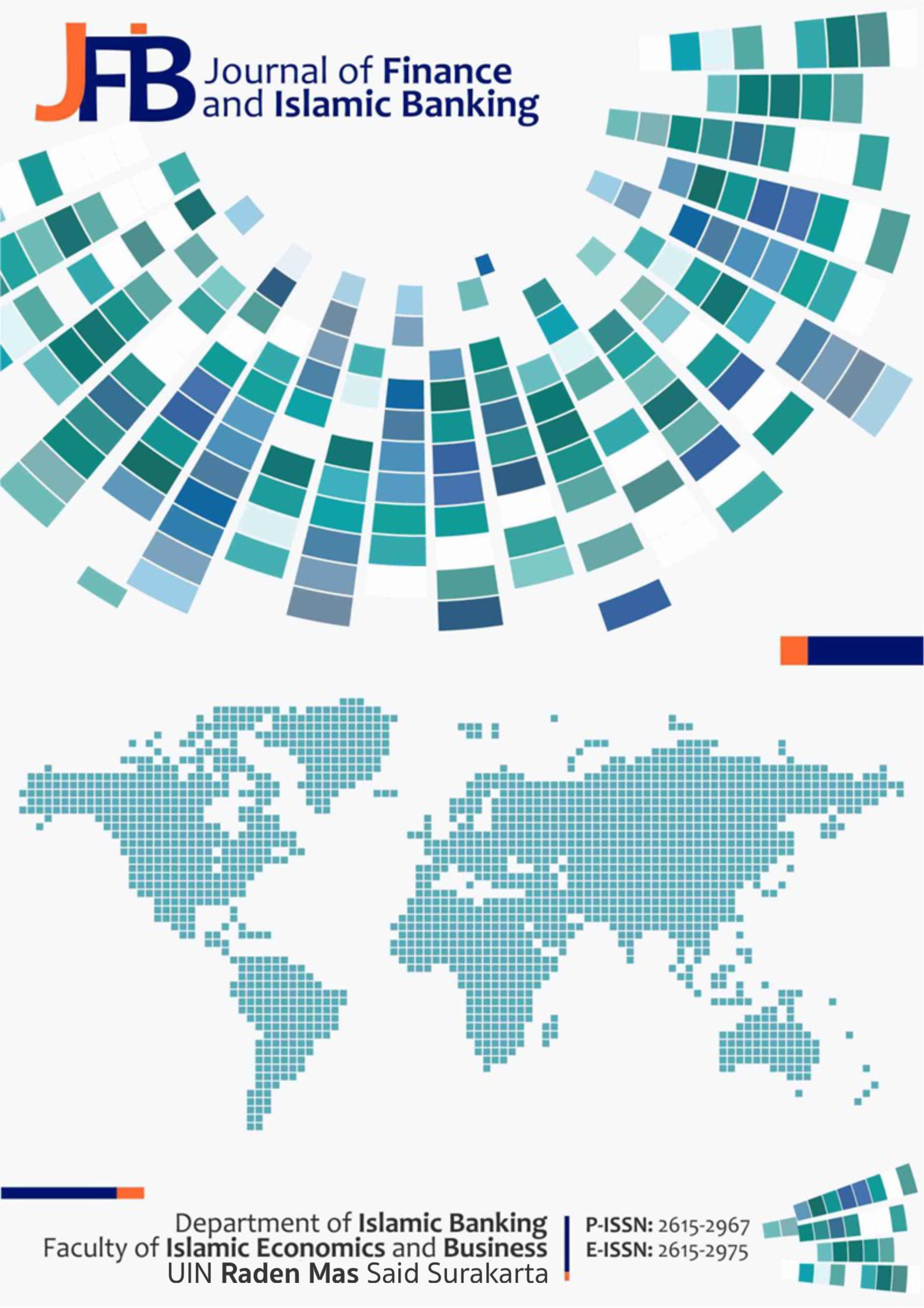 The Effect of Transparency and Accountability on Muzaki Loyalty through Muzaki Satisfaction as an Intervening Variable at the Amil Zakat Institution (LAZ) in Indonesia
Declarations
Publisher's Note
Universitas Islam Negeri Raden Mas Said Surakarta remains neutral with regard to jurisdictional claims in published maps and institutional affiliations.
References
Aldila, N. (2021). Potensinya Rp300 Triliun, Wapres Soroti Minimnya Realisasi Zakat. https://finansial.bisnis.com/read/20210405/231/1376737/potensinya-rp300-triliun-wapres-soroti-minimnya-realisasi-zakat

Amalia, N., & Widiastuti, T. (2019). Pengaruh Akuntabilitas, Transparansi, Dan Kualitas Pelayanan Terhadap Minat Muzaki Membayar Zakat (Studi Pada Laz Surabaya). Jurnal Ekonomi Syariah Teori Dan Terapan, 6(9), 1756–1769.

Deni Lubis, Dedi Budiman, Y. (2018). Mengukur kinerja pengelolaan zakat di badan amil zakat nasional (baznas). Jurnal Ekonomi Dan Bisnis Islam, 3(23), 1–16.

Fikri, M., & Najib, A. (2021). Pengaruh Kepercayaan, Transparansi Dan Akuntabilitas Terhadap Minat Dan Keputusan Muzakki Menyalurkan Zakat, Di (Lazisnu) Kabupaten Banyuwangi. Jurnal Perbankan Syariah Darussalam (JPSDa), 1(2), 106–121.

Ghazali, I. (2013). Analisa Multivariate Program SPSS Update PLS Regret (7th ed.). Badan Penerbit Universitas Diponegoro. https://www.researchgate.net/publication/289671928_Aplikasi_Analisis_Multivariate_Dengan_Program_IBM_SPSS_21_Update_PLS_Regresi

Harizanto, H. (2020). Pengaruh Loan Loss Provision, Financing Growth, Biaya Operasional dan Return on Asset Terhadap Non Performing Financing di Perbankan Syariah Indonesia. Journal of Finance and Islamic Banking, 2(2), 205–219. https://doi.org/10.22515/jfib.v2i2.1784

Istikhomah, D., & Asrori. (2019). Pengaruh Literasi Terhadap Kepercayaan Muzaki Pada Lembaga Pengelola Zakat Dengan Akuntabilitas Dan Transparansi Sebagai Variabel Intervening. In Economic Education Analysis Journal, 8(1).

Jumriani. (2021). Pengaruh Akuntabilitas, Kualitas Pelayanan, Kepercayaan Muzakki Terhadap Loyalitas Muzakki. In Journal of Islamic Management (Vol. 1, Issue 1).

Kabib, N., Al Umar, A. U. A., Fitriani, A., Lorenza, L., & Lutfi Mustofa, M. T. (2021). Pengaruh Akuntabilitas dan Transparansi Terhadap Minat Muzakki Membayar Zakat di BAZNAS Sragen. Jurnal Ilmiah Ekonomi Islam, 7(1), 341. https://doi.org/10.29040/jiei.v7i1.2156

Maity, M., Dass, M., & Malhotra, N. K. (2014). The antecedents and moderators of offline information search: A meta-analysis. Journal of Retailing, 90(2), 233–254. https://doi.org/10.1016/j.jretai.2014.03.001

Mardiana, L. A., Akuntansi, B., Akuntansi, J., Negeri Semarang, P., Soedharto Tembalang Semarang, J. S., & Hukum Bisnis, B. (2017). Effects of Accounting Information Quality, Accountability, and Transparency on Zakat Acceptance. In MIMBAR (Vol. 33, Issue 1).

Muhammad Firdaus, Irfan Syauqi Beik, Tonny Irawan, & Bambang Juanda. (2012). Economic estimation and determinations of Zakat potential in Indonesia. IRTI Working Paper Series, WP 1433-07(August), 1–74.

Purnamasari, I., & Darma, E. S. (2018). Pengaruh Implementasi Syariah Governance Terhadap Loyalitas Nasabah. E-JRA Vol. 07 No. 01 Agustus 2018, 07(01), 32–45.

Purnomo, R. A. (2017). Uji Multikolinearitas. Analisis Statistik Ekonomi Dan Bisnis Dengan SPSS, 116, 121.

Rahayu, S. B., Widodo, S., & Binawati, E. (2019). Pengaruh akuntabilitas dan transparansi lembaga zakat terhadap tingkat kepercayaan muzakki (Studi Kasus pada Lembaga Amil Zakat Masjid Jogokariyan Yogyakarta). Journal of Business and Information Systems (e-ISSN: 2685-2543), 1(2), 103–114. https://doi.org/10.36067/jbis.v1i2.26

Sugiyono. (2016). Metode Penelitian kuantitatif, kualitatif dan R & D (23rd ed.). Alfabeta.

Unisma, F. (2015). Asumsi heterokedastisidas. 5.

Yuliafitri, I., & Khoiriyah, A. N. (2016). Pengaruh Kepuasan Muzakki, Transparansi Dan Akuntabilitas Pada Lembaga Amil Zakat Terhadap Loyalitas Muzakki (Studi Persepsi Pada Laz Rumah Zakat). Jurnal Ekonomi Islam, 7(2).

Zar, J. H. (2012). Significance testing of the Spearman rank correlation. Journal of the American Statistical Association, 67(339), 578–580.
Copyright and permissions
This work is licensed under a Creative Commons Attribution-NonCommercial-ShareAlike 4.0 International License.
Bibliographic Information