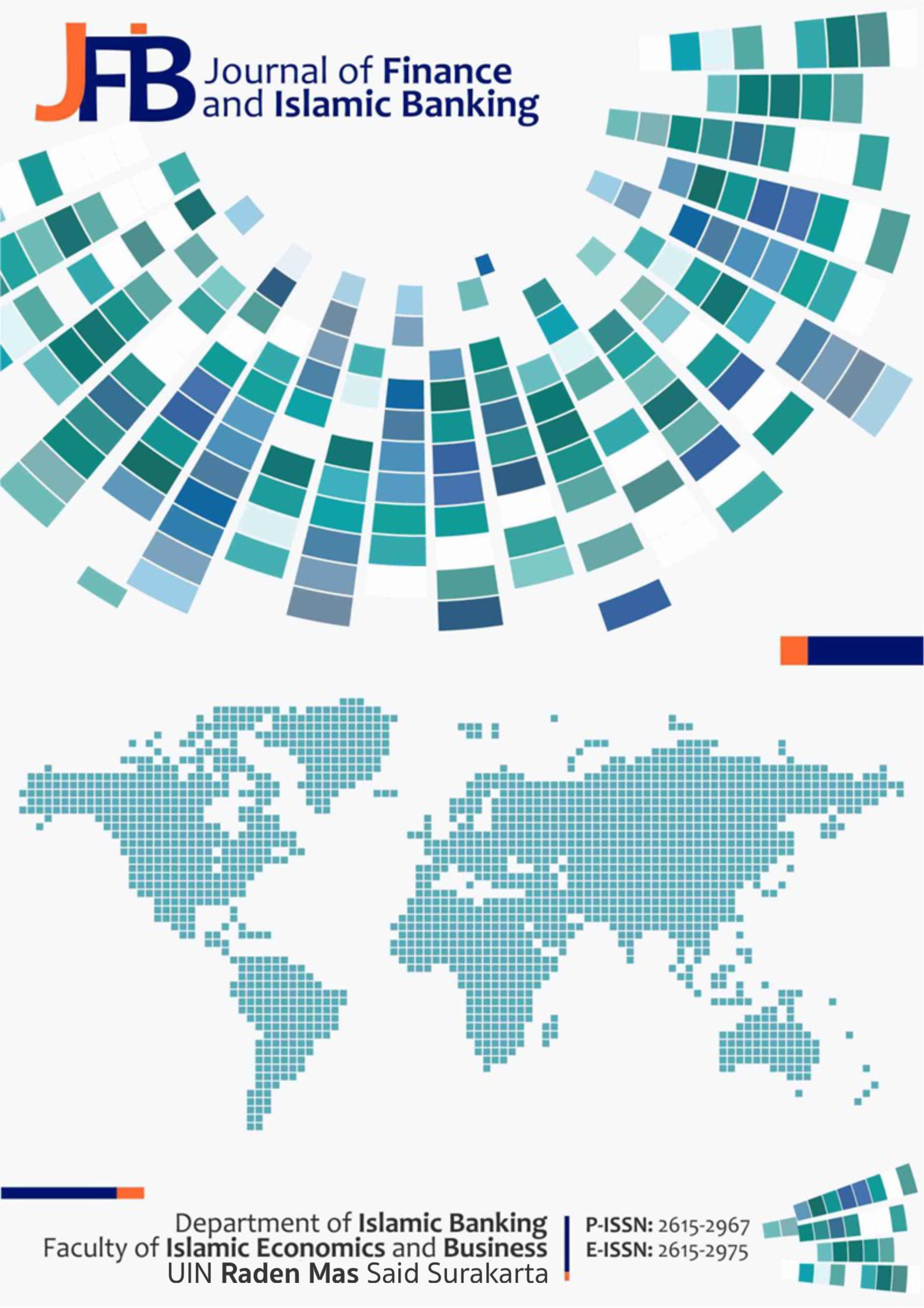 Determinant Factors of Digital Financial Literacy: A Study of Women Entrepreneurs
Keywords
Digital Financial Literacy, Women Entrepreneurs
Declarations
Publisher's Note
Universitas Islam Negeri Raden Mas Said Surakarta remains neutral with regard to jurisdictional claims in published maps and institutional affiliations.
References
Anane, I., & Nie, F. (2022). Determinants Factors of Digital Financial Services Adoption and Usage Level: Empirical Evidence from Ghana. International Journal of Management Technology, 9(1), 26–47.
Azeez, N. P. A., & Akhtar, S. M. J. (2021). Digital Financial Literacy and Its Determinants: An Empirical Evidences from Rural India. South Asian Journal of Social Studies and Economics, 11(2), 8–22.
BI. (2022). Laporan Perekonomian Provinsi Jawa Tengah Mei 2022. In Bank Indonesia. www.bi.go.id
BPS. (2021). Laporan Bulanan Data Sosial Ekonomi Februari 2021.
BPS. (2022). Pertumbuhan Ekonomi Indonesia Triwulan I-2022. In Berita Resmi Statistik No.34/05/Th.XXV.
Chaulagain, R. P. (2018). Contribution of Financial Literacy to Behaviour. Journal of Economics and Behavioural Studies, 7(6).
Garg, N., & Singh, S. (2018). Financial Literacy among Youth. International Journal of Social Economics, 45(1).
Goyal, K., & Kumar, S. (2020). Financial Literacy: A Systematic Review and Bibliometric Analysis. International Journal of Consumer Studies, 45(1).
Hayati, A. F., & Syofyan, R. (2021). Analysis of Student Digital Financial Literacy in the Era of Industrial Revolution 4 . 0. In Proceedings of the Seventh Padang International Conference on Economics Education, Economics, Business and Management, Accounting and Entrepreneurship (PICEEBA 2021) (Vol. 192, pp. 180–184).
Liu, G., Huang, Y., & Huang, Z. (2021). Determinants and Mechanisms of Digital Financial Inclusion Development : Based on Urban-Rural Differences. Agronomy MDPI, 11(1833), 1–22.
Lusardi, A. (2019). Financial Literacy and The need for Finance Education: Evidence and Implications. Swiss Journal of Economics and Statistics, 1.
Lyons, A. C., & Kass‐Hanna, J. (2021). A Methodological Overview to Defining and Measuring "Digital" Financial Literacy. Financial Planning Review, 4(2), 1–19.
Morgan, P., Huang, B., & Trinh, L. (2019). The Need to Promote Digital Financial Literacy for the Digital Age. Think 20 Japan 2019.
Nurdin, I., & Hartati, S. (2019). Metodologi Penelitian Sosial. Media Sahabat Cendekia.
OECD. (2022). OECD/ INFE Toolkit for Measuring Financial Literacy and Financial Inclusion 2022.
Oggero, N., Rossi, M. C., & Ughetto, E. (2019). Entrepreneurial Spirits in Women and Men. The Role of Financial Literacy and Digital Skills. Small Business Economics, 55(2).
OJK. (2020). Survei Nasional Literasi dan Inklusi Keuangan 2019.
Ponchio, M. C., Cordeiro, R. A., & Goncalves, V. N. (2019). Personal Factors as Antecedent of Perc
Prasad, H., Meghwal, D., & Dayama, V. (2018). Digital Financial Literacy: A Study of Households of Udaipur. The Journal of Business and Management, 5(I), 23–32.
Prete, A. Lo. (2021). Digital and Financial Literacy as Determinants of Digital Payments and Personal Finance. SSRN Electronic Journal.
Salignac, F., Marjolin, A., Reeve, R., & Muir, K. (2019). Conceptualizing and Measuring Financial Resilience: A Multidimensional Framework. Social Indicators Research, 145, 17–38.
Santini, F. D. O., Ladeira, W. J., Mette, F. M. B., & Ponchio, M. C. (2019). The Antecedents and Consequences of Financial Literacy: A Meta-Analysis. International Journal of Bank Marketing, 37(6).
Sekaran, U. (2006). Metodologi Penelitian untuk Bisnis (4th ed.). Salemba Empat.
Sugiyono. (2013). Metode Penelitian Kuantitatif, Kualitatif dan R&D. Alfabeta.
Yang, J., Wu, Y., & Huang, B. (2020). Digital Finance and Financial Literacy: An Empirical Investigation of Chinese Households.
Copyright and permissions
This work is licensed under a Creative Commons Attribution-NonCommercial-ShareAlike 4.0 International License.
Bibliographic Information