THE SPEECH ACTS OF COMPLIMENTS AMONG JAPANESE TEENAGERS IN JAPANESE ANIME FILMS
Keywords:
speech act, pragmatic, expressive , perlocution
Abstract
This study aimed to identify the forms of expressive speech acts of compliments and to describe the forms of perlocutionary acts that appear in the anime Yahari Ore no Seishun Love Come wa Machigatteiru and ReLife. This research used Searle's speech act theory, Holmes' complimenting speech act, and Alston's verbs of perlocutionary. The study applied descriptive method. The data were collected from observation and notes based on the techniques for analyzing direct elements. The data were presented in an organized set of information, allowing for conclusions and action analysis. Based on the results of the research, it was found that expressive speech acts in the forms of compliments were dominantly influenced by the speaker's ability. Meanwhile, the dominant perlocutionary verbs in the compliments refer to encouraging, irritating, and attracting attention.
References
Adachi, Chie. 2011. A Sociolinguistic Investigation of Compliments and Compliment Responses among Young Japanese. Edinburgh: University of Edinburgh
Alston, William. 1964. Philosophy of Language. London: Pearson College Division
Aryanto, Bayu, Syamsul Hadi & Tatang Hariri. 2021. "Native Speaker's Perception of The Naturalness in the Japanese Speech Act Responses of Compliment Among Japanese Learners in Indonesia". Izumi, 10 (1), 1-10. https://doi.org/10.14710/ izumi.10.1.1-10
Chaer, Abdul. 2007. Linguistik Umum. Jakarta: PT Rineka Cipta
Holmes, Janet. 2003. Complimenting: A Positive Politeness Strategy Sociolinguistic: The Essential Readings. Oxford: Blackwell Publishers
Ismari. 1995. Tentang Percakapan. Surabaya: Airlangga
Kato, Shigehiro. 2004. シリーズ・日本語のしくみを探る:日本語語用論のしくみ (Shirīzu Nihongo no Shikumi o Saguru: Nihongo Goyōron no Shikumi). Ken Machida (Ed.). Tokyo: Kabushikigaisha Kenkyūsha
Koizumi, Tamotsu. 1990. 言外の言語学-日本語語用論 (Gengai no Gengogaku: Nihongo Goyōron). Tokyo: Kabushikigaisha Sanseidō
Koizumi, Tamotsu. 1993. Nihongo kyoushi no Tame no Gengogaku Nyuumon. Tokyo: Taishukan Shoten
Manaf, Ngusman Abdul. 2011. Kesopanan Tindak Tutur Menyuruh dalam Bahasa Indonesia. Jurnal Litera: Jurnal Penelitian Bahasa, Satra dan Pengajarannya 10 (2): 212–224
Muhammad, Stefan Fahmi. 2016. Tindak Tutur Perlokusi Pada Anime Log Horizon (Thesis). Semarang: Diponegoro University
Nadar, FX. 2009. Pragmatik dan Penelitian Pragmatik. Yogyakarta: Graha Ilmu
Purwo, Bambang Kaswanti. 1990. Pragmatik dan Pengajaran Bahasa: Menyibak Kurikulum 1984. Yogyakarta: Kanisius
Searle, John. 1969. Speech Act: An Essay in the Philosophy of Language. Cambridge: Cambridge University Press
Subroto, HD Edi. 2011. Pengantar Studi Semantik dan Pragmatik. Surakarta: Cakrawala Media
Sudaryanto. 1993. Metode dan Aneka Teknik Analisis Bahasa. Yogyakarta: Duta Wacana University Press
Sugiyono. 2012. Memahami Penelitian Kualitatif. Bandung: Alfabeta
Suparno, Teguh Almushfi. 2019. Tindak Tutur Ekspresi Makna Memuji dalam Anime Haikyuu!!: Kajian Pragmatik (Undergraduate Thesis). Semarang: Diponegoro University
Susanti, Rita & Maduma Siregar. 2010. Tindak Tutur Memuji Bahasa Jepang di Kalangan Wanita Jepang. Lingua Cultura 4 (1): 78-89
Tarigan, Henry Guntur. 1986. Pengajaran Pragmatik. Bandung: Angkasa
Yule, George. 1996. Pragmatics. Oxford: Oxford University Press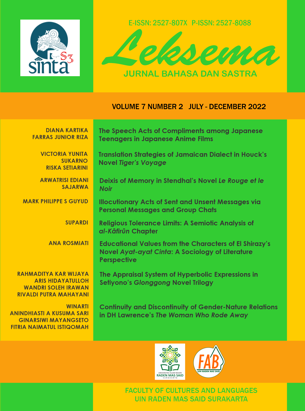 Downloads
License
Copyright (c) 2022 Leksema: Jurnal Bahasa dan Sastra
This work is licensed under a Creative Commons Attribution-NonCommercial-ShareAlike 4.0 International License.
The copyright of the received article shall be assigned to the publisher of the journal. The intended copyright includes the right to publish the article in various forms (including reprints). The journal maintains the publishing rights to published articles.
In line with the license, the authors and users (readers or other researchers) are allowed to share and adapt the material only for non-commercial purposes. In addition, the material must be given appropriate credit, provided with a link to the license, and indicated if changes were made. If authors remix, transform or build upon the material, authors must distribute their contributions under the same license as the original.