PERSPEKTIF MATA NAJWA DALAM EPISODE KENAPA KITA BUTUH KOMIKA: KAJIAN LINGUISTIK KRITIS
Keywords:
Mata Najwa, Narasi TV berbasis Youtube,, Linguistik Kritis, Youtube-based TV Narration, Comics and Critical Linguistics
Abstract
Youtube content with the title "Why We Need Komika" is Narasi's weekly content containing satirical reflections, criticism and various informative matters. This study aims to look at the perspective of comics in assessing social phenomena, especially on issues of government policy systems with critical linguistic studies. The data source in this study is a video from a YouTube content called Narasi TV owned by Najwa Shihab. The results of the study show that the comic perspective in doing stand-up comedy is the result of reflection as well as satire aimed at elite government officials who often enjoy luxury state facilities but are not swift in dealing with various problems that exist in society. In addition, the results of the study show that comics want to show the condition of Indonesia which is not doing well through images of official imagery from the humor presented by comics.
Konten Youtube yang mengangkat judul "Mengapa Kita Butuh Komika" merupakan konten mingguan Narasi yang mengandung refleksi sindiran, kritikan dan berbagai hal yang bersifat informatif. Penelitian ini bertujuan untuk melihat perspektif komika dalam menilai fenomena sosial khususnya pada masalah sistem kebijakan di pemerintahan dengan kajian linguistik kritis. Sumber data dalam penelitian ini adalah video dari konten Youtube bernama Narasi TV milik Najwa Shihab. Hasil penelitian menunjukkan bahwa perspektif komika dalam melakukan stand up komedi merupakan hasil refleksi juga sindiran yang ditujukan kepada pejabat elit pemerintahan yang kerap kali menikmati fasilitas mewah negara namun tidak sigap dalam menangani berbagai masalah yang ada di masyarakat. Selain itu, hasil penelitian menunjukkan bahwa komika ingin memperlihatkan kondisi Indonesia yang sedang tidak baik-baik saja lewat gambaran pencitraan pejabat dari humor yang dibawakan komika.
References
Crystal, D. (2008). A Dictionary of Linguistics and Phonetics (6th ed.).
Chew, P. G. L. (1992). Critical Linguistics and its Implications for Teaching (2nd ed.). National Institute of Education.
Djajasudarma, T. F. (2010). Metode Linguistik. Refika Aditama.
Fairclough, N. (1997). Critical Discourse Analysis: The Critical Study of Language. Longman.
Flower, R. (1986). Linguistic Criticism. Oxford University Press.
Halliday, M. (1994). An Introduction to Functional Grammar. Edward Arnold.
Halim, R. (2012). Linguistik Kritis dan Analisis Teks: Suatu Cadangan Penelitian. Pusat Pengajian Pendidikan Dan Bahasa Modern.
Moleong, L. J. (2009). Metodologi Penelitian Kualitatif. Remaja Rosdakarya.
Sadiman, A.S., dkk. (2002). Media Pendidikan. PT Raja Grafindo Persada.
Santoso, A. (2008). Jejak Halliday dalam Linguistik Kritis dan Analisis Wacana Kritis. Bahasa Dan Seni, 36(1).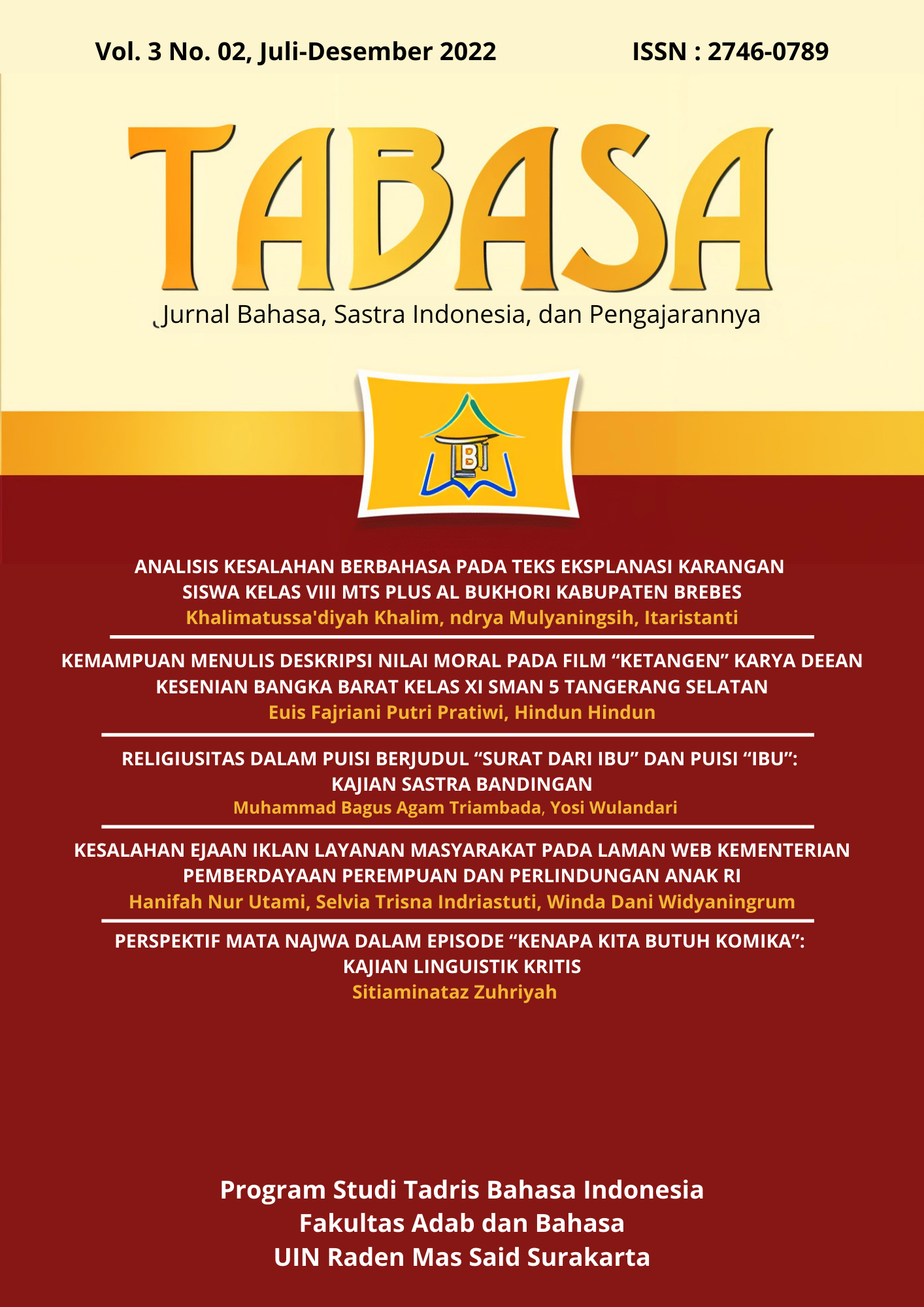 Downloads
How to Cite
Zuhriyah, S. (2023). PERSPEKTIF MATA NAJWA DALAM EPISODE KENAPA KITA BUTUH KOMIKA: KAJIAN LINGUISTIK KRITIS. Tabasa: Jurnal Bahasa, Sastra Indonesia, Dan Pengajarannya, 3(02), 152–163. Retrieved from https://ejournal.uinsaid.ac.id/index.php/tabasa/article/view/6118
License
Copyright (c) 2023 Sitiaminataz Zuhriyah
This work is licensed under a Creative Commons Attribution-NonCommercial 4.0 International License.
Authors retain copyright and grant the journal right of first publication with the work simultaneously licensed under a Creative Commons Attribution License that allows others to share the work with an acknowledgement of the work's authorship and initial publication in this journal.
This ejournal system and its contents are licensed under
a Creative Commons Attribution-NonCommercial 4.0 International License