About the Journal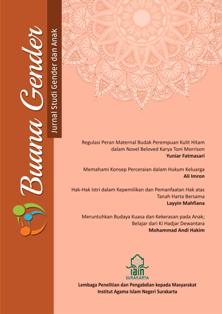 BUANA GENDER : Jurnal Studi Gender dan Anak is published by the Center for Gender and Child Studies (PSGA) of the State Islamic University of Surakarta (UIN Raden Mas Said Surakarta). First published in 2016, this journal is published twice a year in collaboration with  Rumah KitaB in January-June and July-December. This is a scientific communication media for enthusiasts and observers of gender and children study.The editor receives articles of gender and children study from academics, researchers, practitioners, and postgraduate students. The articles will be published after a mechanism of selection, being examined by the expert, and editing process. Therefore, Buana Gender can be a media to comprehend gender and children problems and a reference for gender and children studies
Therefore, this journal kindly calls for the academicians, practitioners, researchers, graduate and post graduate students to submit the best papers and research findings to online submission by click here
This journal is open-access which means that everyone can access for individual or institution for free. Users will be allowed to read, download, copy, distribute, produce, create link from article, or use the articles for academic writing under the condition of publication ethics.
This journal has been indexed by national and international indexing website, such as CrossRef. And this journal has Digital Object Identifier (DOI).
We are proud to announce that starting from Volume 5 No. 2, 2020 until Volume 10 No. 1, 2025 Buana Gender: Jurnal Studi Gender dan Anak has been indexed in Sinta 3 by the Deputy of Research and Development Strengthening, Ministry of Research and Technology/Board of National Research and Inovation Republic of Indonesia based on the Decision No.004/ES.3/HM.01.00/2023.
Mailing Address
Department of Research and Public Service (LPPM) of the State Islamic University of Surakarta (UIN Raden Mas Said Surakarta). Jl. Pandawa No. 1, Pucangan, Kartasura, Central Java, Indonesia, 57168
Phone: +62271-781516, Fax: +62271-782774. e-mail: [email protected] / [email protected]