AN ANALYSIS OF CULTURAL DIFFERENCES AS SEEN IN KOREAN FILM MISS GRANNY (2014) AND ITS INDONESIAN REMAKE SWEET 20
-
Abstract
In recent years, there are a lot of popular Asian films or dramas that got Indonesian remake. It leads to cultural shifts between the original one and the remake version which receives a good reaction from the viewers. Among the Indonesian remake films, the researchers found a significant cultural shift in Sweet 20, 2017 Indonesian film which is produced based on a popular South Korean film, Miss Granny. The aim of this research is to reveal the cultural differences contained in the films Sweet 20 and Miss Granny. This research employs analysis descriptive analytical analysis as the technique to analyze the data and use the theory of transcultural adaptation by Linda Hutcheon (2006), Koentjaraningrat's theory which concerns seven elements of cultures and supported by Bronislaw Malinowski. This research uses descriptive qualitative method because it is related to the data which are text and visual taken from the dialogues and visualizations in Miss Granny and Sweet 20 films. Meanwhile, the researchers apply three techniques for data collection: observation (watching the films), documentation (documenting the dialogues), and recording (screenshotting the scenes). After examining it, the researchers found five elements as cultural shifts between Miss Granny and Sweet 20; namely religious system, social norms, art, living equipment, and language.
References
Annisa, L., & Adi, A.E. (2020). Pergeseran budaya pada film remake love you, love you not. Kalatanda. 2 (1), 1-13.
Ansahnarmi, A. (2019). Perbandingan unsur sinematik pada film indonesia dan film korea (Analisis isi pada film indonesia "sweet 20" dan film korea "miss granny") [Doctoral dissertation, University of Muhammadiyah Malang]. UMM Institutional Repository. https://eprints.umm.ac.id/46228/
Ardhieawati, M. A. (September 2, 2020). Teknologi CGI di balik aladdin (2019). Kompasiana. https://www.kompasiana.com/mariaaufridaardhieawati/5f4fb769097f367b2a208952/teknologi-cgi-dibalik-aladdin
Asian Wiki. (2014). Miss granny. https://asianwiki.com/Miss_Granny
Bahruddin, M., & Eriyanto, E. (2018, October). Freedom in Indonesian film industry: The study of remake-film productions. In Proceeding International Conference on Media and Communications in Southeast Asia (Vol. 1, No. 1).
Berdin, K. (2017, March 8). Bathing ethiquette in Korea:Visiting the jimjilbang (찜질방). Books&Bao. https://booksandbao.com/guide-to-bathing-in-korea-visiting-the-jimibang/
Bohnenkamp, B., Knapp, A. K., Hennig-Thurau, T., & Schauerte, R. (2015). When does it make sense to do it again? An empirical investigation of contingency factors of movie remakes. Journal of Cultural Economics, 39(1), 15-41.
Creswell, J. W. (2003). Research design: Qualitative, quantitative, and mixed methods approaches (2nd ed.). Sage Publications.
Digdo, I.K. (November 15, 2021). Bernostalgia dengan film remake negara aing. Merah Putih.com. https://merahputih.com/post/read/bernostalgia-dengan-film-remake-negeri-aing
Dwight, M. (2020). How a phrase used by billions od muslims worldwide lost its meaning. University of Colorado - Department of Linguistics. https://www.colorado.edu/linguistics/2020/08/21/semantic-pejoration-arabic-phrase-allahu-akbar
Film Indonesia. (2017). Sweet 20. http://filmindonesia.or.id/movie/title/lf-s007-17-572220_sweet-20/award#.YV0aH21By00
Hutcheon, L. (2006). A theory of adaptation. Taylor & Francis Group.
Hutcheon, L., & O'Flynn, S. (2012). A Theory of Adaptation, revised edn.
Kessler, D., Chung. K.J., & Jang.B.J. (2018). Korean sauna (jjimjilbang) wellness tourism as perceived by westerners living in south korea. http://dx.doi.org/10.15640/jthm.v6n2a8
Kim, J.H. (2015, January 4). "Miss Granny" (수상한 그녀). Jae-Ha Kim. https://www.jaehakim.com/entertainment-reviews/miss-granny/
Koentjaraningrat. (1986). Pengantar ilmu antropologi. Aksara Baru.
Koentjaraningrat. (2009). Pengantar ilmu antropologi. Jakarta: Rineka Cipta.
Ko, S., & Sohn, A. (2018). Behaviors and culture of drinking among korean people. Iranian journal of public health, 47(Suppl 1), 47–56. https://pubmed.ncbi.nlm.nih.gov/30186812/
Korean Culture Center. (2018, May 15). K-Movie screening - Miss granny. Korean Cultural Center. https://hk.korean-culture.org/en/932/board/676/read/90149
Learn Korean 24. (2022) Aigoo meaning in korean (아이고). https://learnkorean24.com/aigoo-meaning/
Maharani, I. (2022, June 9). Liku-liku sineas remake film di indonesia. Kumparan. https://kumparan.com/ingevmaharani/liku-liku-sineas-remake-film-di-indonesia-1yE6HUD17mU
Merriam-Webster. (n.d.). Remake. In Merriam-Webster.com dictionary. https://www.merriam-webster.com/dictionary/remake
Muhfaqdilla, D. (2019, December 19). 5 film indonesia yang remake dari film asia, ada drama komedi hingga horor. https://akurat.co/5-film-indonesia-yang-remake-dari-film-asia-ada-drama-komedi-hingga-horor
Prayogi, R., & Danial, E. (2016). Pergeseran nilai-nilai budaya pada suku bonai sebagai civic culture di kecamatan bonai darussalam kabupaten rokan hulu provinsi riau. HUMANIKA, 23 (1), 62-79. https://doi.org/10.14710/humanika.23.1.61-79
Ramadhana, A. (2016, September 15). 5 alasan warkop dki reborn tembus 3 juta penonton dalam 6,5 hari. Brilio.net. https://www.brilio.net/film/5-alasan-warkop-dki-reborn-tembus-3-juta-penonton-dalam-65-hari-160915e.html
Siregar, A.M. (2017, June 30). Review: Sweet 20 (2017). At The Movies. https://amiratthemovies.com/2017/06/30/review-sweet-20-2017/
Sugiyono. (2008). Metode penelitian kuantitatif kualitatif dan r&d. ALFABETA
Suleiman, I. O. (2017, November 1). What 'Allahu Akbar' really means. CNN Opinion. https://edition.cnn.com/2017/11/01/opinions/allahu-akbar-meaning/index.html
Sumarto, S. (2018). Budaya, pemahaman dan penerapannya:"Aspek sistem religi, bahasa, pengetahuan, sosial, keseninan dan teknologi". Jurnal Literasiologi, 1(2), 16-16.
Varnum, M.E.W., & Grossmann, I. (2017). Cultural change: The how and the why. Perspectives on psychological science. DOI:10.1177/1745691617699971
Wardlow, C. (2017, March 23). We need to talk about the word "remake". Film School Project. https://filmschoolrejects.com/we-need-to-talk-about-the-word-remake-697723330c9b/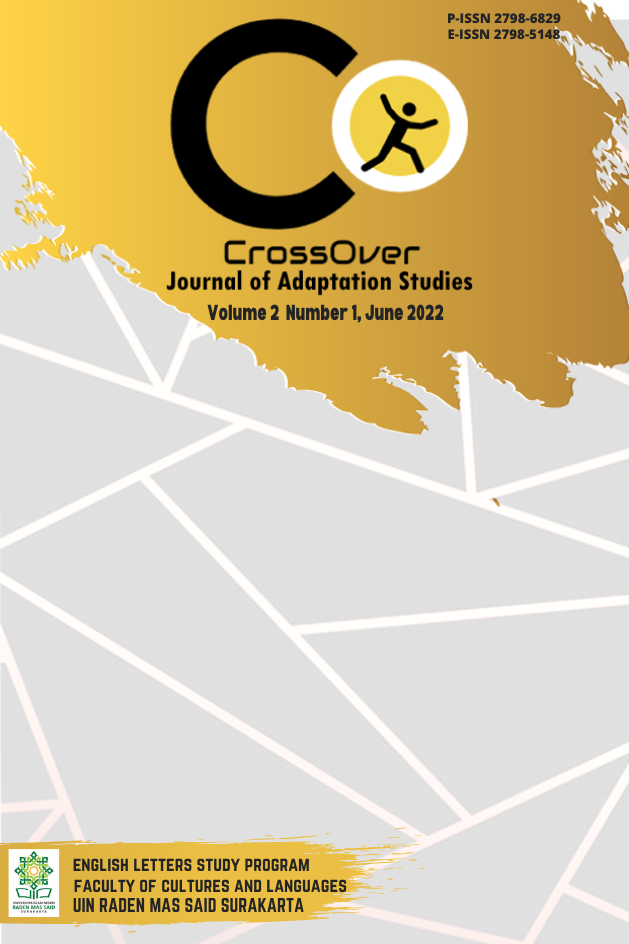 Downloads
License
Copyright (c) 2022 Hanum Bella Ardya Garini, Shafira Abigail, Dimas Getih Pangestu, Adi Purnawan
This work is licensed under a Creative Commons Attribution-NonCommercial 4.0 International License.
Authors retain copyright and grant the journal right of first publication with the work simultaneously licensed under a Creative Commons Attribution 4.0 International License that allows others to share the work with an acknowledgment of the work's authorship and initial publication in this journal.