SUBTITLING STRATEGY IN QUESTION OF DIRECTIVE SPEECH ACT IN JOJO RABBIT MOVIE
Abstract
Question of directive speech acts are frequently found in utterances of characters in many movies. There are so many movies that originate from overseas and undeniably in a different language from Indonesian, including English. Yet, not all Indonesians understand English, so it is important for it to have subtitles so Indonesian audience can understand the movie. To address this matter, this research analysed subtitling strategies that are used to translate question of directive speech acts in Jojo Rabbit movie using qualitative research by utilising Searle's (1976) questions of directive speech acts theory and Gottlieb's (1992) subtitling strategies. The data in this research is the English subtitle script and Indonesian subtitle of Jojo Rabbit movie. The aim of this research is to identify subtitling strategies that are used in question of Searle's (1976) directive speech act in Indonesian subtitle translation by using Gottlieb's (1992) theory in Jojo Rabbit movie. The results of this research showed that there are 130 questions of directive speech act in English and Indonesian subtitle of Jojo Rabbit movie, and 8 subtitling strategies that are used to translate directive speech acts question in the subtitle of this movie. These results also showed that the most dominant subtitling strategy for translating question of directive speech act in Jojo Rabbit movie is transfer.
References
Allan, K. (2014). Linguistic Meaning (RLE Linguistics A: General Linguistics). Routledge.
Baker, M. (2009). Routledge encyclopedia of translation studies. Routledge.
Christian, S. A., & Deigo, K. S. (2020). ANALYSIS OF CHINESE MOVIE SUBTITLE TRANSLATION STRATEGY. Jurnal Bahasa Dan Budaya China, 8(1).
Díaz Cintas, J., & Remael, A. (2007). Audiovisual Translation: Subtitling. Manchester: St. Jerome publishing.
Díaz-Cintas, J., & Muñoz Sánchez, P. (2006). Fansubs: Audiovisual translation in an amateur environment. Jostrans: The Journal of Specialised Translation, 6, 37–52.
Fathi, M., & Moghimizadeh, R. P. (2014). An Analysis of English Subtitling of Verbal Cultural Signs in the 'A Separation'Iranian Film. International Journal of English and Education, 3(3), 142–156.
Gottlieb, H. (1992). Subtitling-a new university discipline. In Teaching translation and interpreting (p. 161). John Benjamins.
Hastuti, E. D. (2015). An analysis on subtitling strategies of Romeo and Juliet movie. Register Journal, 8(1), 57–80.
Hauglund, S. A. T. (2011). Achieving Equivalent Effect in Translation of African American Vernacular English: Foreignization versus domestication. Unpublished Master's Thesis, University of Oslo.
O'Connell, E. (2000). Minority language dubbing for children: strategic considerations. Proceeding of the Mercator Conference on Audiovisual Translation and Minority Languages, 62–72.
Searle, J. R. (1976). A classification of illocutionary acts1. Language in Society, 5(1), 1–23.
Sutopo, H. B. (2006). Metode Penelitian Kualitatif: Teori dan Aplikasinya dalam Penelitian. Jakarta: Bumi Aksara.
Wibowo, A. P., & Suyudi, I. (2021). Penerjemahan Audio-Visual Pengantar dalam Penerjamahan Audio-Visual.
Yule, G. (1996). Pragmatics. Oxford university press.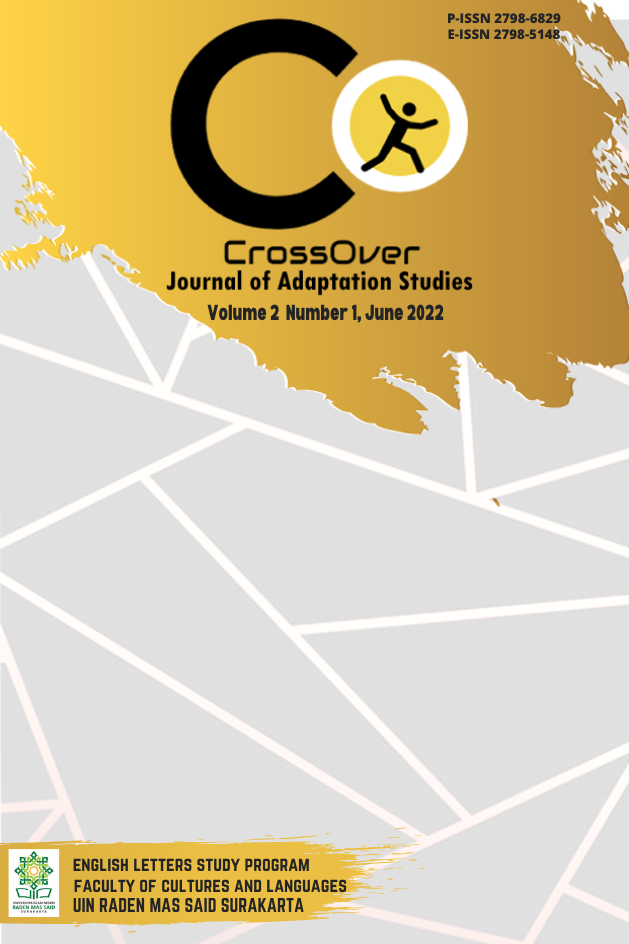 Downloads
License
Copyright (c) 2022 Gina Shabrina, Agung Prasetyo Wibowo
This work is licensed under a Creative Commons Attribution-NonCommercial 4.0 International License.
Authors retain copyright and grant the journal right of first publication with the work simultaneously licensed under a Creative Commons Attribution 4.0 International License that allows others to share the work with an acknowledgment of the work's authorship and initial publication in this journal.