INTROJECTION RAISES THE DEATH DRIVE FOR ACHIEVING PLEASURE PRINCIPLE IN THE HOURS MOVIE (SIGMUND FREUD'S PSYCHOANALISIS APPROACH)
Abstract
The Hours is a Psychology movie directed by Michael Cunningham and broadcast for the first time in 2002. This movie is about three women whose lives are mutually connected with the story in the novel Mrs. Dalloway by Virginia Woolf. Clarissa Vaughan, a lesbian, decided to take care of Richard, a man and her best friend who suffered from HIV AIDS. Laura Brown, the second character in the movie, has experienced some similarities in her way of life with the character in the novel Mrs. Daloway after she read it. Virginia Woolf, the author of that novel, takes part in the movie as a writer whose work influences other characters. Losing a loved one makes the characters feel unreal happiness. Thus, according to their principle, the characters try to put things from the outside into themselves and raise death drive to achieve pleasure. This study aims to explain how the introjection process carried out by the characters in The Hours movie leads to a death drive and then find out which characters resisted the introjection process and got out of the death drive. The result shows that each character does introjection by imitating and applying what they receive from outside. It raises the death drive, and some of them commit suicide.
References
Akhtar, S. (2011). On Freud's "Beyond the Pleasure Principle". Karnac Books.
Alwisol. (2011). Psikologi Kepribadian. UMM Press.
Andari, S. (2018). The Suicide Phenomenon in the Gunung Kidul Regency. Sosio Konsepsia: Jurnal Penelitian dan Pengembangan Kesejahteraan Sosial. 93. https://doi.org/10.33007/ska.v7i1.1141
Faruk. (2017). Metode Penelitian Sastra: Sebuah Penjelajahan Awal. Pustaka Pelajar. Ferenczi, S. (1912). On the Definition of Introjection. Routledge.
Fiorini, L. (2009). On Freud's "Mourning and Melancholia". Karnac Books.
Waluyo,G. (2022, February 12). Kisah Virginia Woolf, Novelis Cerdas yang Menderita Penyakit Mental. Kabar Banten. https://kabarbanten.pikiran- rakyat.com/internasional/pr-593725606/kisah-virginia-woolf-novelis-cerdas- yang-menderita-penyakit-mental?page=2
Hall, C.S. (1954). A Primer of Freudian Psychology. Mentor Book.
Hare, D. (2008). The Hours Movie Script. https://www.scripts.com/script/the_hours_10233
Hidayati, W. (2018, February 3). Review: Mrs. Dalloway Karya Virginia Woolf. https://wiznahidayati.wordpress.com/2018/02/03/review-mrs-dalloway-karya- virginia-woolf/
Kolitz, D. (2020, February 3). Is the "Death Drive" Real?. Gizmodo. https://gizmodo.com/is-the-death-drive-real-1841260531
Langås, U. (2020). Terrorizing Images and Traumatic Anticipation in Michael Cunningham's The Hours. De Gruyter. https://doi.org/10.1515/9783110693959-005
Marina, S. (n.d). The Hours (Film) Characters Laura Brown. Gradesaver. https://www.gradesaver.com/the-hours-film/study-guide/character-list.
Marina, S. (n.d). The Hours (Film) Characters Clarissa Vaughan. Gradesaver. https://www.gradesaver.com/the-hours-film/study-guide/character-list.
Rahman, A. (2014). The Hours "Terkekangnya Kebebasan Wanita".
http://ahfarahman.weebly.com/resensi-movie/the-hours
Saputri, M. (2018, January 25). Kisah Virginia Woolf Tokoh Sastra Abad 20 yang Berakhir Bunuh Diri. Tirto.id. https://tirto.id/kisah-virginia-woolf-tokoh-sastra- abad-20-yang-berakhir-bunuh-diri-cDLw
Setyoningsih, D. L. (2014). Death Drive: A Negative Impact of Racial Abuse in Toni Morrison's Beloved. [Skripsi] Universitas Jember. http://repository.unej.ac.id/handle/123456789/68040
Sutherland, J. & Hislop,S. (2014). The Connell Guide to Virginia Woolf's Mrs.
Dalloway." The Connell Guides.
Truscott, R. (2012). Introjection. Researchgate. https://www.researchgate.net/publication/313167434_Introjection
Ulfa, N. & Wulandari, D.F. (2019). Analysis of Anxiety and Defense Mechanism on the Main Character Reflected in Alice's Adventures in Wonderland (1865) Novel by Lewis Caroll. Prosiding seminar Nasional Universitas Islam Sultan Agung. http://jurnal.unissula.ac.id/index.php/kimuhum/article/view/8193
Utami, N.P. (2017, March 9). Introjeksi: Seberapa Penting Penilaian Orang Lain Bagi Anda?. Pijarpsikologi. https://pijarpsikologi.org/Introjeksi-seberapa-penting-penilaian-orang-lain-bagi- anda/#:~:text=%E2%80%9CIntrojeksi%20adalah%20memasukkan%20hal%20 hal,konflik%20yang%20terjadi%20dalam%20dirinya
Widyaningrum & Khoiri, M. (2015). Female Characters Bisexuality in Michael Cunningham's The Hours. Litera Kultura : Journal of Literary and Cultural Studies, 3(2). https://doi.org/10.26740/lk.v3i2.11665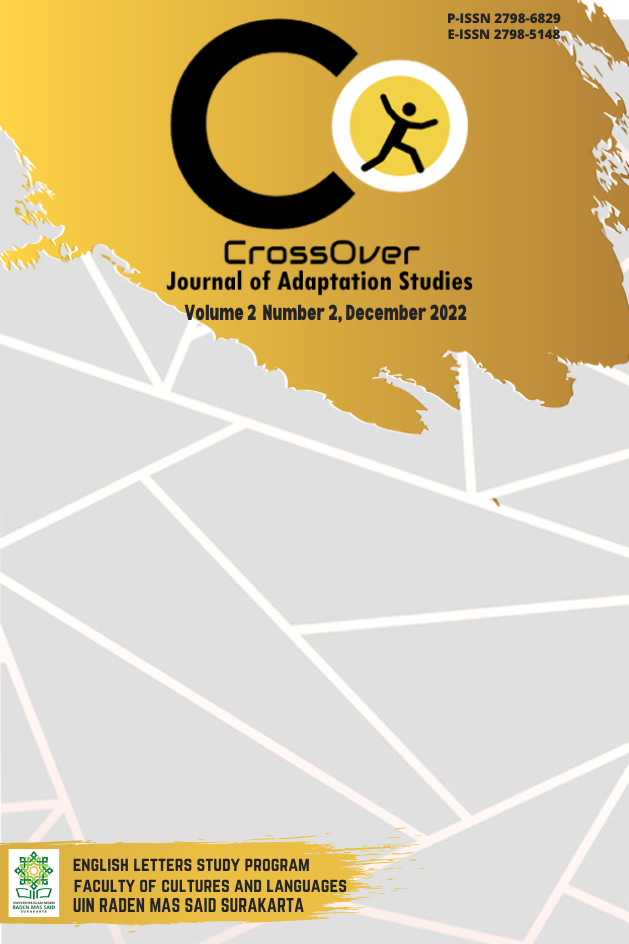 Downloads
License
Copyright (c) 2022 EVI IRAWANTI SARAGIH
This work is licensed under a Creative Commons Attribution-NonCommercial 4.0 International License.
Authors retain copyright and grant the journal right of first publication with the work simultaneously licensed under a Creative Commons Attribution 4.0 International License that allows others to share the work with an acknowledgment of the work's authorship and initial publication in this journal.