INTEGRASI MONOLOG INTERIOR DAN INTERTITLE DALAM BAHASA FILM: TELAAH PERSPEKTIF ESTETIKA TERHADAP FILM ADAPTASI "HUJAN BULAN JUNI" (2017)
Abstract
The adaptation of literary works to film is not new in this era. After undergoing several transformations from poetry to musicals, comics, graphic-novels, and novels, Hujan Bulan Juni as a literary work was then adapted into the film art with the same title. This research focuses on the film Hujan Bulan Juni (2017) directed by Reni Nurcahyo Hestu Saputra which was adapted from the text of the novel and poem Hujan Bulan Juni written by Sapardi Djoko Damono. Although there have been changes from literary works to films, film directors certainly want to maintain fidelity in the works even though this is not possible, because both have different mediums and have gone through different interpretation processes. In the end, it becomes understandable if there are so many elements that are removed or even added in a film adaptation. However, there are elements that actually change the point of view of the story and obscure the aesthetics of the film so that it is disturbing, namely the interior monologue and intertitle. The use of these two elements affects the essence of cinema which is projected through audio and visual, in which the film has a medium specification in the form of moving images. In this study, the researcher tries to describe what elements are removed or added by the director from the novel to the film and how they affect the adaptation work. To find out the characteristics of each of these mediums, it is necessary to conduct a comparative study. One way to find out the comparison, in this study using an intertextuality approach with microcosmic and macrocosmic methods. The result shows that the film adaptation does not maintain the fidelity. Interior monologue that appears a lot in the novel is mostly removed and the intertitle is excessively added.
References
Alber, J. (2017). The representation of character interiority in film: cinematic versions of psychonarration, free indirect discourse and direct thought. In P. K. Hansen, P. Roussin, J. Pier, & W. Schmid (Eds.), Emerging Vectors of Narratology, 57(2), 265–284.
Andrew, D. (2000). Film Adaptation. In Naremore, J. (Ed.). Rutgers University Press.
Bazin, A. (1997). Bazin at Work: Major Essays & Review from the Forties & Fifties (B. Cardullo, Ed.). Routledge.
Chatman, S. (1980). Story and Discourse: Narrative Structure in Fiction and Film. Cornell University Press.
Culler, J. (2002). Structuralist Poetics: Structuralism, Linguistics and The Study of Literature. Routledge.
Damono, S. D. (2017). Hujan Bulan Juni (13th ed.). Gramedia Pustaka Utama.
Desmond, J. (2006). Adaptation: Studying Film and Literature. McGraw-Hill.
Fitriyani, N. (2020). Reaksi Interpretatif terhadap Teks Susastra dan Tingkat Elaborasi Estetika dalam Teks Sinema: Telaah "Bumi Manusia" sebagai Karya Adaptasi dari Novel ke Film. Jurnal Nasional Cikini, 5(2), 36–49. https://doi.org/10.52969/jsnc.v5i2.78
Given, L. M. (Ed.). (2008). The Sage Encyclopedia of Qualitative Research Methods: Vols. 1 & 2 (London). Sage Publications.
Gunning, T. (2019). The Question of Poetic Cinema. In N. Carroll, L. T. D. Summa, & S. Loht (Eds.), The Palgrave Handbook of the Philosophy of Film and Motion Pictures (pp. 551–571). Palgrave Macmillan. https://doi.org/10.1007/978-3-030-19601-1_24
Hutcheon, L., & O'Flynn, S. (2013). A Theory of Adaptation (2nd ed.). Routledge.
Konyves, T. (2020). From The Cinema of Poetry to The Poetry of Cinema. Art Visuals and Poetry Filmfestival. https://www.poetryfilm-vienna.com/en/node/304
Kozloff, S. (1988). Invisible Storytellers: Voice-Over Narration in American Fiction Film. University of California Press.
Kristeva, J. (1987). Desire Language: A Semiotic Approach to Literature and Art. Columbia University Press.
McFarlane, B. (1996). Novel to Film: An Introduction to The Theory of Adaptation. Clarendon Press.
Metz, C. (1974). Film Language: A Semiotics of The Cinema (M. Taylor, Trans.). The University of Chicago Press.
Nebesio, B. Y. (1996). A Compromise with Literature? Making Sense of Intertitles in the Silent Films of Alexander Dovzhenko. Canadian Review of Comparative Literature, 23(3), 679–700. https://journals.library.ualberta.ca/crcl/index.php/crcl/article/view/3889
Portnoy, K. (1946). Screen Adaptation : A Scriptwriting Handbook (2nd ed.). Focal Press.
Saputra, R. N. H. (Director). (2017). Hujan Bulan Juni. Starvision Plus. https://www.netflix.com/id-en/title/81332178
Seddeek, A. M. R. M., & Ehsan, A. (2018). Aesthetic Perspective in Poetry Film: A Study of Charles Bukowski's "Bluebird" Poem and its Visual Form Adaptation by Michat Stenzel. Global Journal of Arts, Humanities and Social Sciences, 6(9), 54–70. https://www.eajournals.org/journals/global-journal-of-arts-humanities-and-social-sciences-gjahss/vol-6-issue-9-september-2018/aesthetic-perspective-in-poetry-film-a-study-of-charles-bukowskis-bluebird-poem-and-its-visual-form-adaptation-by-michat-stenzel/
Slethaug, G. E. (2014). Adaptation and Theory Criticism: Postmodern Literature and Cinema in the USA. Bloomsbury.
Snyder, M. H. (2011). Analyzing Literature-to-Film Adaptations: A Novelist's Exploration and Guide. The Continuum International Publishing Group.
Stam, R. (2000). Film Adaptation (J. Naremore, Ed.). Rutgers University Press.
Thompson, K., & Bordwell, D. (2017). Film Art: An Introduction (11th ed.). McGraw Hill.
Wagner, G. (1975). The Novel and The Cinema. Fairleigh Dickinson University Press.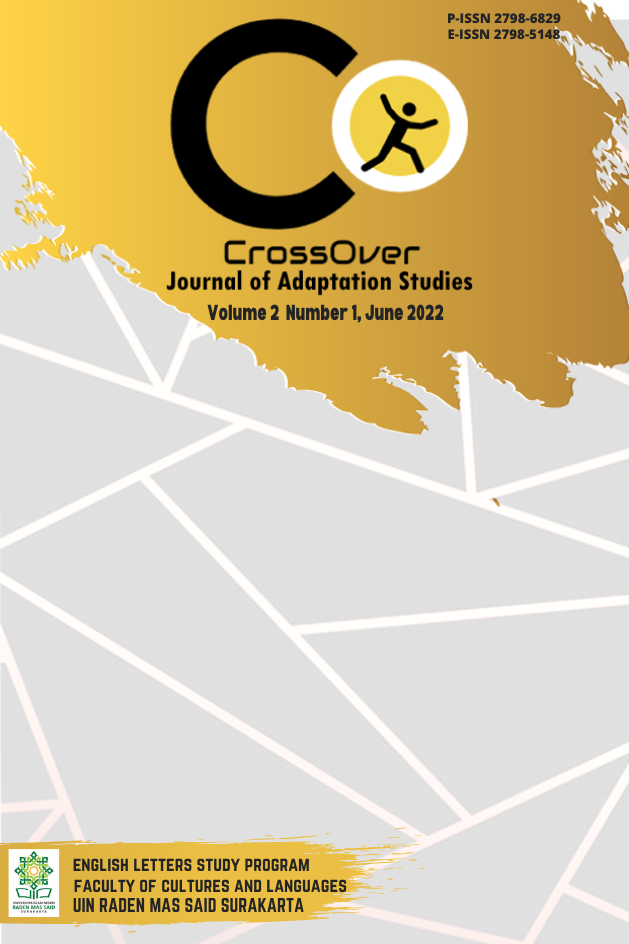 Downloads
License
Copyright (c) 2022 Nashrullah Ali Fauzi, Nurbaiti Fitriyani
This work is licensed under a Creative Commons Attribution-NonCommercial 4.0 International License.
Authors retain copyright and grant the journal right of first publication with the work simultaneously licensed under a Creative Commons Attribution 4.0 International License that allows others to share the work with an acknowledgment of the work's authorship and initial publication in this journal.