EKRANISASI NOVEL TERJEMAHAN KIM JI-YEONG BORN 1982 KARYA CHO NAM-JOO: TRANSFORMASI BUDAYA MISOGINI KE LAYAR LEBAR DALAM LINGKUP SASARAN MASYARAKAT MISOGINI KOREA SELATAN
Abstract
Penelitian ini memiliki dua tujuan: (1) Untuk melacak bagaimana perubahan yang terjadi dalam film Kim Ji-yeong Born 1982 dari bentuk novelnya dari lensa masyarakat Korea Selatan, (2) menjelaskan bagaimana transformasi budaya misogini yang dialihkan dalam film. Teori Ekranisasi akan digunakan untuk mengungkap perubahan dari novel dan film. Penelitian ini juga menggunakan metode deskriptif kualitatif. Dari teori dan metode yang dilakukan, diperoleh hasil bahwa fenomena misogini yang ditampilkan di novel dan film memiliki perbedaan sesuai perspektif medianya. Dalam proses ekranisasi terdapat perubahan, pengurangan, dan penambahan yang befokus pada alur, tokoh, dan perwatakan para pelaku praktik misogini. Proses ekranisasi yang dilakukan sineas dengan melakukan variasi perubahan, pengurangan, dan penambahan merupakan upaya untuk mendapatkan ketepatan cerita, kelogisan cerita, dan pemanfaatan waktu penceritaan.
Abstract
This study aims to: (1) reveal the changes from the adaptation of Kim Ji-yeong Born 1982 novel to film, and (2) explain how misogyny is transformed in the adaptation. The theory of ecranization is used to analyze the changes occur in the adapation process. Using descriptive qualitative method, this study analyzes the data which are taken from the novel and the film entitled Kim Ji-yeong Born 1982. The result shows that the phenomenon of misogyny presented differently in the novel and the film. The changes are in accordance with the perspective of the media.  Some strategies in ecranization process, alteration, omission, and addition, are applied to the plot, characters, and characterization of those who practice mysoginy. The ecranization process carried out by the filmmaker using the strategies is an attempt to make sense of the whole story in the film, considering time limitation a film has.
References
Aderia, P., Hasanuddin, W.S., & Zulfadhi. (2013). Ekranisasi Novel ke Film "Surat Kecil Untuk Tuhan". Jurnal Bahasa dan Sastra, 1(2), 1-14. https://doi.org/10.24036/89290.
Amalia, S., Abidin, Z., & Kusumaningrum, R. (2022). Konfusianisme dalam Film "Kim Ji-yeong Born 1982: Perspektif Semiotika". Jurnal Komunikasi, 8(1), 794-804. https://journal.uniga.ac.id/index.php/JK/article/download/1291/1168.
Ernest, Y.K. & Nurgiyantoro, B. (2018). Kajian Ekranisasi: Dari Novel "Pintu Terlarang" ke Film "Pintu Terlarang". Jurnal Diksi, 26(2), 120-127. http://journal.uny.ac.id/index.php/diksi.
Febriyanti, R.H., Zuriyati, & Rohman, S. (2020). Misoginisme dalam novel "Kim Ji-yeong Lahir tahun 1982" Karya Cho Nam-joo kajian feminisme sastra. Jurnal Bahasa dan Sastra, 5(2), 159-176. https://doi.org/10.22515/ljbs.v5i2.2571.
Herlina, E. (2018). Representasi Ideologi Gender di Korea Selatan dalam Drama Korea "Because This Is My Frist Life". Pantun Jurnal Ilmiah Seni Budaya, 3(2), 13-27. http://dx.doi.org/10.26742/pantun.v3i1.801.
Ika, N. (2019, November 16). Film Kim Ji-young, Born 1982 & Kisah yang Harus Diceritakan. https://tirto.id/film-kim-ji-young-born-1982-kisah-yang-harus-diceritakan-elLP.
Kardina., & Yurisa A. M. (2021). Analisis Gender Based Violence dalam Konvensi Cedaw pada Isu Kekerasan Seksual si Korea Selatan: Jurnal Ilmu Hubungan International, 1(2), 156-170. https://ojs.unsulbar.ac.id.
Muashomah. (2010). Analisis labelling perempuan dengan teori feminisme psikoanalisis: studi kasus majalah remaja olga!. Jurnal Komunitas, 2(2), 143-155. https://dx.doi.org/10.15294/komunitas.v2i2.2284.
Nam-joo, C. (2019). Kim Ji-yeong lahir tahun 1982. PT. Gramedia Pustaka Utama.
Oktafiyani, A.S., & Nuryatin, A. (2017). Transformasi Makna Simbolik Mihrab pada Novel Ke Film dalam Mihrab Cinta Karta Habiburrahman El Shirazy: Kajian Ekranisasi. Jurnal Sastra Indonesia, 6(3), 39-45. http://journal.unnes.ac.id/sju/index.php/jsi.
Purbani, P. (2013). Watak dan Perjuangan Perempuan dalam Novel-Novel Karya Penulis Perempyan Indonesia dan Malaysia Awal Abad 21. Jurnal Litera, 12(2), 367-380. 10.21831/ltr.v12i02.1596.
Sakinah, A.I, & Asiah, D.H.S. (2017). Menyoroti budaya patriarki di Indonesia. Social Work Jurnal, 7(1), 1-129. https://doi.org/10.24198/share.v7i1.13820.
Sari, I.P. (2018, Maret 19). Irene 'Red Velvet' Kena Kontroversi Karena Membaca Novel Feminis Born in 82, Kim Jiyoung. https://cewekbanget.grid.id/read/06875288/irene-red-velvet-kena-kontroversi-karena-membaca-novel-feminis-born-in-82-kim-jiyoung?page=all.
The Economist. (2020, April 8). South Korean Women are Fighting to be Heard. The Economist. https://www.economist.com/special-report/2020/04/08/south-korean-women-are-fighting-to-be-heard?gclid=CjwKCAiAkrWdBhBkEiwAZ9cdcCHhBwUiVwORVBA4rKKdwX9XbDN94H0hrJW-xZ5K3CaX5sRYwhsrrhoCZF8QAvD_BwE&gclsrc=aw.ds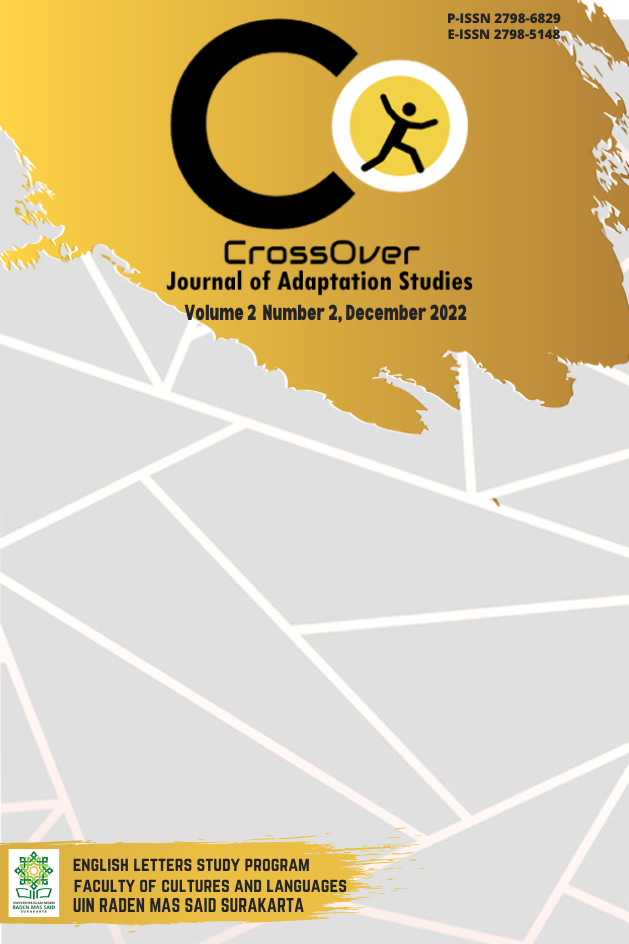 Downloads
License
Copyright (c) 2022 Risalah Damar Ratri
This work is licensed under a Creative Commons Attribution-NonCommercial 4.0 International License.
Authors retain copyright and grant the journal right of first publication with the work simultaneously licensed under a Creative Commons Attribution 4.0 International License that allows others to share the work with an acknowledgment of the work's authorship and initial publication in this journal.