ADAPTATION ANALYSIS OF AMERICAN VIDEO GAMES MORTAL KOMBAT INTO FILM MORTAL KOMBAT REBOOT 2021
Keywords:
Adaptation, Game into Film, Changes
Abstract
Nowadays, many games are transformed into adaptation works. One of them is Mortal Kombat Game, adapted into Film Mortal Kombat Reboot 2021. Using these objects, the Mortal Kombat Game and its film adaptations Mortal Kombat Reboot 2021, this research analyzes the movie adaptation process since it contains some changes and omissions. The changes are inevitable because the media is transformed, which was originally in the form of game and adapted into a version with a shorter duration, a movie. This is in accordance with Hutcheon's adaptation theory in the Interacting to Showing section, which is also used as the main theory to analyze the object of this research. There are also differences in terms of audiovisual and interaction with the audience. There are two problem formulations to be discussed in this research. First, what changes are made in the movie adaptation, and second, the consequences of differences in media of the stories in the games and films. To conduct this research, we use the descriptive comparative method to explain the differences. This method supports written information and pictures, which is important to study this article. The results of the research reveal that there are two changes that occur in this film adaptation. First, there are five different character visualizations and one additional character, and second, four plot changes. The researchers conclude that the adaptation made by the film production team is not much different from the appearance of the characters and the plot of the original game. Thus, the adapter does not completely change it from the original game but only expands it as a new story made for the film, but keeps the game as the main reference.  
References
Ankshear, C., & Knobel, M. (2002). Chapter Four: Doom or Mortal Kombat? Bilingual Literacy in the "Mainstream" Classroom. Counterpoints, 134, pp.31–51. Http://www.Jstor.Org/Stable/45136135
Bartholow, B.D. & Anderson, C.A. (2002). Effects of Violent Video Games on Aggressive Behavior: Potential Sex Differences. Journal of Experimental Social Psychology. https://doi.org/10.1006/jesp.2001.1502
Brown, D. & Krzywinska, T. (2009). Movie-games and Game-movies: Towards an Aesthetics of Transmediality. In Warren Buckland (ed.), Film Theory and Contemporary Hollywood Movies, 86-102. Routledge.
Budziszewski, P.K. (2012). Mortal Kombat. Encyclopedia of Video Games: M-Z. Wolf, M.J.P. (Ed.). Greenwood.
Bukhari, S. A. H. (2011). What is comparative study. https://dx.doi.org/10.2139/ssrn.1962328
Chacowski, R. (2021, April 25). 'Mortal Kombat': a forgettable, disappointing adaptation of the video game series. The Signal. https://www.tcnjsignalnews.com/
Flanagan, K.M. (2017). Video Game Adaptation. The Oxford Handbook of Adaptation Studies. https://books.google.co.id/books?id=3FkjDgAAQBAJ&printsec=frontcover#v=onepage&q&f=false
Hayse, M. (2012) Morality and Ethics. Encyclopedia of Video Games: M-Z. Wolf, M.J.P. (Ed.). Greenwood.
Herman, G. (2022). Johnny Cage Hopeful Starts Mortal Being Cast. Screenrant. https://screenrant.com/mortal-kombat-2-movie-johnny-cage-miz-training/
Hutcheon, L. (2006). Theory of Adaptation. Routledge.
IMDB. (2021, April 18). Mortal Combat. https://www.imdb.com/title/tt0293429/
Kirsh, S.J. (2016). Seeing the World Through Mortal Kombat-colored Glasses: Violent Video Games and the Development of a Short-term Hostile Attribution Bias. Childhood: A Journal of Global Childhood Research. https://doi.org/10.1177/0907568298005002005
MacArthur, M., Wilkinson, L., & Zaiontz, K. (Eds.). (2009). Performing Adaptations: Essays and Conversations on the Theory and Practice of Adaptation. Cambridge Scholars Publishing.
Mortal Kombat. (2022, June 6). In Wikipedia. https://en.wikipedia.org/w/index.php?title=Mortal_Kombat&oldid=1091737442
Mortal Kombat (2021 film). (2022, June 14). In Wikipedia. https://en.wikipedia.org/w/index.php?title=Mortal_Kombat_(2021_film)&oldid=1093094821
Naremore, J. (2000). Film Adaptation. Rutgers UP.
Paula, B.H., Burn, A., Noss, R., & Valente, J.A. (2018). Playing Beowulf: Bridging computational thinking, arts and literature through game-making. International Journal of Child-Computer Interaction, 16, pp.39-46. https://doi.org/10.1016/j.ijcci.2017.11.003
Wallin, M. R. (2007). Myth, Monsters and Markets: Ethos, Identification, and the Video Game Adaptations of the Lord of the Rings. The International Journal of Computer Game Research. http://gamestudies.org/0701/articles/wallin/
Wibowo, A. P. (2021). The Prototype of Guidance in Translating Menu Text Asset: A Study of Video Game Localization. CrossOver: Journal of Adaptation Studies. https://ejournal.uinsaid.ac.id/index.php/crossover/article/view/3735
Yushar, S. H. N. (2018). Adaptation Peter and Wendy Novel (1911) into Pan Film (2015). [Doctoral dissertation]. Universitas Islam Negeri Alauddin Makassar.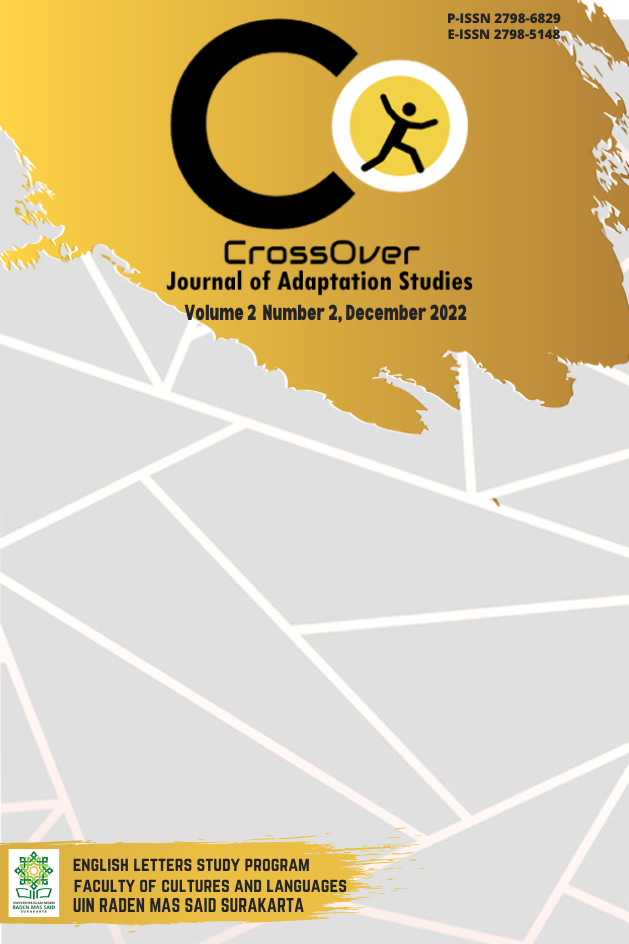 Downloads
License
Copyright (c) 2022 Arya Saputra
This work is licensed under a Creative Commons Attribution-NonCommercial 4.0 International License.
Authors retain copyright and grant the journal right of first publication with the work simultaneously licensed under a Creative Commons Attribution 4.0 International License that allows others to share the work with an acknowledgment of the work's authorship and initial publication in this journal.