STRATEGI FUNDRAISING ZAKAT DI LEMBAGA RUMAH PEMBERDAYAAN UMMAT (RPU)
Keywords:
Strategi; Fundraising; Zakat.
Abstract
The potential for zakat in Jatinom District itself is quite large. This can be seen from the condition of the community that the majority of the population is Muslim and some of the population is included in the category of prosperous society. However, this potential has not been fully explored because the level of public awareness in paying zakat is still low. In responding to this, the Rumah Pemberdayaan Ummat (RPU) Jatinom instituted a zakat fundraising strategy. Therefore, the purpose of this study is to find out how the zakat fundraising strategy is the Rumah Pemberdayaan Ummat (RPU) Jatinom and its obstacles. The type of research used is field qualitative research. Sources of data in this study are primary and secondary data sources. Primary sources were obtained from observations, interviews, with RPU Jatinom, then secondary sources were obtained from important supporting documents. After the data is collected, the next step is to go through the data reduction stage, data presentation and drawing conclusions. The zakat fundraising strategy of the Rumah Pemberdayaan Ummat (RPU) Jatinom is carried out through several methods, namely online methods and offline methods.
Potensi zakat di Kecamatan Jatinom sendiri cukup besar. Hal tersebut terihat dari kondisi masyarakat mayoritas penduduk beragama Islam serta sebagian penduduk termasuk dalam kategori masyarakat sejahtera. Akan tetapi, dari potensi tersebut belum dapat tergali secara maksimal karena tingkat kesadaran masyarakat dalam membayarkan zakatnya masih rendah. Dalam menjawab hal tersebut Lembaga Rumah Pemberdayaan Ummat (RPU) Jatinom melakukan strategi fundraising zakat. Maka dari itu tujuan dalam penelitian ini yaitu untuk mengetahui bagaimana strategi fundraising zakat Lembaga Rumah Pemberdayaan Ummat (RPU) dan hambatannya. Jenis penelitian yang digunakan adalah penelitian kualitatif lapangan. Sumber data dalam penelitian ini adalah sumber data primer dan sekunder. Untuk sumber primer didapatkan dari observasi, wawancara, dengan pihak RPU Jatinom, kemudian untuk sumber sekunder didapatkan dari dokumendokumen penting sebagai pendukung. Setelah data terkumpul, langkah berikutnya yaitu melalui tahap reduksi data, penyajian data dan penarikan kesimpulan. Strategi fundraising zakat Lembaga Rumah Pemberdayaan Ummat (RPU) dilakukan melalui beberapa metode yaitu metode secara online dan metode secara offline.
References
Asmani, Jamal Ma'mur. 2016. Zakat Solusi Mengentaskan Kemiskinan Umat, Yogyakarta: Aswaja Pressindo
Badan Pusat Statistik Kabupaten Klaten. 2020. Kecamatan Jatinom Dalam Angka 2020, Klaten: Badan Pusat Statistik.
Huda, Miftahul. 2012. Pengelolaan Wakaf Dalam Perspektif Fundraising, Yogyakarta: Kementrian Agama RI.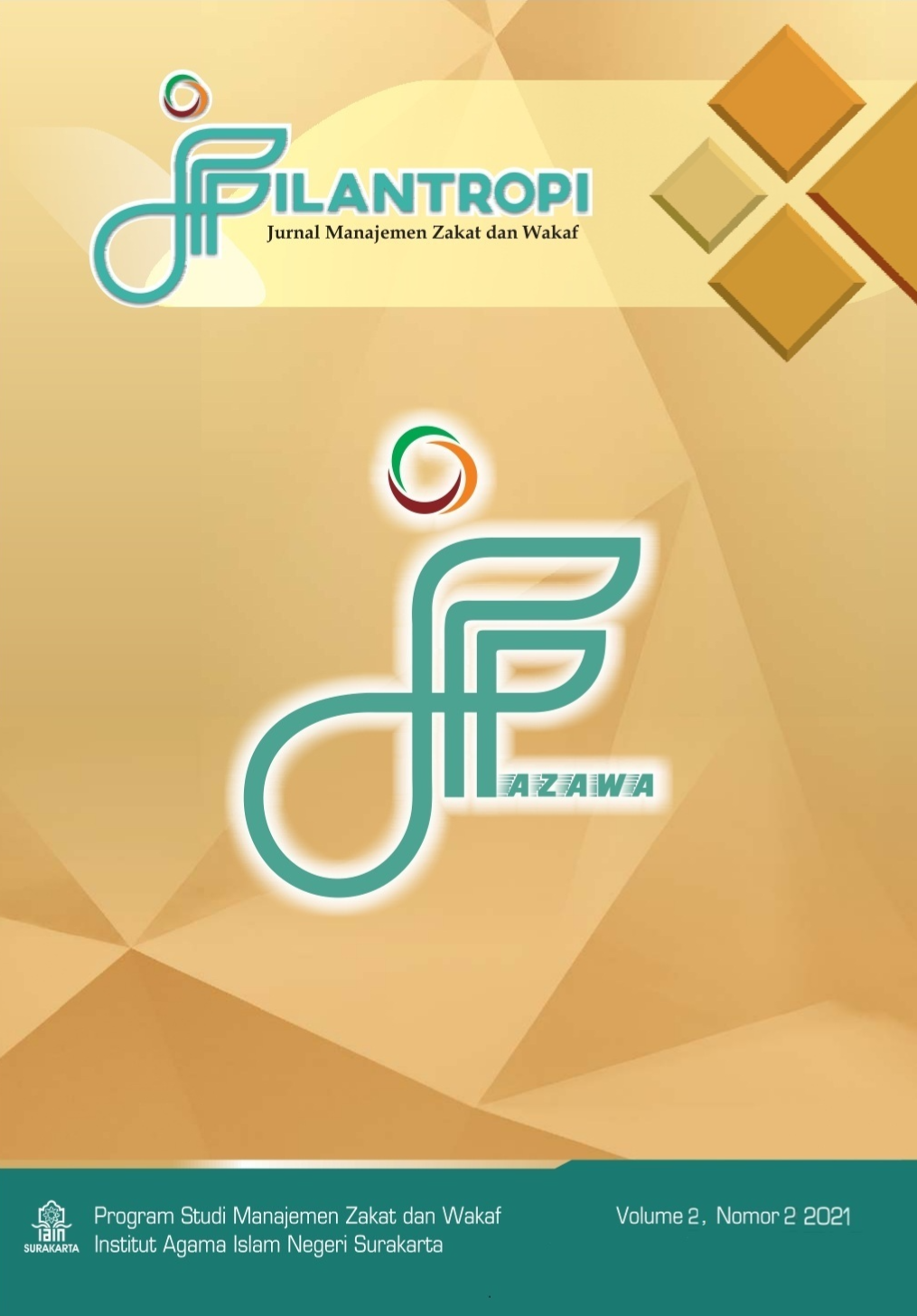 Downloads
License
Copyright (c) 2022 Mustika Kusuma Wardhani
This work is licensed under a Creative Commons Attribution-ShareAlike 4.0 International License.