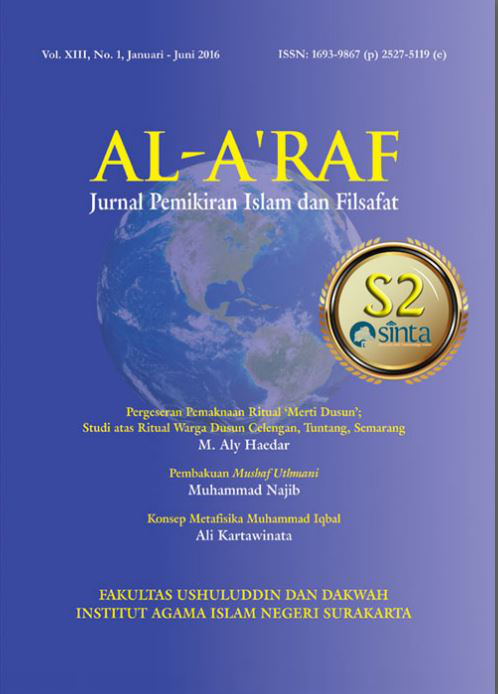 OTENTITAS HADIS DALAM PERSPEKTIF HARALD MOTZKI
Declarations
Publisher's Note
UIN Raden Mas Said Surakarta remains neutral with regard to jurisdictional claims in published maps and institutional affiliations.
References
Amin, Kamaruddin, "Book Review The Origins of Islamic
Jurisprudence Meccan Fiqh before the Classical School",
dalam Al-Jami"ah: Journal of Islamic Studies, Yogyakarta:
UIN Sunan Kalijaga Yogyakarta, 2003.
Amin, Kamarudin, Metode Kritik hadis, Jakarta: PT Mizan Publika,
2009.
Arif, Syamsuddin, Orientalis dan Diabolisme Pemikiran, Jakarta: Gema
Insani, 2008.
Masrur, Ali, Teori common link, (Yokyakarta: PT. LKiS Pelangi Aksara,
2007.
Motzki, Harald, The Musannaf of ar-razaq as-San"ani a Source of
Authentic Ahadit of the fist Century, dalam journal of
Near Easern Studies, vol. 50. No. 1 di download dari
http://www.scribd.com
Rayyah, Mahmud Abu, Adhwa "ala As-Sunnah Al-Muhammadyyah,
Kairo, t.tp., 1958.
Solahudin, M. Agus dan Agus Suyadi, Ulumul Hadis, (Bandung:
Pustaka Setia, 2009.
Sumbulah, Umi, Kajian Kritis Ilmu Hadis, Malang: UIN-Maliki Press,
2010.
Bibliographic Information