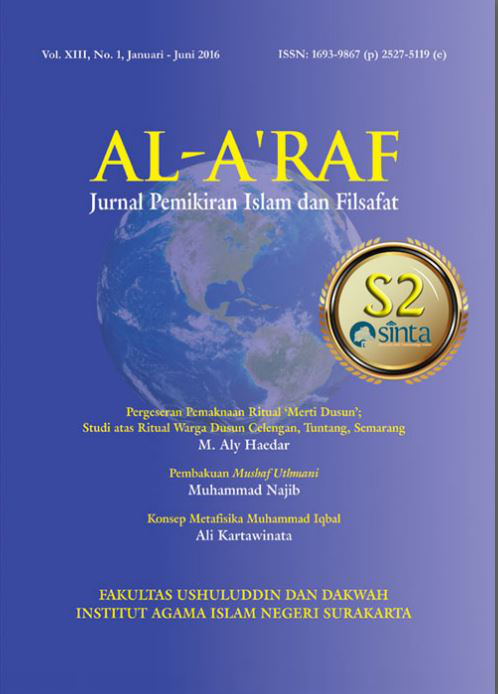 PERPETUATION OF RADICAL IDEOLOGY: DEPERSONALIZATION AND AGENCY OF WOMEN AFTER THE BANNING OF HIZBUT TAHRIR INDONESIA
Declarations
Publisher's Note
UIN Raden Mas Said Surakarta remains neutral with regard to jurisdictional claims in published maps and institutional affiliations.
References
Abdullah, Kurniawan. "Hizbut Tahrir Indonesia (Gerakan Politik Islam Ekstra-Parlementer)." In Gerakan Keislaman Pasca Orde Baru, Upaya Merambah Dimensi Baru Islam, edited by Imam Tholkhah dan Neng Dara Afifah, 103. Jakarta: Balitbang & Diktat Keagamaan Depag, 2005.
Ahnaf, Mohammad Iqbal. "Between Revolution and Reform: The Future of Hizbut Tahrir Indonesia." Dynamics of Asymetric Conflict 2, no. 2 (2009): 65–85.
Akbar, Cholis. "HTI: Kesetaraan Gender, Jargon Kosong Kapitalis." Hidayatullah.Com.
Arigi, Fikri. "Komnas Perempuan: Ratusan Perda Diskriminatif Terhadap Perempuan." Tempo.Com.
Asrori, Ahmad. "Radikalisme Di Indonesia: Antara Historisitas Dan Antropisitas." Kalam: Jurnal Studi Agama dan Pemikiran 9, no. 2 (2015): 253–268.
Awaludin. "HTI : Kesetaraan Gender= Jargon Kosong Kapitalis." Okezone.Com.
Bötticher, Astrid. "Towards Academic Consensus Definitions of Radicalism and Extremism." Terrorism Research Initiative TRI and the Center for Terrorism and Security Studies 11, no. 4 (2017).
Dzuhayatin, Siti Ruhaini. "Pengantar." In Islam Dan Konstruksi Seksualitas, vi. Yogyakarta: PSW IAIN Yogyakarta dan The Ford Foundation, 2002.
Editorial BBC. "Wajibkan Warga Berbusana Syariat Islam Saat Urus Administrasi, Bupati Aceh Barat Bisa Dilaporkan Ke Ombudsman." BBC.
Felay, Greg. Islamic Radicalism In Indonesia The Faltering Revival? Southeast Asian Affairs: ISEAS, 2004.
Foucault, Michel. The Use of Pleasure: Volume 2 of The History of Sexuality. New York: Vintage Books, 1990.
G.A. Ohorella Sri Sutjiatiningsih, Much. Taruddin Ibrahim. Peranan Wanita Indonesia Dalam Masa Pergerakan Nasional. Jakarta: Departemen Pendidikan dan Kebudayaan Direktorat Sejarah dan Nilai Tradisional Proyek Inventarisasi dan Dokumentasi Sejarah Nasional, 1994.
Hamid, Sadek. "Islamic Political Radicalism in Britain: The Case of Hizbut Tahrir." Riset Gate.
Hidayana, Irwan M. Seksualitas: Teori Dan Realitas. Jakarta: FISIP UI, 2004.
Hilmy, Masdar. "Akar-Akar Transnasionalisme Islam Hizbut Tahrir Indonesia (HTI)." Islamica 6, no. 1 (2011): 1.
———. "Radikalisme Agama Dan Politik Demokrasi Di Indonesia Pasca Orde Baru." Miqot 39, no. 2 (2015): 407–425.
Hogg, Michael A. "The Social Identity Pespective: Intergroup Relations, Self-Conception, and Small Groups." Sage Journals 35, no. 3 (2004).
Indrawan, Angga. "Muslimah HTI Tolak Kesetaraan Gender." Republika.Co.Id.
Kafid, Nur. "Political Clientelism as the Way of Survival of Radical Islamic Group Movement in Cianjur, West Java." Walisongo: Jurnal Penelitian Sosial Keagamaan 26, no. 1 (2018): 67–93.
Khatimah, Khusnul. "Hizbut Tahrir Sebagai Gerakan Sosial (Pengaruh Hizbut Tahrir Di Timur Tengah Terhadap HTI Di Indonesia)." UIN Sunan Kalijaga Yogyakarta, 2012.
Kompas, Editorial. "Pembubaran HTI Berdasarkan Data Dan Fakta." Kompas. Jakarta, 2017.
Lies Marcoes, Lanny Octavia, Inayah Rohmaniyah. Kesaksian Para Pengabdi: Kajian Tentang Perempuan Dan Fundamentalisme Di Indonesia. Jakarta: Rumah Kitab Bekerjasama dengan Norwegian Centre for Human Righ, 2014.
Mubarak, Zaki. Geneologi Islam Radikal Di Indonesia. Jakarta: LP3ES, 2008.
Muhtadi, Burhanuddin. "The Quest for Hizbut Tahrir in Indonesia." Asian Journal of Social Science 37, no. 4 (2009): 623–645.
Osman, Mohamed Nawab Mohamed. "Insight: Is Hizbut Tahrir a Threat to Indonesia?" The Jakarta Post.
Rohmaniyah, Inayah. "Gender, Androsentrisme Dan Sexisme Dalam Tafsir Agama." Welfare: Jurnal Ilmu Kesejahteraan Sosial 2, no. 1 (2013).
———. Gender Dan Konstruksi Patriarkhi Dalam Tafsir Agama: Sebuah Jalan Panjang. Yogyakarta: Jurusan Sosiologi Agama Ushuluddin dan Pemikiran Islam UIN Sunan Kalijaga, 2017.
———. Gender Dan Seksualitas Perempuan Dalam Perebutan Wacana Tafsir. Yogyakarta: Suka Press, 2019.
———. The Social Origins of Fundamentalism and Its Contextualization in Indonesia. Yogyakarta: UIN Sunan Kalijaga, 2014.
Sondarika, Wulan. "Peranan Wanita Dalam Perjuangan Kemerdekaan Indonesia Masa Pendudukan Jepang." Jurnal Historia 5, no. 2 (2017).
Stets, Peter Burke and Jan E. Identity Theory. New York: Oxford University Press, 2009.
Strategis, Markas Besar Tentara Nasional Indonesia Pusat Pengkajian. Menghidupkan Kembali Kekhalifahan Di Nusantara: Hizbut Tahrir Indonesia (HTI), Strategi Mobilisasi Dan Dampaknya Bagi Indonesia. Jakarta: Mabes TNI, 2010.
Thaib, Syukrin. "Demokrasi Menurut Hizbut Tahrir Indonesia; Pemikiran Dan Gerakan Aktivis Hizbut Tahrir Indonesia Kota Gorontalo." UIN Alauddin Makassar, 2013.
Triantini, Zusiana Elly, Tahir, Masnun. Terpinggirkan Di Tengah Perjuangan: Studi Terhadap Peran Politik Perempuan Hizbut Tahrir. Yogyakarta: LKiS, 2007.
Waluyo, Sapto. Kebangkitan Politik Dakwah. Bandung: Harakatuna Publishing, 2005.
Wieringa, Saskia. "Pasang Surut Gerakan Perempuan Indonesia." In Relasi Agama Dan Negara. Jakarta: Komnas Perempuan, 2010.
Woodward, Inayah Rohmaniyah & Mark. Wahhabi Perspectives on Pluralism and Gender: A Saudi – Indonesian Contrast. USA, 2012.
Zuraya, Nidia. "Syekh Taqiyuddin Alnabhani: Sang Pendiri Hizbut Tahrir." Republika.
Bibliographic Information
Cite this article as:
Rohmaniyah, I. (2020). PERPETUATION OF RADICAL IDEOLOGY: DEPERSONALIZATION AND AGENCY OF WOMEN AFTER THE BANNING OF HIZBUT TAHRIR INDONESIA. Al-A'raf : Jurnal Pemikiran Islam Dan Filsafat, 17(1), 45–66. https://doi.org/10.22515/ajpif.v17i1.2361