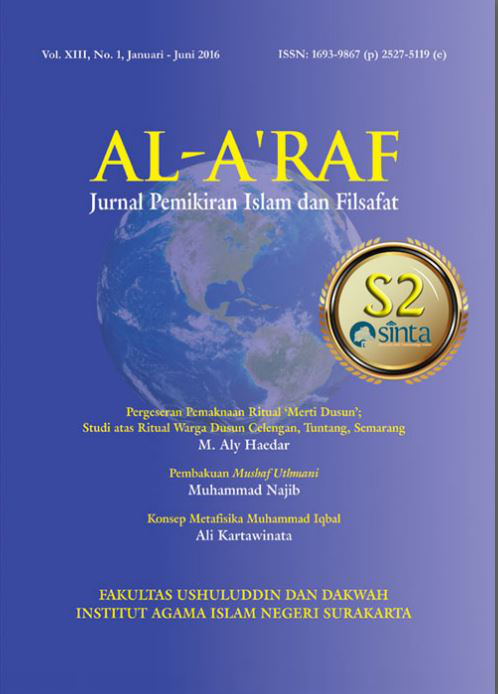 HIJRA, BETWEEN SOCIOLOGICAL AND THEOLOGICAL PHENOMENON
Keywords
Socio-theological movement
Declarations
Publisher's Note
UIN Raden Mas Said Surakarta remains neutral with regard to jurisdictional claims in published maps and institutional affiliations.
References
Abidin, Zaenal. "Kontekstualisasi Hijrah sebagai Titik Tolak Pembaharuan Pendidikan." Suhuf 29, no. 1 (2017)
Abror, Robby H. Seri Pemikiran Tokoh Epistemologi Kiri. Edited by Listiyono Santoso. Jakarta: Ar-Ruzz Media. Yogyakarta: Ar Ruzz Media, 2010.
Addini, Agnia. "Fenomena Gerakan Hijrah di Kalangan Pemuda Muslim sebagai Mode Sosial." Journal of Islamic civilization 1, no. 2 (2019)
Al-Mubarakfuri, Syaifurahman. Sirah Nabawiyah; Sejarah Nabi Muhammad. Jakarta Timur: Ummul Qura, 2017.
Amna, Afina. "Hijrah Artis sebagai Komodifikasi Agama." Jurnal Sosiologi Reflektif 13, no. 2 (2019).
Arkoun, Mohammed. "Membongkar Wacana Hegemonik dalam Islam dan Post Modernisme" (1999).
———. Nalar Islami dan Nalar Modern: Berbagai Tantangan dan Jalan Baru. INIS, 1994.
Durkheim, Emile. The Elemnetary Forms of The Regilious Life. Yogyakarta: IRCiSoD, 2011.
Fatoni, Uwes, and Annisa Nafisah Rais. "Pengelolaan Kesan Da'i dalam Kegiatan Dakwah Pemuda Hijrah." KOMUNIKA: Jurnal Dakwah dan Komunikasi 12, no. 2 (2018).
Foucault, Michel. Arkeologi Pengetahuan. Yogyakarta: IRCiSoD, 2012.
Fuad, Sahlul. "Gerakan Hijrah dan Konstruksi Emosi Keislaman di Perkotaan." Mimbar Agama Budaya (2020).
Giddens, Anthony. Teori Strukturasi Dasar-Dasar Pembentukan Struktur Sosial Masyarakat,. Yogyakarta: Pustaka Pelajar, 2016.
Giddens, Anthony, and Jonathan Turner. "Social Theory Today (Panduan Sistematis Tradisi dan Tren Terdepan Teori Sosial), Terj." Yudi Santoso, Yogyakarta: Pustaka Pelajar (2015).
Hamudy, Nurul Annisa, and Moh Ilham A Hamudy. "Hijrah Movement in Indonesia: Shifting Concept and Implementation in Religiosity." JSW (Jurnal Sosiologi Walisongo) 4, no. 2 (2020).
Hudaeri, M. "Agama dan Tantangan Manusia Kontemorer." Al Qalam 23, no. 2 (2006).
Irmansyah. "Pemuda Hijrah: antara Pietization dengan Lifestyle pada Komunitas Hijrah Yuk Ngaji Yogyakarta." Madania: Jurnal Ilmu-Ilmu Keislaman 10, no. 1 (2020).
Jamhari. "Kritik Nalar Islam sebagai Metode Ijtihad: Membahas Pemikiran Mohammed Arkoun." Jurnal Ilmu Agama: Mengkaji Doktrin, Pemikiran, dan Fenomena Agama 14, no. 1 (2013)
Kaelan, M S. "Metode Penelitian Kualitatif Bidang Filsafat." Yogyakarta: Paradigma (2005).
Kattsoff, Louis O. "Pengantar Filsafat, Terj." Soejono Soemargono, Yogyakarta: Tiara Wacana (2004).
Kekerasan, Fenomena, and Elias Canetti. "Menyingkap Kodrat Hewani Manusia (Manusia dan Fenomena Kekerasan Massa Menurut Elias Canetti)." Jurnal Filsafat 21, no. 3 (2016).
Laili, Audian. "Hijrah Fest dan Mahalnya Biaya untuk Berhijrah." Last modified 2019. https://mojok.co/auk/pojokan/hijrah-fest-dan-mahalnya-biaya-untuk-berhijrah/.
Misbahuddin, Misbahuddin. "Problematika Cara Memahami Hadis Akhir Zaman dalam Pandangan Ahl Al-Sunnah Wa Al-Jama'ah." Ushuluna 4, no. 2 (2018).
Musahadah, Zahrina Sanni, and Sulis Triyono. "Fenomena Hijrah di Indonesia: Konten Persuasif dalam Instagram." Retorika: Jurnal Bahasa, Sastra, dan Pengajarannya 12, no. 2 (2019).
Muthahari, Murtadha. Filsafat Materialisme, Kritik Filsafat Islam tentang Tuhan, Sejarah dan Konsep tentang Sosial Politik. Yogyakarta: Rausyanfikr Institut, 2016.
Panipahan, Firman. "Aktivitas Daring: Mempertegas Relasi Manusia dan Tuhan." Arrahim.id. Last modified 2020. https://arrahim.id/firman/aktivitas-daring-mempertegas-relasi-manusia-pada-tuhan/.
Poesprodjo. Hermeneutika. Bandung: Pustaka Setia, 2004.
Russell, Bertrand. Sejarah Filsafat Barat; Kaitannya dengan Kondisi Sosio-Politik Zaman Kuno hingga Sekarang. Yogyakarta: Pustaka Pelajar, 2007.
Sari, Intan Permata. "Pengantar Antropologi." Pustaka Pelajar, Yogyakarta, 2017.
Shadr, Muhammad Baqir. Falsafatuna: Materi, Filsafat, dan Tuhan dalam Filsafat Barat dan Rasionalisme Agama. Yogyakarta: Jakfi, 2015.
Sugiharto, B. Kebudayaan dan Kondisi Post-Tradisi: Kajian Filosofis atas Permasalahan Budaya Abad Ke-21. PT Kanisius, 2019.
Sugiharto, Bambang. "Iman tanpa Nalar, Bunuh Diri Nalar tanpa Iman, Delusi." Arete 1, no. 2 (2013).
Syafi'i, Ahmad. "Arkoun dan Kritik Nalar Islam." Memabaca Al-Qur'an bersama Muhammed Arkoun 10, no. 2 (2012).
Syamsurijal. "Hijrah di Zaman Modern dan Kuasa atas Tubuh Perempuan." Mimikri 5, no. 1 (2019).
Syariati, Ali. Agama versus Agama. Bandung: Pustaka Hidayah, 1994.
Zahara, Mila Nabila, Dadan Wildan, and Siti Komariah. "Gerakan Hijrah: Pencarian Identitas untuk Muslim Milenial di Era Digital." Indonesian Journal of Sociology, Education, and Development 2, no. 1 (2020).
Zuhdi, Asiqin. Historisitas dalam Kajian Islam Perspektif Ijtihad Muhammed Arkoun. Edited by Syafiq A. Mugni. Yogyakarta: IRCiSoD, 2013.
Bibliographic Information