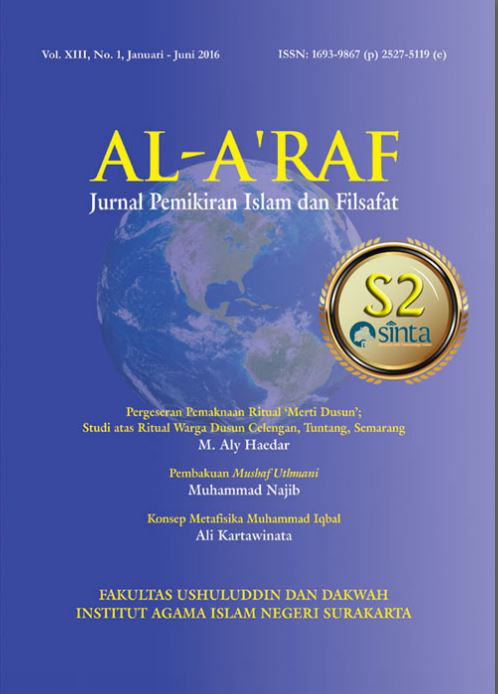 COSMOLOGY OF TIME AND THE SPIRITUAL OF LIFE IN JANAVESE-ISLAMIC TRADITION
Declarations
Publisher's Note
UIN Raden Mas Said Surakarta remains neutral with regard to jurisdictional claims in published maps and institutional affiliations.
References
Al Raz, MF. Tafsr al-Fakhr al-Razi al-Musytahir bi al-Tafsr al-Kabir wa Mafatih al-Gayb. Cairo: Maktabah al-Shahwah al-Islamiyyah, 1998.
Ali, Abdullah Yusuf. Meaning of the Qur'an: New Edition with Revised Translation; Recently Compiled Comments and Index . 11th edition. Beltsville: Amana Publications, 2005.
Arabic, Ibn. Fusus al-Hikam . Edited by 'Abdur Razaq Al-Qossani. first edition Cairo: Turast, 1997.
Bruinessen, Martin Van. "Study of Sufism and Sufi Orders in Indonesia." Die Welt des Islams, New Series, 38, no. 2 (1998): 192–219. http://www.jstor.org/stable/1570744 .
Cochran, Janet. "Introduction." In Asian Tourism: Growth and Change , edited by Janet Cochrane, 8. 1st ed. London: Routledge, 7AD.
Geetrz, Clifford. Javanese Religion . Chicago: University of Chicago Press, 1976.
Halowell, A. Irving. "Ojibwa Ontology, Behavior, and World View." In Teaching from the American Earth: Indian Religion and Philosophy , edited by TB Tedlock. New York, 1960.
Hefner, Robert W. "Introduction: Varieties of Globalization of Religion." In Religions in Movement The Local and the Global in Contemporary Faith Tradtions, edited by Christiane Timmerman Robert W Hefner, John Hutchinson, Sara Mels. London and New York: Routledge, Taylor & Francis Group, 2013. https://www.routledge.com/Religions-in-Movement-The-Local-and-the-Global-in-Contemporary-Faith-Traditions/Hefner-Hutchinson-Mels-Timmerman/p/book/9781138922846#.
Humaedi, M. Alie. "Islamizing Java: The History of Islamization in Java and Its Opponents from 1930 to the Present, by MC Ricklefs." Harmony: Multicultural and Multireligious Journal 14, no. 1 (2015): 184–197.
Koenjaraningrat. Rites of Transition in Indonesia . 2nd edition Jakarta: Balai Pustaka, 1993.
Ma'rif, Samsul. "Being Muslim the Animist Way." Al-Jami'ah: Journal of Islamic Studies 52, no. 1 (14AD): 149-174. https://aljamiah.or.id/index.php/AJIS/article/view/52107.
Martiam, Zainal Abidin Bagir and Najiyah. "Islamic Norms and Practices." In Routledge Handbook of Religion and Ecology , edited by Mary Evelyn Tucker & John Grim Wilis Jenkins, 79. First edition. London and New York: Taylor & Francis, 2017.
Morrison, Kenneth. "The Cosmos as Intersubjective: Native Americans Besides Humans." In Indigenous Religions: A Companion , edited by Graham Harvey. New York: Cassell, 2000.
Muhaimin, AG Cirebon Islamic Traditions: Worship and Customs among Javanese Muslims. Canberra: ANU Press, 2006. https://library.oapen.org/handle/20.500.12657/33710.
Muhammad, Abdul Hamid bin. Kanzu al-Najah wa al-Surur fi al-Adiyyah al-Lati Tasyrahu al-Sudur. 2nd edition Mecca, 1935.
Nakamura, Mitsuo. Javanese Muslim Cultural and Religious Identity, Conceptualization Problems. Jakarta: LP3ES, 1984.
Nasr, Sayyid Hossein. Man and Nature: The Spiritual Crisis in Modern Man. Mandalas; New edition, 1990.
Picard, Michel. "'Religion'', "Adat", and Pancasila.'" In The Politics of Religion in Indonesia Syncretism, Orthodoxy, and Religious Contention in Java and Bali , edited by Rémy Madinier Michel Picard, 1–20 . London: Routledge, 2011 .https://www.taylorfrancis.com/books/edit/10.4324/9780203817049/politics-religion-indonesia-michel-picard-rémy-madinier.
Pigeaud, De Graaf; and. the Islamic Kingdom in Java; The transition from Majapahit to Islamic Mataram . Edited by 1. Jakarta: Graffiti, 1989.
Puryandani, Robiyanto and Siti. "The Effect of the Javanese Lunar Calendar on Indonesian Stock Returns." Journal of International Business Gadjah Mada 17, no. 2 (15AD): 125–137. https://jurnal.ugm.ac.id/gamaijb/article/view/6906.
Rahman, Fazlur. Major Themes of the Qur'an . first edition Chicago: University of Chicago, 1988.
Ricklef, MC Islamizing Java, History of the Islamization of Java and Its Opposition From 1930 to the Present . first edition Jakarta: Serambi Ilmu Semesta, 2013.
Sutley, Stewart. "Civil Islam: Muslims and Democratization in Indonesia by Robert W. Hefner." Pacific Affairs 74, no. 3 (2001): 459–460. https://www.jstor.org/stable/i369378.
Suwardi, Endraswara. Kejawen Mysticism: Syncretism, Symbolism and Sufism in Javanese Spiritual Culture . Yogyakarta: Narration, 2004.
Tjakraningrat, Harya Pangeran. Book of Primbon Betalsun Adammakna . 12th edition. Yogyakarta: Soemodidjojo Mahadewa, 2001.
Woodward, Mark R. Javanese Islam: Normative Piety Versus Kebatinan . Yogyakarta: LKiS, 2008.
Yusuf, Muhammad Haji. Ibn 'Arab – Time and Cosmology . first edition London and New York: Routedge Taylor and the Francis Group, 2007.
Copyright and permissions
This work is licensed under a Creative Commons Attribution-NonCommercial 4.0 International License.
Bibliographic Information