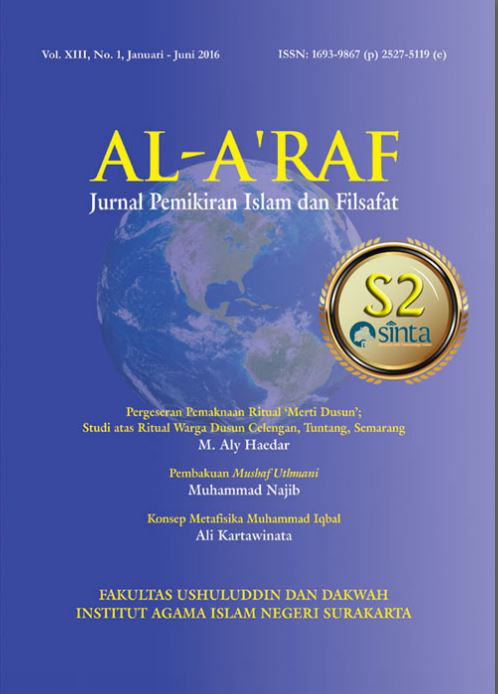 ISLAM AND CAPITALISM: THE DYNAMICS OF RELIGION AND CONTEMPORARY INDONESIAN WORK ORIENTATION
Declarations
Publisher's Note
UIN Raden Mas Said Surakarta remains neutral with regard to jurisdictional claims in published maps and institutional affiliations.
References
Adas, Emin Baki. "The Making of Entrepreneurial Islam and the Islamic Spirit of Capitalism." Journal for Cultural Research 10, no. 2 (2006): 113–110.1080/1479758060062474537.
Ali, Muhamad. Islam and Economic Development in New Order's Indonesia (1967-1998). Honolulu: East-West Center, 2004.
Bellah, Robert Neelly. No TitleBeyond Belief: Essays on Religion in a Post-Traditional World. New York: Harper & Row, 1970.
Berger, Peter L. The Capitalist Revolution: Fifty Propositions About Prosperity, Equality, and Liberty. New York: Basic Books, 1986.
Botoeva, Aisalkyn. "Islam and the Spirits of Capitalism: Competing Articulations of the Islamic Economy." Politics & Society 46, no. 2 (2018): 235–264.
Djedi, Y. "Max Weber, Islam and Modernity." Max Weber Studies 1, no. 1 (2011): 35.
Fealy, Sally White & Greg. "Introduction." In Expressing Islam: Religious Life and Politics in Indonesia, edited by Sally White & Greg Fealy. Singapore: Institute of Southeast Asian Studies, 2008.
Geertz, Clifford. Peddlers and Princes; Social Change and Economic Modernization in Two Indonesian Towns. Chicago: University of Chicago Press, 1963.
Gellner, Ernest. "Islam and Marxism: Some Comparisons." International Affairs 1944- 1995 67, no. 1 (1991): 1.
Hefner, Robert. "Islamic Economics and Global Capitalism." Society 44, no. 1 (2006): 16–22.
Hill, Hal. "Asia's Third Giant: A Survey of the Indonesian Economy." Economic Record 94, no. 307 (2018): 469–499.
Huff, Toby. "Max Weber, Islam, and Rationalization: A Comparative View." Historická sociologie 11, no. 1 (2019): 117–28.
Kornoukhova, Gadilya G. "Muslim Ethics and the Spirit of Capitalism: The Characteristics of Islamic Entrepreneurship Development in the Russian Empire between the Nineteenth and Early Twentieth Centuries." Social Evolution & History 17, no. 2 (2018): 121–139.
KSP. Lima Tahun Maju Bersama: Capaian Pemerintahan Joko Widodo - Jusuf Kalla [Five Years Get Onward Together: Achievements of Joko Widodo - Jusuf Kala Administration]. Jakarta, 2019.
Nashir, Haedar. Muhammadiyah a Reform Movement. Surakarta: Muhammadiyah University Press, 2015.
Negara, Hal Hill and Siwage Dharma. "Introduction: The Indonesian Economy in Transition--Policy Challenges in the Jokowi Era and Beyond." 2018 35, no. 2 (2018): 121.
OECD. Oecd Economic Surveys: Indonesia, 2018.
PEW. The Changing Global Religious Landscape, 2017.
Pringle, Robert. Understanding Islam in Indonesia: Politics and Diversity. Honolulu: University of Hawaiʻi Press, 2010.
Purdy, Susan. "The Civil Religion Thesis as It Applies to a Pluralistic Society: Pancasila Democracy in Indonesia (1945-1965)." Journal of International Affairs 36, no. 2 (1982): 307.
Raoul Oberman, Richard Dobbs, Arief Budiman, Fraser Thompson and Morten Rosse. The Archipelago Economy: Unleashing Indonesia's Potential, 2012.
Robison, Vedi R. Hadiz & Richard. "Political Economy and Islamic Politics: Insights from the Indonesian Case." New Political Economy 2, no. 137–155 (17AD).
Rodinson, Maxime. Islam and Capitalism. New York: Pantheon Books, 1973.
———. Marxism and the Muslim World. London: Zed Books, 2015.
Rudnyckyj, Daromir. Spiritual Economies: Islam, Globalization, and the Afterlife of Development. Ithaca, New York: Cornell University Press, 2010.
———. "Spiritual Economies: Islam and Neoliberalism in Contemporary Indonesia." Cultural Anthropology 24, no. 1 (2009): 104–41.
Schluchter, Toby E. Huff & Wolfgang. "Max Weber and Islam." In Max Weber and Islam. New Brunswick: Transaction Publishers, 1999.
Sobary, Mohammad. Kesalehan Sosial [a Social Piety]. Yogyakarta: LKiS PELANGI AKSARA, 2007.
Sudrajat, Ajat. "Tesis Weber Dan Islam Di Indonesia [Weber Thesis and Islam in Indonesia]." Cakrawala Pendidikan 11, no. 1 (1992): 121–31.
Sukidi. "Max Weber's Remarks on Islam: The Protestant Ethic among Muslim Puritans." Islam and Christian-Muslim Relations 17, no. 2 (2006): 195–205.
Swatos, William H. "Islam and Capitalism: A Weberian Perspective on Resurgence." In Religion and the Transformations of Capitalism: Comparative Approaches, edited by R. H. Roberts`. London: Routledge, 1995.
Turner, Bryan S. "Islam, Capitalism and the Weber Theses." The British Journal of Sociology 61 (2010): 147.
Turner, Bryan S. "Revisiting Weber and Islam." British Journal of Sociology 61, no. 1 (2010): 161–66.
Weber, Max. The Sociology of Religion. Boston: Beacon Press, 1964.

Copyright and permissions
This work is licensed under a Creative Commons Attribution-NonCommercial 4.0 International License.
Bibliographic Information
Cite this article as:
Husnul Khitam. (2022). ISLAM AND CAPITALISM: THE DYNAMICS OF RELIGION AND CONTEMPORARY INDONESIAN WORK ORIENTATION. Al-A'raf : Jurnal Pemikiran Islam Dan Filsafat, 19(1), 53–74. https://doi.org/10.22515/ajpif.v19i1.5226