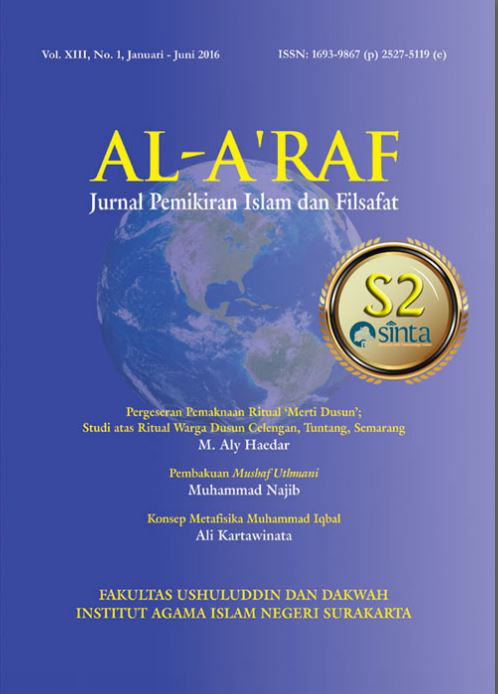 WOMEN POLITICIANS BASED ON PESANTREN IN NATIONALIST BASED VOTERS IN INDONESIA
Declarations
Publisher's Note
UIN Raden Mas Said Surakarta remains neutral with regard to jurisdictional claims in published maps and institutional affiliations.
References
Birner, Regina, and Heidi Wittmer. "Converting Social Capital into Political Capital. How Do Local Communities Gain Political Influence? A Theoretical Approach and Empirical Evidence Frin Thailand and Columbia." In The 8th Biennal Conference of the International Association for the Study of Common Property (IASCP), 2000.
Chairiyah, Sri Zul. "Political Identity and Citizenship Participation (Representatives) in Politics by Minangkabau Women in Post-2019 Election." Jurnal Politik Indonesia: Indonesian Political Science Review 5, no. 1 (2020): 139–155.
Effendy, Bachtiar. Teologi Baru Politik Islam : Pertautan Agama, Negara Dan Demokrasi. Yogyakarta: Galangpress, 2001.
Evie Ariadne, Shinta Dewi, Alina Shalisa. "Political Communication Experiences of Sundanese Muslim Women Politicians." Jurnal Politik Indonesia: Indonesian Political Science Review 5, no. 1 (2020): 121–138.
George Towar Ikbal Tawakkal, Alifiulahtin Utaminingsih, Fadillah Putra, Andrew D. Garner, Wike Wike, Thomas R. Seitz. "Similarity Amidst Diversity: Lessons about Women Representation from Pati and Demak." Jurnal Politik Indonesia: Indonesian Political Science Review 6, no. 1 (2021): 51–70.
Griffiths, Anthoni Giddens & Simon. Sociology. Cambridge: Polity press, 2006.
Hasan, Noorhaidi. Islam Politik Di Dunia Kontemporer: Konsep, Genealogi, Dan Teori. Yogyakarta: Suka-Press, 2012.
Hasanudin, Sansan. "Mekanisme Religio-Politik Pesantren: Mobilisasi Jaringan Hamida Dalam Politik Elektoral Tasikmalaya." MASYARAKAT: Jurnal Sosiologi 22, no. 1 (2017): 53–80.
Hilmy, Masdar. "Towards a 'Wider Mandate' of Pesantren: In Search for A New Nomenclature of Political Role of Pesantren in an Era of Democracy." Millah: Jurnal Studi Agama 11, no. 1 (2011): 51–73.
La Husen Zuada, Rekho Adriadi, Abdul Kadir. "Women's Power and Electability in Southeast Sulawesi: A Case Study for Provincial and National Legislative Candidate." Jurnal Politik Indonesia: Indonesian Political Science Review 5, no. 1 (2020): 156–171.
Isbah, M. Falikul. "How Is Social Capital Converted to Be Economic Capital? A Case Study from Pesantren's Socio-Economic Project." Al Izzah : Jurnal Hasil-Hasil Penelitian 14, no. 1 (2019): 18–35.
Jatmika, Sidik. "Kiai Dan Politik Lokal : Studi Kasus Reposisi Politik Kiai NU Kebumen, Jawa Tengah Memanfaatkan Peluang Keterbukaan Partisipasi Di Era Reformasi." Universitas Gadjah Mada, Yogyakarta, 2005.
Karim, Abdul Gaffar. "'Pesantren' in Power: Religious Institutions and Political Recruitment in Sumenep, Madura." Review of Indonesian and Malaysian Affairs 42, no. 1 (2008): 157–184https://search.informit.org/doi/10.3316/iel.
———. "The Pesantren-Based Ruling Elite in Sumenep in the Post-New Order Indonesia." Journal Of Indonesian Islam 3, no. 1 (2009): 97–121.
Muhamad, Abdul Alim. "Kandang Banteng Patok Menang di 6 Daerah Soloraya." Gatra.Com. Last modified 2020. Accessed September 17, 2021. https://www.gatra.com/news-489568/politik-kandang-banteng-patok-menang-di-6-daerah-soloraya-diakses pada 17 September 2021.html.
Muhammad Mahsun, Misbah Zulfa Elizabeth, Solkhah Mufrikhah. "Female Candidates, Islamic Women's Organisations, and Clientelism in the 2019 Indonesian Elections." Journal of Current Southeast Asian Affairs 40, no. 1 (2021): 73–92.
Patoni, A. Peran Kiai Pesantren Dalam Partai Politik. Yogyakarta: Pustaka Pelajar, 2007.
Peter P. Houtzager, Adrian Gurza Lavalle. "The Paradox of Civil Society Representation: Constructing New Forms of Democratic Legitimacy in Brazil." In Rethinking Popular Representation, 39–58. New York: Palgrave Macmillan, 2009.
Portes, Alejandro. "Social Capital: Its Origins and Applications in Modern Sociology." Annual Review of Sociology 24, no. 1 (1998): 1–24.
Pribadi, Yanwar. Islam, State and Society in Indonesia: Local Politics in Madura. London: Routladge, 2018. https://www.taylorfrancis.com/books/mono/10.4324/9781315473697/islam-state-society-indonesia-yanwar-pribadi.
———. "Religoius Network in Madura : Pesantren, Nahdlatul Ulama and Kiai as the Core of Santri Culture." Al Jamiah 51, no. 1 (2013): 2–32.
Robert Chambers, Gordon R. Conway. Sustainable Rural Livelihoods: Practical Concepts for the 21st Century. U.K., 1991.
Saidin Ernas, Ferry Muhamadsyah Siregar. "Dampak Keterlibatan Pesantren Dalam Politik: Studi Kasus Pesantren Di Yogyakarta." Kontekstualita 25, no. 2 (2010): 195–224.
Salehuddin, Ahmad. "Konstruksi Jaringan Sosial Pesantren: Strategi Eksis Di Tengah Perubahan." Jurnal Religi 10, no. 2 (2014): 204–216.
Sweinstani, Mouliza KD. "Partai Islam, Tafsir Agama, Dan Representasi Perempuan Dalam Partai Persatuan Pembangunan." Politika: Jurnal Ilmu Politik 10, no. 2 (2019): 179–198.

Interview
Interview with Eva Yuliana, parliament member of Nasdem, via zoom, 23 Agust, 2021
Interview with Luluk Nur Hamidah, parliament member of PKB, via zoom, 15 September, 2021
Interview with Nawir, member of PKB Wonogiri, 8 Agust, 2021
Interview with Handoko, member of PKB Sragen, 10 Agust, 2021
Interview with Saiful Bahri, an expert staff of parliament member, 11 Agust, 2021
Interview with Anna, Muslimat NU Sukoharjo and team of Eva Yuliana, 14 Agust, 2021
Interview with Sunarno, volunteer of Mbak Luluk, 16 Agust, 2021
Interview with Khoirul, local expert staff of Eva Yuliana, 24 Agust, 2021
Interview with Ahmad Alfi, an alumae of Pesantren Al-Muayyad (AKAMAL) and teacher of Junior High School of Al-Muayyad, 26 Agust, 2021
Interview with Agus Maarif, leader of Jamuro Surakarta, 1 September, 2021
Interview with Nyai Hj Sekhah Wal'afiyah/leader of Jamuri Surakarta, 2 September, 2021
Interview with Ajie Najmuddin/Gusdurian Soloraya and NU Online, 22 September, 2021.
Copyright and permissions
This work is licensed under a Creative Commons Attribution-NonCommercial 4.0 International License.
Bibliographic Information
Cite this article as:
Anwar, M. Z., Imam, K. ., Hadziq, A., Akmaliyah, W., & Sunesti, Y. . (2022). WOMEN POLITICIANS BASED ON PESANTREN IN NATIONALIST BASED VOTERS IN INDONESIA. Al-A'raf : Jurnal Pemikiran Islam Dan Filsafat, 19(1), 75–110. https://doi.org/10.22515/ajpif.v19i1.5264