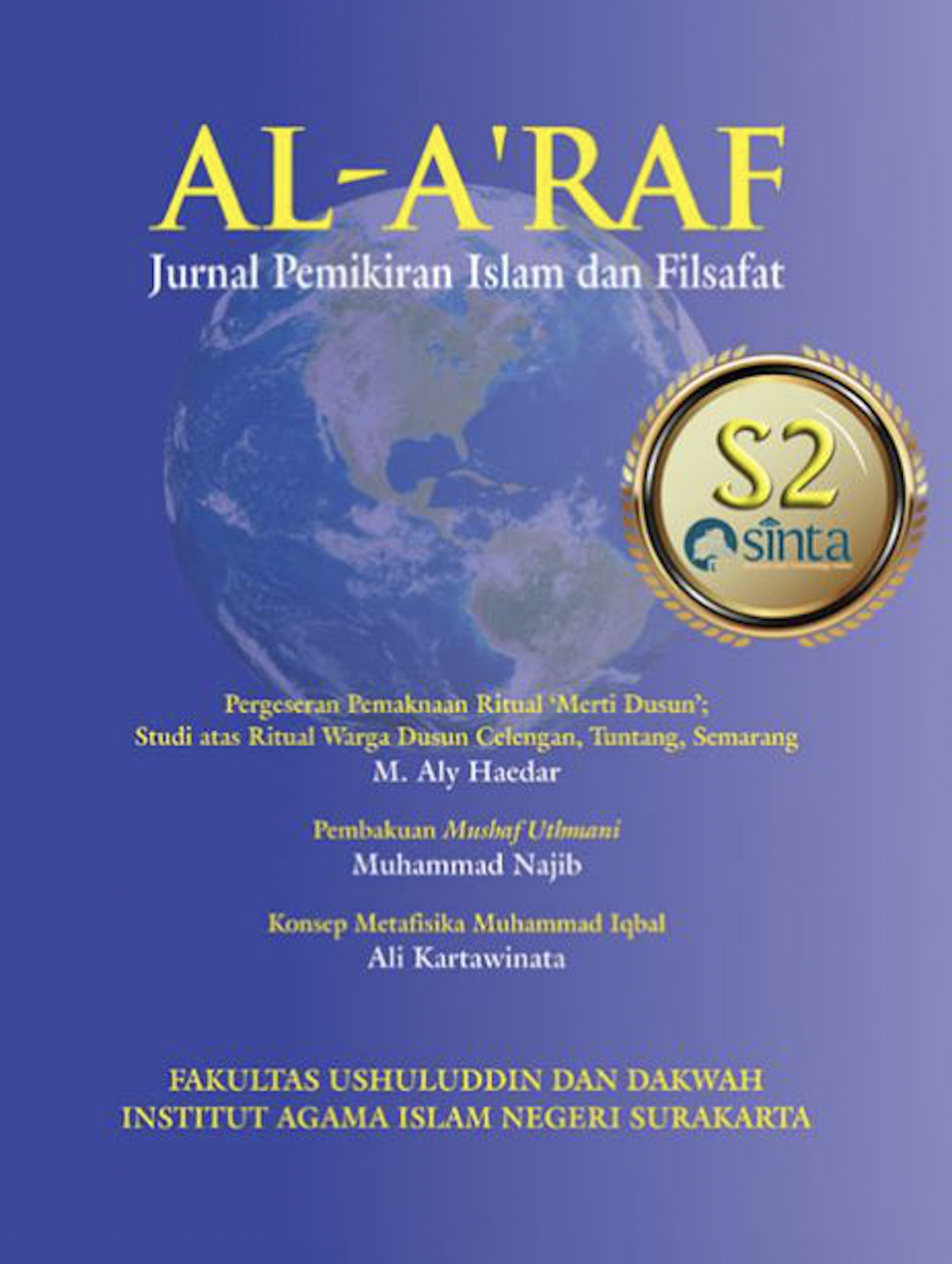 INDONESIAN TERRORISM PRISONERS' TREATMENT: A CASE STUDY AT NUSAKAMBANGAN CLASS IIA CORRECTIONAL INSTITUTION
Declarations
Publisher's Note
UIN Raden Mas Said Surakarta remains neutral with regard to jurisdictional claims in published maps and institutional affiliations.
References
Administrator. "Romo Magnis: Radicalism and Exclusivism, Challenges to Indonesian Nationhood." ugm.ac.id. Last modified 2019. Accessed July 31, 2019. https://ugm.ac.id/en/news/18175-romo-magnis-radicalism-and-exclusivism-challenges-to-indonesian-nationality/.
Ali Masyhar, Ali Murtadho, Ahmad Zaharuddin Sani Ahmad Sabri. "The Driving Factors for Recidivism of Former Terrorism Convicts in Socio-Legal Perspective." Journal of Indonesian Legal Studies 8, no. 1 (2023): 379–404. https://journal.unnes.ac.id/sju/index.php/jils/article/view/69445.
Allagan, Apelete D. "Choice Numbers, Ohba Numbers and Hall Numbers of Some Complete k-Partite Graphs." Auburn University, 2009. https://etd.auburn.edu/xmlui/handle/10415/1780.
Almascaty, Hilmy Bakar. Panduan Jihad untuk Aktivis Gerakan Islam. Jakarta: Gema Insani, 2001. https://onesearch.id/Record/IOS3763.016788?widget=1.
Anah, Saiul. "Masyarakat Islam Indonesia pada Abad Modern dan Kontemporer." Jurnal Keislaman 4, no. 2 (2021): 190–214. http://ejournal.kopertais4.or.id/susi/index.php/JK/article/view/3332.
Asdira, Yusril Arinaldy. "Analysis of Development of De-Radicalization of Terrorist Prisoners in the Correctional Institutions in Indonesia." Bisma The Journal of Counseling 4, no. 1 (2020): 48–56. https://ejournal.undiksha.ac.id/index.php/bisma/article/view/24231/pdf.
Borgu, Greg Fealy and Aldo. Radical Islam in Indonesia: History, Ideology and Prospects. Australia, 2005. https://www.jstor.org/stable/resrep04150.6.
Borum, Randy. "Rethinking Radicalization." Journal of Strategic Security 4, no. 4 (2011): 1–6. https://www.jstor.org/stable/26463909.
Bötticher, Astrid. "Towards Academic Consensus Definitions of Radicalism and Extremism." Perspectives on Terrorism 11, no. 4 (2017): 73–77. https://www.jstor.org/stable/26297896.
Fakhri Usmita, Kasmanto Rinaldi, Riska Ayu Saputri Rangkuti. "Upaya Perangkat Desa dalam Mencegah Berkembangnya Radikalisme." BHAKTI NAGORI:Jurnal Pengabdian kepada Masyarakat 2, no. 2 (2022): 179–185. https://www.ejournal.uniks.ac.id/index.php/bhakti_nagori/article/view/2614.
Fedotova, Olga. "Radicalism and Terrorism Problems in a Scientific Discourse of Russian Social Sciences." Procedia - Social and Behavioral Sciences 92, no. October (2013): 334–343. https://www.sciencedirect.com/science/article/pii/S1877042813028127.
Giorgia Tiscini, Thierry Lamote. "The Process of Radicalization in the Prison Environment: From Criminogenesis to Radicalogenesis." L'Évolution Psychiatrique 84, no. 3 (2019): e59–e69. https://www.sciencedirect.com/science/article/abs/pii/S0014385519300751?via%3Dihub.
Hanita, Binsar H. Sianturi & Margaretha. "Optimalisasi Peran Polri dalam Penanganan Kelompok Kriminal Bersenjata di Papua." Jurnal Keamanan Nasional 6, no. 1 (2020): 73–94. https://www.researchgate.net/publication/342932819_Optimalisasi_Peran_Polri_dalam_Penanganan_Kelompok_Kriminal_Bersenjata_di_Papua.
Kafid, N. "Dari Islamisme Ke 'Premanisme': Pergeseran Orientasi Gerakan Kelompok Islam Radikal di Era Desentralisasi Demokrasi." MASYARAKAT: Jurnal Sosiologi 21, no. 1 (2016): 57–79. https://www.researchgate.net/publication/309734131_Dari_Islamisme_ke_Premanisme_Pergeseran_Orientasi_Gerakan_Kelompok_Islam_Radikal_di_Era_Desentralisasi_Demokrasi.
Kafid, Nur. "Political Clientelism as the Way of Survival of Radical Islamic Group Movement in Cianjur, West Java." Walisongo: Jurnal Penelitian Sosial Keagamaan 26, no. 1 (2018): 67–93. https://journal.walisongo.ac.id/index.php/walisongo/article/view/2300.
Kristian, Edi Setiadi &. Sistem Peradilan Pidana Terpadu dan Sistem Penegakan Hukum di Indonesia. Edited by Dini Dewi Haniarti. Jakarta: Kencana Prenada Media Group, 2017. https://books.google.co.id/books?id=z_q2DwAAQBAJ&printsec=copyright#v=onepage&q&f=false.
Lindawaty, Debora Sanur. "Upaya Penanggulangan Terorisme ISIS di Indonesia." Jurnal Politica Dinamika Masalah Politik Dalam Negeri dan Hubungan Internasional 7, no. 1 (2016): 25–47. https://jurnal.dpr.go.id/index.php/politica/article/view/1116.
Mahadevan, Mark Shaw and Prem. "When Terrorism and Organized Crime Meet." Policy Perspectives. Swiss, 2018. https://globalinitiative.net/wp-content/uploads/2018/10/PP6-7_2018-1.pdf.
Malek Al-Zewairi, Ghazi Naymat. "Spotting the Islamist Radical within: Religious Extremists Profiling in the United State." Procedia Computer Science 113 (2017): 162–169. https://www.sciencedirect.com/science/article/pii/S1877050917317465?via%3Dihub.
Masyhur, Laila Sari. "Thaghut dalam Al-Qur'an." Ushuluddin 18, no. 2 (2012): 179–197. https://ejournal.uin-suska.ac.id/index.php/ushuludin/article/view/708.
McCall-Smith, Kasey. "United Nations Standard Minimum Rules for the Treatment of Prisoners (Nelson Mandela Rules)." International Legal Materials 55, no. 6 (2016): 1180–1205. https://www.jstor.org/stable/10.5305/intelegamate.55.6.1180.
Michael Kelliher, S.J. "Book Review: Punishment and Modern Society: A Study in Social Theory." Theological Studies 53, no. 2 (1992): 367–368. https://journals.sagepub.com/doi/abs/10.1177/004056399205300224.
Mubarak, M. Zaki. "Dari NII ke ISIS: Transformasi Ideologi dan Gerakan dalam Islam Radikal di Indonesia Kontemporer." Episteme: Jurnal Pengembangan Ilmu Keislaman 10, no. 1 (2015): 77–98. https://ejournal.uinsatu.ac.id/index.php/epis/article/view/76.
———. "Dari Semangat Islam Menuju Sikap Radikal: Pemikiran dan Perilaku Keberagamaan Mahasiswa UIN Syarif Hidayatullah Jakarta." Ma'arif: Arus Pemikiran Islam dan Sosial 8, no. 1 (2013): 192–2017.
Mubarak, Zaki. Geneologi Islam Radikal di Indonesia. 1st ed. Jakarta: LP3ES, 2008. https://cir.nii.ac.jp/crid/1130000796153928448.
Nur, Askar. "Fundamentalisme, Radikalisme, dan Gerakan Islam di Indonesia: Kajian Kritis Pemikiran Islam." Al-Ubudiyah: Jurnal Pendidikan dan Studi Islam 2, no. 1 (2021): 28–36. https://jurnal.staiddimakassar.ac.id/index.php/aujpsi/article/view/16.
Pilar Rodríguez Martínez, Antonio Jesús Segura Sánchez, Carmelo Jesús Aguilera Galindo. "Justification of Terrorism According to World Values Survey (2017–2020)." Research in Globalization 2, no. December (2022): 1–8. https://www.sciencedirect.com/science/article/pii/S2590051X22000065?via%3Dihub.
———. "Justification of Terrorism According to World Values Survey (2017–2020)." Research in Globalization 5, no. 100085 (2022): 1–8. https://www.sciencedirect.com/science/article/pii/S2590051X22000065.
Prasetiawati, Eka. "Menanamkan Islam Moderat: Upaya Menanggulangi Radikalisme di Indonesia." Fikri: Jurnal Kajian Agama, Sosial dan Budaya 2, no. 2 (2017): 523–570. https://journal.iaimnumetrolampung.ac.id/index.php/jf/article/view/152.
Resty Shelya Pujiani, Mutia Azizah Aksan, Maya Sinta. "Seeking Justice for Indonesian Children: The Juvenile Criminal Justice System in Indonesia in the Context of Criminal Justice Reform." Indonesian Journal of Advocacy and Legal Services 4, no. 2 (2022): 259–274. https://journal.unnes.ac.id/sju/index.php/ijals/article/view/60033.
Rezhna Mohammed, Frank Neuner. "War Trauma, Mental Health, Aggression, and Violent-Extremism among Former ISIS Terrorists." Journal of Affective Disorders Reports 10, no. December (2022): 1–8. https://www.sciencedirect.com/science/article/pii/S2666915322000919.
Rinaldi, Kasmanto. Pembinaan dan Pengawasan dalam Lembaga Pemasyarakatan. Edited by Puput Tri Cahyono. Batam: Yayasan Cendekia Mulia Mandiri, 2021.
Riyansyah, Yaza Azzahara Ulyana and Ahmad. "De-Radicalization Program: The Case Study of Indonesia." International Journal of Business, Economics and Social Development 2, no. 2 (2021): 78–88. https://pdfs.semanticscholar.org/4b68/b22e9b6270d093aaa672f740497ec66f3646.pdf.
Scott, C.L. "Correctional Mental Health." Encyclopedia of Mental Health. California: Academic Press, 2016. https://www.sciencedirect.com/science/article/abs/pii/B9780123970459002470?via%3Dihub.
Stankov, Lazar. "Psychological Processes Common to Social Conservatism and Terrorism." Personality and Individual Differences 120, no. 1 (2018): 75–80. https://www.sciencedirect.com/science/article/abs/pii/S0191886917305317?via%3Dihub.
Suarda, I Gede Widhiana. "Challenges of Implementing Deradicalisation Programs for Terrorist Prisoners: An Examination of Indonesian Prison Officers' Experiences." International Journal of Criminal Justice Sciences 15, no. 2 (2020): 173–190. https://ijcjs.com/menu-script/index.php/ijcjs/article/view/250/187.
Suratman, Yosua Praditya. "The Effectiveness of De-Radicalization Program in Southeast Asia: Does It Work? The Case of Indonesia, Malaysia, and Singapore." Journal of ASEAN Studies 5, no. 2 (2017): 135–156. https://journal.binus.ac.id/index.php/jas/article/view/4302.
Syaepu, Indra Latif. "Radikal Dulu, Teroris Kemudian: Gerakan Islam 'Garis Keras' Dulu dan Kini dalam Tinjauan Sosio-Historis." Empirisma; Jurnal Pemikiran dan Kebudayaan Islam 26, no. 1 (2017). https://garuda.kemdikbud.go.id/documents/detail/1074345.
Thoyyib, Mochamad. "Radikalisme Islam Indonesia." TA'LIM: Jurnal Studi Pendidikan Islam 1, no. 1 (2018): 90–105. http://e-jurnal.unisda.ac.id/index.php/talim/article/view/636.
Trie Rahmi Gettari, Wira Okta Viana, Meydianto Mene. "Hak Asasi Manusia dan Kebebasan Berekspresi di Indonesia." Ensiklopedia of Journal 5, no. 2 (2023): 228–232. https://jurnal.ensiklopediaku.org/ojs-2.4.8-3/index.php/ensiklopedia/article/view/1590.
Ungerer, Carl. Jihadists in Jail Radicalisation and the Indonesian Prison Experience an ASPI–RSIS Joint Report, 2011. https://www.files.ethz.ch/isn/161633/SR40_jihadists_in_jail.pdf.
Wellman, Christopher Heath. "The Rights Forfeiture Theory of Punishment." Ethics 122, no. 2 (2012): 371–393. https://www.jstor.org/stable/10.1086/663791?origin=JSTOR-pdf.
Widodo, Sugeng. "Implementasi Pelayanan Pengunjung di Lembaga Pemasyarakatan Kelas IIb Kota Blitar." Jurnal Mediasosian: Jurnal Ilmu Sosial dan Administrasi Negara 2, no. 1 (2018): 57–61. https://ojs.unik-kediri.ac.id/index.php/mediasosian/article/view/208.
Widya, Bella. "Deradicalization in Indonesia: Implementation and Challenge." School of Strategic and Global Studie 2, no. 1 (2020): 32–50. https://scholarhub.ui.ac.id/jts/vol2/iss1/3/.
Wildan, Muhammad. "Mapping Radical Islamism in Solo: A Study of the Proliferation of Radical Islamism in Central Java, Indonesia." Al-Jami'ah 46, no. 1 (2008): 35–70.

Copyright and permissions
This work is licensed under a Creative Commons Attribution-NonCommercial 4.0 International License.
Bibliographic Information
Cite this article as:
Rinaldi, K., & Rio Tutrianto. (2023). INDONESIAN TERRORISM PRISONERS' TREATMENT: A CASE STUDY AT NUSAKAMBANGAN CLASS IIA CORRECTIONAL INSTITUTION . Al-A'raf : Jurnal Pemikiran Islam Dan Filsafat, 20(1), 63–88. https://doi.org/10.22515/ajpif.v20i1.6417