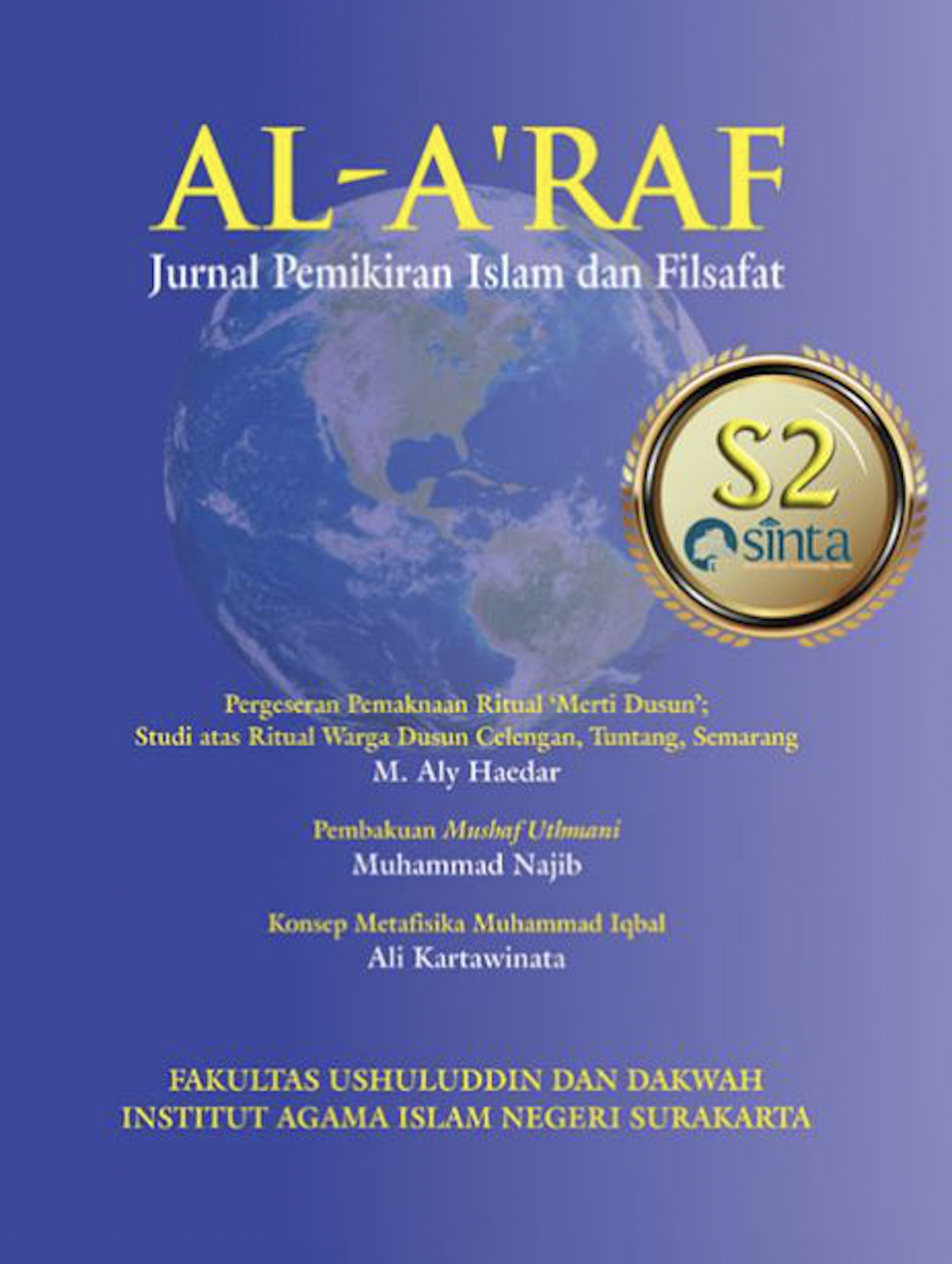 THE DURABILITY OF RELIGION IN THE SECULAR AGE: RELIGIONIZATION IN INDONESIA
Declarations
Publisher's Note
UIN Raden Mas Said Surakarta remains neutral with regard to jurisdictional claims in published maps and institutional affiliations.
References
Alimujiang, Aliya, Ashley Wiensch, Jonathan Boss, Nancy L Fleischer, Alison M Mondul, Karen McLean, Bhramar Mukherjee, and Celeste Leigh Pearce. "Association Between Life Purpose and Mortality Among US Adults Older Than 50 Years." JAMA Network Open 2, no. 5 (May 2019): e194270. https://jamanetwork.com/journals/jamanetworkopen/fullarticle/2734064.
Azra, Azyumardi. "Genealogy of Indonesian Islamic Education: Roles in the Modernization of Muslim Society." Heritage of Nusantara: International Journal of Religious Literature and Heritage 4, no. 1 (July 2015): 85–114. https://heritage.kemenag.go.id/index.php/heritage/article/view/63
Beach, Derek, and Rasmus Brun Pedersen. "Case Selection and Nesting Process-Tracing Studies in Mixed-Method Designs." In Process-Tracing Methods: Foundations and Guidelines, 144–150. Michigan: University of Michigan Press, 2019. https://www.researchgate.net/publication/287260232_Process-Tracing_Methods_Foundations_and_Guidelines.
Benda, Brent B, and Nancy J Toombs. "Religiosity and Violence." Journal of Criminal Justice 28, no. 6 (November 2000): 483–496. https://www.sciencedirect.com/science/article/abs/pii/S0047235200000647.
Berger, Peter L. The Sacred Canopy: Elements of a Sociological Theory of Religion. Open Road Media, 2011.
Bruce, Steve. God Is Dead: Secularization in the West. Vol. 3. Blackwell Oxford, 2002.
Buehler, Michael. "Subnational Islamization through Secular Parties: Comparing Shari'a Politics in Two Indonesian Provinces." Comparative Politics 46, no. 1 (October 2013): 63–82. https://www.ingentaconnect.com/content/cuny/cp/2013/00000046/00000001/art00005.
Burhani, Ahmad Najib. Islam Nusantara as a Promising Response to Religious Intolerance and Pluralism. ISEAS Trends. 18. Singapore, 2018. https://www.iseas.edu.sg/articles-commentaries/trends-in-southeast-asia/trends-in-southeast-asia-2018/islam-nusantara-as-a-promising-response-to-religious-intolerance-and-radicalism-by-ahmad-najib-burhani/.
Bush, Robin. "Regional Sharia Regulations in Indonesia: Anomaly or Symptom?" In Expressing Islam: Religious Life and Politics in Indonesia, edited by Sally White Greg Fealy, 174–191. Pasir Panjang: ISEAS Publishing, 2008.
———. "Religious Politics and Minority Rights during the Yudhoyono Presidency." In The Yudhoyono Presidency: Indonesia's Decade of Stability and Stagnation, edited by Dirk Tomsa Edward Aspinall, Marcus Mietzner, 239–257. Institute of Southeast Asian Studies, 2015.
Cannell, Fenella. "The Anthropology of Secularism." Annual Review of Anthropology 39, no. 1 (October 2010): 85–100. https://www.annualreviews.org/doi/10.1146/annurev.anthro.012809.105039.
Casanova, José. Public Religions in the Modern World. Chicago: University of Chicago press, 1994. https://www.amazon.com/Public-Religions-Modern-World-Casanova/dp/0226095355?asin=0226095355&revisionId=&format=4&depth=1.
———. "Rethinking Public Religions." In Rethinking Religion and World Affairs, edited by Monica Duffy Toft Timothy Samuel Shah, Alfred Stepan, 25–35. Oxford: Oxford University Press, 2012.
Colombijn, Freek, and Joost Coté. "Modernization of the Indonesian City, 1920–1960." In Cars, Conduits, and Kampongs, 1–26. Brill, 2015.
Diamond, Jared. The World until Yesterday: What Can We Learn from Traditional Societies? Penguin, 2013.
Elson, R.E. "Nationalism, Islam, 'Secularism' and the State in Contemporary Indonesia." Australian Journal of International Affairs 64, no. 3 (June 2010): 328–343.
Fealy, Greg. "Bigger than Ahok: Explaining the 2 December Mass Rally." Indonesia at Melbourne. Last modified 2016. Accessed August 30, 2023. https://indonesiaatmelbourne.unimelb.edu.au/bigger-than-ahok-explaining-jakartas-2-december-mass-rally/.
Fealy, Greg, and Sally White. Expressing Islam: Religious Life and Politics in Indonesia. Institute of Southeast Asian Studies, 2008.
Fealy, Sally White & Greg. "Introduction." In Expressing Islam: Religious Life and Politics in Indonesia, edited by Sally White & Greg Fealy. Singapore: Institute of Southeast Asian Studies, 2008. https://bookshop.iseas.edu.sg/publication/373.
George, Alexander L, and Andrew Bennett. "Case Studies and Social Science." In Case Studies and Theory Development in the Social Sciences, edited by Alexander L George and Andrew Bennett, 207. Massachusetts: MIT Press, 2005. https://www.academia.edu/19264308/Case_Studies_and_Theory_Development_in_the_Social_Sciences.
Gerke, Solvay. "Global Lifestyles Under Local Conditions: The New Indonesian Middle Class." In Consumption in Asia: Lifestyles and Identities. Routledge London, 2000.
Glennan, StuartS. "Mechanisms and the Nature of Causation." Erkenntnis 44, no. 1 (January 1996): 49–71. https://link.springer.com/article/10.1007/BF00172853.
Hasan, Noorhaidi. "The Making of Public Islam: Piety, Agency, and Commodification on the Landscape of the Indonesian Public Sphere." Contemporary Islam 3, no. 3 (October 2009): 229–250. https://link.springer.com/article/10.1007/s11562-009-0096-9.
Hastanto, Ikhwan. "Dari Semua Partai di Indonesia, Pakar Jelaskan Alasan PDIP Sering Dikaitkan Sama PKI." Www.Vice.Com.
Hasyim, Syafiq. "The Secular and the Religious: Secularization and Shariatization in Indonesia." In Secularism, Religion, and Democracy in Southeast Asia, edited by Vidhu Varma, 111–134. New Delhi, 2019. https://academic.oup.com/book/40362/chapter-abstract/347022220?redirectedFrom=fulltext.
Hefner, Robert W. "Islam and Covenantal Pluralism in Indonesia: A Critical Juncture Analysis." The Review of Faith & International Affairs 18, no. 2 (2020): 1–17. https://www.tandfonline.com/doi/full/10.1080/15570274.2020.1753946.
Hefner, Robert W. "Islam, State, and Civil Society: ICMI and the Struggle for the Indonesian Middle Class." Indonesia 56, no. 56 (October 1993): 1. https://www.jstor.org/stable/3351197.
———. "Where Have All the Abangan Gone?: Religionization and the Decline of Non-Standard Islam in Contemporary Indonesia." In The Politics of Religion in Indonesia, 71–91. Routledge, 2011.
Holton, Robert J. "The Idea of Crisis in Modern Society." The British Journal of Sociology 38, no. 4 (December 1987): 502–520. https://www.jstor.org/stable/590914.
Inglehart, Ronald F. "Cultural Evolution: People's Motivations Are Changing, and Reshaping the World." Changing Societies & Personalities 2, no. 2 (2018): 164–166. https://changing-sp.com/ojs/index.php/csp/article/view/35/38.
———. "Evolutionary Modernization Theory and Secularization." In Religion's Sudden Decline: What's Causing It, and What Comes Next? Oxford: Oxford University Press, 2021. https://global.oup.com/academic/product/religions-sudden-decline-9780197547045?cc=id&lang=en&#.
Intan, Benyamin. "Religious Violence and the Ministry of Religion: 'Public Religion' in the Pancasila-Based State of Indonesia." International Journal of Public Theology 13, no. 2 (July 2019): 227–246. https://www.researchgate.net/publication/334424613_Religious_Violence_and_the_Ministry_of_Religion_%27Public_Religion%27_in_the_Pancasila-based_State_of_Indonesia.
Joel C. Kuipers, and Askuri. "Islamization and Identity in Indonesia: The Case of Arabic Names in Java." Indonesia 103, no. 103 (2017): 25–49. https://www.jstor.org/stable/10.5728/indonesia.103.0025.
Lee, So Yoon. "An Urban Explanation of Jokowi's Rise: Implications for Politics and Governance in Post-Suharto Indonesia." Journal of Current Southeast Asian Affairs 40, no. 2 (August 2021): 293–314. https://journals.sagepub.com/doi/full/10.1177/1868103421990853.
Mackert, Jürgen. "Introduction: Is There Such a Thing as Populism?" In Populism and the Crisis of Democracy, edited by Gregor Fitzi, Jürgen Mackert, and Bryan S. Turner, 1–13. London and New York: Routledge, 2020. https://www.routledge.com/Populism-and-the-Crisis-of-Democracy-Volume-1-Concepts-and-Theory/Fitzi-Mackert-Turner/p/book/9780367664770.
Maftukhin. "Islam Jawa in Diaspora and Questions on Locality." Journal of Indonesian Islam 10, no. 2 (2016): 375–394. http://jiis.uinsby.ac.id/index.php/JIIs/article/view/352.
Makdori, Yopi. "FPI Dibubarkan, Muhammadiyah Sebut Tindakan Pemerintah Bukan Anti-Islam." liputan6.com. Last modified 2020. Accessed June 29, 2023. https://www.liputan6.com/news/read/4445893/fpi-dibubarkan-muhammadiyah-sebut-tindakan-pemerintah-bukan-anti-islam.
McCawley, Peter. "The Indonesian Economy during the Soeharto Era: A Review." Masyarakat Indonesia 39, no. 2 (2017): 269–287. https://jmi.ipsk.lipi.go.id/index.php/jmiipsk/article/view/591.
Mietzner, Marcus. "Fighting Illiberalism with Illiberalism: Islamist Populism and Democratic Deconsolidation in Indonesia." Pacific Affairs 91, no. 2 (June 2018): 261–282. https://www.proquest.com/docview/2113246664.
Mietzner, Marcus, and Burhanuddin Muhtadi. "Explaining the 2016 Islamist Mobilisation in Indonesia: Religious Intolerance, Militant Groups and the Politics of Accommodation." Asian Studies Review 42, no. 3 (2018): 479–497. https://www.tandfonline.com/doi/abs/10.1080/10357823.2018.1473335?journalCode=casr20.
Osman, Mohamed Nawab Mohamed, and Prashant Waikar. "Fear and Loathing: Uncivil Islamism and Indonesia's Anti-Ahok Movement." Indonesia 106, no. 1 (2018): 89–109. https://muse.jhu.edu/pub/255/article/717836.
Przeworski, Adam, and Fernando Limongi. "Modernization: Theories and Facts." World Politics 49, no. 2 (January 1997): 155–183. https://www.cambridge.org/core/journals/world-politics/article/abs/modernization-theories-and-facts/24CC3E289332FF2D39B5FACEAD75C408.
Redaksi, Tim. "NU Dukung Pembubaran FPI." Kompas.Com. Last modified 2020. Accessed June 29, 2023. https://nasional.kompas.com/read/2013/07/29/0305379/NU.Dukung.Pembubaran.FPI.
Ricklefs, Merle Calvin. Islamisation and Its Opponents in Java: A Political, Social, Cultural and Religious History, c. 1930 to the Present. NUS Press Singapore, 2012. https://nuspress.nus.edu.sg/products/islamisation-and-its-opponents-in-java.
Ropi, Ismatu. Religion and Regulation in Indonesia. Gateway East: Palgrave Macmillan, 2017. https://link.springer.com/book/10.1007/978-981-10-2827-4.
Seo, Myengkyo. "Defining 'Religious' in Indonesia: Toward Neither an Islamic nor a Secular State." Citizenship Studies 16, no. 8 (December 2012):1045–1058. https://www.tandfonline.com/doi/abs/10.1080/13621025.2012.735028?journalCode=ccst20.
Slater, Dan. "Altering Authoritarianism: Institutional Complexity and Autocratic Agency in Indonesia." In Explaining Institutional Change: Ambiguity, Agency, and Power, edited by James Mahoney and Kathleen Thelen, 132–165. Cambridge: Cambridge University Press, 2010.
Stark, Rodney, and Roger Finke. "Secularization, R.I.P." In Acts of Faith: Explaining the Human Side of Religion, 57–80. California: Univ of California Press, 2000. https://www.jstor.org/stable/10.1525/j.ctt1pnf0j.6.
Sundhaussen, Ulf. "Regime Crisis in Indonesia: Facts, Fiction, Predictions." Asian Survey 21, no. 8 (August 1981): 815–837. https://www.jstor.org/stable/2643885.
Tamir, Christine, Aidan Connaughton, and Ariana Monique Salazar. The Global God Divide. Washington, 2020. https://www.pewresearch.org/global/2020/07/20/the-global-god-divide/.
Thomas, Scott, Desmond Tutu, and Desmond Mpilo Tutu. The Global Resurgence of Religion and the Transformation of International Relations: The Struggle for the Soul of the Twenty-First Century. Springer, 2005.
Warburton, Eve. "A New Developmentalism in Indonesia?" In The Indonesian Economy in Transition: Policy Challenges in the Jokowi Era and Beyond, edited by Hal Hill and Siwage Dharma Negara, 34–56. ISEAS-Yusof Ishak Institute, 2019.
Webster, Andrew. Introduction to the Sociology of Development. Bloomsbury Publishing, 1990.
Yudhistira, Aria W. "Tujuan Ekonomi SBY Ciptakan Kelas Menengah Baru." katadata.co.id. Last modified 2014. Accessed July 1, 2023. https://katadata.co.id/arsip/finansial/5e9a573641548/tujuan-ekonomi-sby-ciptakan-kelas-menengah-baru.
Zehavi, Amos. "Religionization from the Bottom up: Religiosity Trends and Institutional Change Mechanisms in Israeli Public Services." Politics and Religion 10, no. 3 (September 2017): 489–514. https://www.cambridge.org/core/journals/politics-and-religion/article/abs/religionization-from-the-bottom-up-religiosity-trends-and-institutional-change-mechanisms-in-israeli-public-services/C18C18919B887C5E785B39D0C85C9168.
Zuly Qodir, Hasse Jubba, Mega Hidayati. "Contesting Ethnic and Religious Identities in the 2019 Indonesian Elections: Political Polarization in West Kalimantan." Studia Islamika: Indonesian Journal for Islamic Studies 29, no. 1 (2022): 111–142. https://journal.uinjkt.ac.id/index.php/studia-islamika/article/view/12940.

Copyright and permissions
This work is licensed under a Creative Commons Attribution-NonCommercial 4.0 International License.
Bibliographic Information
Cite this article as:
M. Djafar, A., & Unaesah Rahmah. (2023). THE DURABILITY OF RELIGION IN THE SECULAR AGE: RELIGIONIZATION IN INDONESIA. Al-A'raf : Jurnal Pemikiran Islam Dan Filsafat, 20(1), 34–62. https://doi.org/10.22515/ajpif.v20i1.7370