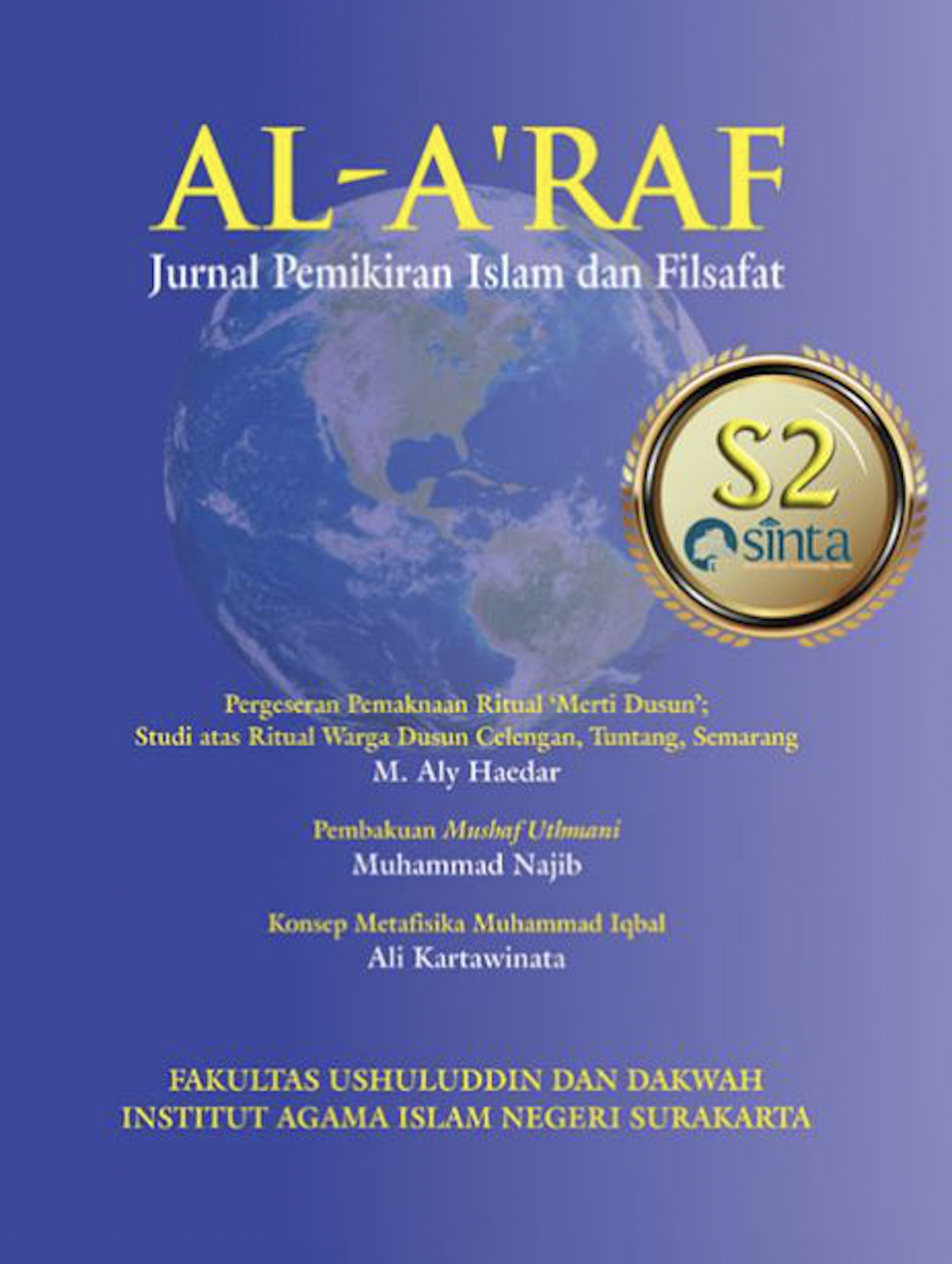 NETNOGRAPHIC STEREOTYPES OF MUSLIM WOMEN ON INSTAGRAM: A GENDER DYNAMICS IN COMEDY CONTENT
Declarations
Publisher's Note
UIN Raden Mas Said Surakarta remains neutral with regard to jurisdictional claims in published maps and institutional affiliations.
References
A. B. Heilbrun. "Measurement of Masculine and Feminine Sex Role Identities as Independent Dimensions." Journal of Consulting and Chlinical Psychology 2, no. 44 (1976): 183–190. https://psycnet.apa.org/record/1976-29914-001.
Abdullah, Mazni, and Noor Sharoja Sapiei. "Do Religiosity Gender, and Educational Background Influence Zakat Compliance? The Case of Malaysia." International Journal of Social Economics 45, no. 8 (2018): 1250–1264. https://www.emerald.com/insight/content/doi/10.1108/IJSE-03-2017-0091/full/html.
Abrante, Desire, and Monica Carballeire. "Self-Exposure on Instagram and BMI: Relations with Body Image among Both Genders." Europe's Journal of Psychology 19, no. 2 (2023): 180–191. https://pubmed.ncbi.nlm.nih.gov/37731893/.
Agustin, Riska Dwi. "Women's Leadership Agency: Entrepreneurship Umi Waheeda at Pesantren Al Ashriyyah Nurul Iman, Parung, Bogor." Musawa Journal of Gender and Islamic Studies 19, no. 2 (2021): 235–247. https://ejournal.uin-suka.ac.id/pusat/MUSAWA/article/view/192-235-247-.
Arias-Rodriguez, Alicia, and Ana Sanchez-Bello. "Informal Learning with a Gender Perspective Transmitted by Influencers Through Content on YouTube and Instagram in Spain." Social Sciences 11, no. 8 (2022): 341. https://www.mdpi.com/2076-0760/11/8/341.
Aspinall, Edward, Sally White, and Amalinda Savirani. "Women's Political Representation in Indonesia: Who Wins and How?" Journal of Current Southeast Asian Affairs 40, no. 1 (2021): 3-27.2. https://journals.sagepub.com/doi/10.1177/1868103421989720.
Bonet-Marti, Jordi. "Analysis of Discursive Strategies Used in the Construction of the Anti-Feminist Discourse Networks." Psicoperspectivas 19, no. 3 (2020). https://www.psicoperspectivas.cl/index.php/psicoperspectivas/article/view/2040.
Boutyline, Andrei, Alina Arseniev-Koehler, and Devin J Cornell. "School, Studying, and Smarts: Gender Stereotypes and Education Across 80 Years of American Print." Social Forces 102, no. 1 (2023): 263–286. https://academic.oup.com/sf/article-abstract/102/1/263/7008118.
Caldeira, Sofia P. "Instagrammable Feminisms: Aesthetics and Attention-Seeking Strategies on Portuguese Feminist Instagram." Convergence 0, no. 0 (2023). https://journals.sagepub.com/doi/full/10.1177/13548565231171048.
Caldeira, Sofia P., Sander De Ridder, and Sofie Van Bauwel. "Exploring the Politics of Gender Representation on Instagram: Self-Representation of Femininity." DiGeSt: Journal of Diversity and Gender Studies 5, no. 1 (2018): 23–42. https://www.jstor.org/stable/10.11116/digest.5.1.2.
Eastwood, Adrienne L. "A Tribe of Roaring Girl: Crime and Gender in Early Modern England." Exploration in Renaissance Culture 44, no. 2 (2018): 202–219. https://brill.com/view/journals/erc/44/2/article-p202_202.xml.
Florida, Nancy K. Sex Wars: Writing Gender Relations in Nineteenth Century Java Fantazising the Feminine in Indonesia. Edited by Laurie J. Sears. Durham: Duke University Press, 1996. https://www.degruyter.com/document/doi/10.1515/9780822396710-011/html.
Fondevila-Gascón, Joan-Francesc, Óscar Gutiérrez-Aragón, Meritxell Copeiro, and Vicente Villalba-Palacín. "Influence of Instagram Stories in Attention and Emotion Depending on Gender." Comunicar: Media Education Research Journal 63, no. 28 (2020): 41–50. https://www.revistacomunicar.com/index.php?contenido=detalles&numero=63&articulo=63-2020-04.
García, María Teresa Martín, and María Yolanda Martínez Solana. "Women Illustrators on Instagram: Digital Influencers More Committed to Gender Equality in Social Networks." Revista International de Cultura Visual 6, no. 2 (2019): 59–68. https://journals.eagora.org/revVISUAL/article/view/1889.
Geertz, Hildred. Keluarga Jawa. Jakarta Pusat: Grafiti Press, 1983.
Guo, Yijing. "The Impact of Media on Adolescents' Perceptions of Gender Roles." 6th International Seminar on Education, Management and Social Sciences (ISEMSS) (2022): 2874–2882. https://www.atlantis-press.com/proceedings/isemss-22/125982174.
Jamaluddin, Yuliana, and Siti Aisa. "Paradigma Tafsir Adil Gender pada Akun Instagram @mubadalah.id." Aqlam: Journal of Islam and Plurality 8, no. 1 (2023): 1–18. https://journal.iain-manado.ac.id/index.php/AJIP/article/view/2277.
Keohane, Nannerl O. "Women, Power & Leadership." Deadalus 149, no. 1 (2020): 236–250. https://direct.mit.edu/daed/article/149/1/236/27304/Women-Power-amp-Leadership.
Khattab, Fatma. "Gender and Sexuality in Islamic Teachings vs. Human Rights 2017: A Literature Review." Portuguese Journal of Political Science 9 (2018): 73–88. http://rpcp.pt/index.php/rpcp/article/view/18.
King, Catherine, and Kathleen M. Carley. "Gender Dynamics on Twitter During the 2020 U.S. Democratic Presidential Primary." Social Network Analysis and Mining 13, no. 1 (2023): 1–15. https://link.springer.com/article/10.1007/s13278-023-01045-4.
Kirtsoglou, Elisabeth. For The Love of Women: Gender, Identity and Same-Sex Relation in a Greek Provincial Town. London: Routledge, 2004. https://www.routledge.com/For-the-Love-of-Women-Gender-Identity-and-Same-Sex-Relations-in-a-Greek/Kirtsoglou/p/book/9780415310314.
Kucuksen, Kubra. "Perception of Gender Equality in New Media." International Journal of Human Sciences 13, no. 1 (2016): 1285–1292. https://www.j-humansciences.com/ojs/index.php/IJHS/article/view/3565.
Lestari, Novia Puspa Ayu. "Gender Inequality in Indonesia: Facts and Legal Analysis." Law Research Review Quarterly 7, no. 4 (2021): 445–458. https://journal.unnes.ac.id/sju/index.php/snh/article/view/48170.
Lončar, Marija, Zorana Šuljug Vučica, and Larisa Hržić. "Instagram: A Contribution to Sociological Research of Youth Activities on Social Networks." Medijska Istrazivanja 29, no. 1 (2023): 83–105. https://hrcak.srce.hr/clanak/439511.
Marufah, Nurbaiti, Hayatul Khairul Rahmat, and I Dewa Ketut Kerta Widana. "Degradasi Moral sebagai Dampak Kejahatan Siber pada Generasi Millenial di Indonesia." Nusantara: Jurnal Ilmu Pengetahuan Sosial 7, no. 1 (2020): 191–201. http://jurnal.um-tapsel.ac.id/index.php/nusantara/article/view/1509.
Munoz, Ana Maria Munoz, and Juana Salido-Fernandez. "Gender Biases in the Social Networks of Regional Public Media: The Case of @CsurNoticias' Twitter." Revista Latina de Comunicacion Social 2024, no. 82 (2024): 46–61. https://nuevaepoca.revistalatinacs.org/index.php/revista/article/view/2061.
Nunez-Roman, Francisco, Alejandro Gómez-Camacho, and Coral I. Hunt-Gómez. "Gender-Inclusive Textisms: How Spanish-Speaking Educational Communities Promote Linguistic Innovations on Twitter." Linguistics and Education 76 (2023): 101191. https://www.sciencedirect.com/science/article/pii/S0898589823000463.
Papageorgiou, Alana, Colleen Fisher, and Donna Crossa. "It Just Sends the Message That You're Nothing But Your Body" a Qualitative Exploration of Adolescent Girls' Perceptions of Sexualized Image on Social Media." Sexuality Culture 27, no. 2 (2023): 462–481. https://link.springer.com/article/10.1007/s12119-022-10022-6.
Pokhriyal, Neeti, Benjamin A. Valentino, and Soroush Vosoughi. "Quantifying Participation Biases on Social Media." EPJ Data Science 12, no. 1 (2023): 1–20. https://epjdatascience.springeropen.com/articles/10.1140/epjds/s13688-023-00405-6.
Purwaningtyas, Mashita Phitaloka Fandia. "Indonesia Women's Activism in Instagram." Jurnal Ilmu Komunikasi 18, no. 2 (2021): 141–162. https://ojs.uajy.ac.id/index.php/jik/article/view/3343.
Rahmawati, Ineu. "Analisis Manajemen Risiko Ancaman Kejahatan Siber (Cyber Crime) dalam Peningkatan Cyber Defense." Jurnal Pertahanan dan Bela Negara 7, no. 2 (2017): 57. https://jurnal.idu.ac.id/index.php/JPBH/article/view/179.
Roberti, Geraldina. "Female Influencers: Analyzing the Social Media Representation of Female Subjectivity in Italy." Frontiers in Sociology 7 (2022): 1–11. https://www.frontiersin.org/articles/10.3389/fsoc.2022.1024043/full.
Romo-Aviles, Nuria, Laura Pavón-Benítez, and Pilar Tarancón Gómez. "Keeping Your Composure": A Digital Ethnography of Gendered Alcohol Norms on Instagram." International Journal of Drug Policy 112 (2023): 103936. https://www.sciencedirect.com/science/article/pii/S0955395922003528?via%3Dihub.
Rosyidah, Feryna Nur, and Nunung Nurwati. "Gender dan Stereotipe: Konstruksi Realitas dalam Media Sosial Instagram." Share Social Work Journal 9, no. 1 (2019): 10–19. https://jurnal.unpad.ac.id/share/article/view/19691.
Sciberras, Ruby, and Claire Tanner. "Feminist Sex-Positive Art on Instagram: Reorienting the Sexualizing Gaze." Feminist Media Studies (2022): 1–16. https://www.tandfonline.com/doi/abs/10.1080/14680777.2022.2080752.
Smith, Whitney E., Albert Nsom Kimbu, Anna de Jong, and Scott Cohen. "Gendered Instagram Representations in the Aviation Industry." Journal of Sustainable Tourism 31, no. 3 (2023): 639–663. https://www.tandfonline.com/doi/full/10.1080/09669582.2021.1932933.
Suryorini, Ariana. "Menelaah Feminisme dalam Islam." Sawwa: Jurnal Studi Gender 7, no. 2 (2012): 21–36. https://journal.walisongo.ac.id/index.php/sawwa/article/view/647.
Thorndike, Edward L. The Elements of Psychology. New York: A.G. Seiler, 1905.
Tijani, Achmad. "Media Sosial dan Perdebatan Baru Wacana Gender derta Penyelesaiannya dalam Perspektif Islam." Equalita 1, no. 2 (2019): 14–29. https://www.syekhnurjati.ac.id/jurnal/index.php/equalita/article/view/5455.
Tjajadi, Octavia Putri, Rustono Farady Marta, and Engliana Engliana. "Womens Resistance on Instagram Account @SingleMomsIndonesia." Journal of Humanities and Social Studies 5, no. 2 (2021): 111–115. https://journal.unpak.ac.id/index.php/jhss/article/view/3710.
Touloupis, Thanos, Maria Sofologi, and Dimitrios Tachmatzidis. "Pattern of Facebook Use by University Students During the COVID-19 Pandemic Relations with Loneliness and Resilience." Social Network Analysis and Mining 13, no. 1 (2023): 1–16. https://link.springer.com/article/10.1007/s13278-023-01073-0.
Wandi, Joni Indra, and Reflianto. "Gender Equality Issues, Perception and Divorce." Justicia Islamica: Jurnal Kajian Hukum dan Sosial 15, no. 2 (2018): 225–237. https://jurnal.iainponorogo.ac.id/index.php/justicia/article/view/1461.
Yuliani, Sri, and et al. "Sociolinguistics Perspectives on Gender Patterns in Instagram." Journal of Education and Learning 14, no. 1 (2020): 103–113. https://edulearn.intelektual.org/index.php/EduLearn/article/view/14090.

Copyright and permissions
This work is licensed under a Creative Commons Attribution-NonCommercial 4.0 International License.
Bibliographic Information
Cite this article as:
Tahir, M., & Riska Dwi Agustin. (2023). NETNOGRAPHIC STEREOTYPES OF MUSLIM WOMEN ON INSTAGRAM: A GENDER DYNAMICS IN COMEDY CONTENT . Al-A'raf : Jurnal Pemikiran Islam Dan Filsafat, 20(1), 115–144. https://doi.org/10.22515/ajpif.v20i1.7593