S FOR SEQUENTIAL: HOW SUPERGIRL PRESERVE HER INTERTEXTUAL CONTINUITY IN THE FILMS
Abstract
This paper intends to reveal part of myth and its continuity through the female hero whose character is remade all the time and using Hero's theory to analyze. It is using Supergirl film and TV series as the object to reveal the specific myth that frequently appears based on the hero's theory and to see how the film and TV series delivered the character of Supergirl as a female hero. This paper used qualitative methodology and used the words, phrases, and screen capture as the data related to the Supergirl character in the film and TV Series. It is proven by the specific myth that she brings as a female hero and the producer of the film maintained the characteristics of Supergirl that can reflect the specific values that are related to popular culture. The Supergirl film and TV Series have been remade many times, but the writer takes a specific year for comparison and the end can take the red line between the films and TV Series of Supergirl. The result shows that the type of intertextuality found in Supergirl films is its presupposition.
References
Allen, G. (2011). intertextuality. NY: Routledge.
Armstrong, K. (2005). A Short History of Myth. Great Britain:Canongate Book Ltd.
Altonji, J. G., Bharadwaj, P., & Lange, F. (2012). Changes in the characteristics of American youth: Implications for adult outcomes. Journal of Labor Economics, 30(4), 783-828.
Avery-Natale, E. (2013). An analysis of embodiment among six superheroes in DC Comics. Social Thought & Research: A Continuation of the Mid-American Review of Sociology, 71-106.
Bandura, A. (2001). Social cognitive theory of mass communication. Media psychology, 3(3), 265-299.
Belkin. L. (2007). The Feminine Critique. New York Times.
Burke, L. (2015). The comic book film adaptation: exploring modern Hollywood's leading genre. Univ. Press of Mississippi. Pg 4
Branson, M. S. (1988). The Social and Civic Attitudes, Beliefs and Values of American Youth.
Briggs, K. A. (1984). Women Examine Faith And Feminism. New York Times Section 1, : 7
Collins (1998). continuity. English Online Dictionary.
Dullea, G. (1984). Women In 1984: Steps Forward And Back. New York Times. Section 1:18.
Creswell, John W. Educational Research: Planning, Conducting, and Evaluating
Quantitative and Qualitative Research. (New Jersey: Pearson Prentice page, 2008). hlm. 245-246
Eckersley, R., & Dear, K. (2002). Cultural correlates of youth suicide. Social Science & Medicine, 55(11), 1891-1904.
Elsaesser, T., & Hagener, M. (2015). Film theory: An introduction through the senses. Routledge.
Farrell J. F. C a. W. E. (1984). Briefing: Women's Right and 1984. New York Times. Section B:10
Genz, S. (2009). Fighting It: The Supergirl. In Postfemininities in Popular Culture (pp. 152-169). Palgrave Macmillan, London.
Gunning, T. (1984). Non-continuity, continuity, discontinuity: A theory of genres in early film.
Haberer, A. (2007). Intertextuality in theory and practice. Literatūra, 49(5), 54-67.
Hendricks, D. A. (2013). The rise of the super sidechicks: a feminist analysis of girls in superhero films. Florida Atlantic University.
Hirshman L. (2007). Off to Work She Should Go. New York Times.
Indick, W. (2004). Classical heroes in modern movies: Mythological patterns of the superhero. Journal of Media Psychology, 9(3), 1-9.
Johnson, G. (2014). Understanding perceptions of masculinity through superhero iconography: Implications for art educators. Visual Culture & Gender, 9, 60-74.
Lause, & Nachbar, J. (1992). Popular Culture : An Introductory text. Bowling Green State University Popular Press: 3.
Kristeva, J. (1980). Desire in Language: A Semiotic Approach to Literature and
Art. (Ed.Leon S. Roudiez, Transl. Thomas Gora, Alice Jardine and Leon S.
Roudiez), Columbia. University Press, New York.
Lerner, R. M., Brentano, C., Dowling, E. M., & Anderson, P. M. (2002). Positive youth development: Thriving as the basis of personhood and civil society. New directions for youth development, 2002(95), 11-34.
Morosini D. The Dumb Blonde: Where Did The Stereotype Even Come From?. New York Times. (2007)
O'Donoghue, J. L., & Strobel, K. R. (2007). Directivity and freedom: Adult support of activism among urban youth. American Behavioral Scientist, 51(3), 465-485.
Radovic Markovic, M., Lindgren, C., Grozdanic, R., Markovic, D., & Salamzadeh, A. (2012). Freedom, individuality and women's entrepreneurship education. Entrepreneurship Education-A Priority for the Higher Education Institutions, Forthcoming.
Russell, C. (2013). Heroic moments: A study of comic book superheroes in real-world society. Online: uncwweb. uncw. Edu.
Sanchez, E. A. (2018). Influence of Stereotyping and Prejudices on Perceptions of Superheroes.
Strayer, J., & Roberts, W. (2004). Children's anger, emotional expressiveness, and empathy: Relations with parents' empathy, emotional expressiveness, and parenting practices. Social development, 13(2), 229-254.
Storey, J. (1997). What is popular culture?. Cultural Theory and Popular Culture: An Introduction.
Supergirl film, 19 July 1984 (United Kingdom), Pueblo Film AG Productions[1]
Supergirl TV Series, October 26, 2015 –; November 9, 2021, Berlanti Productions; DC Entertainment; Warner Bros. Television
Strayer, J., & Roberts, W. (2004). Children's anger, emotional expressiveness, and empathy: Relations with parents' empathy, emotional expressiveness, and parenting practices. Social development, 13(2), 229-254.
Strinati, D. (2004). An Introduction to Theories of Popular Culture. United Kingdom: frTaylor & Francis.
Trosper, S. E., & Ehrenreich May, J. (2011). The relationship between trait, expressive, and familial correlates of emotion regulation in a clinical sample of anxious youth. Journal of Emotional and Behavioral Disorders, 19(2), 117-128.
Winterbach, H. (2006). Heroes and superheroes: from myth to the American comic book. South African Journal of Art History, 21(1), 114-134.
Worton, M. J. S. (1990). Intertextuality: Theories and Practice. Manchester: Manchester University Press.
Žižek, S. (1992). Looking awry: An introduction to Jacques Lacan through popular culture. MIT press.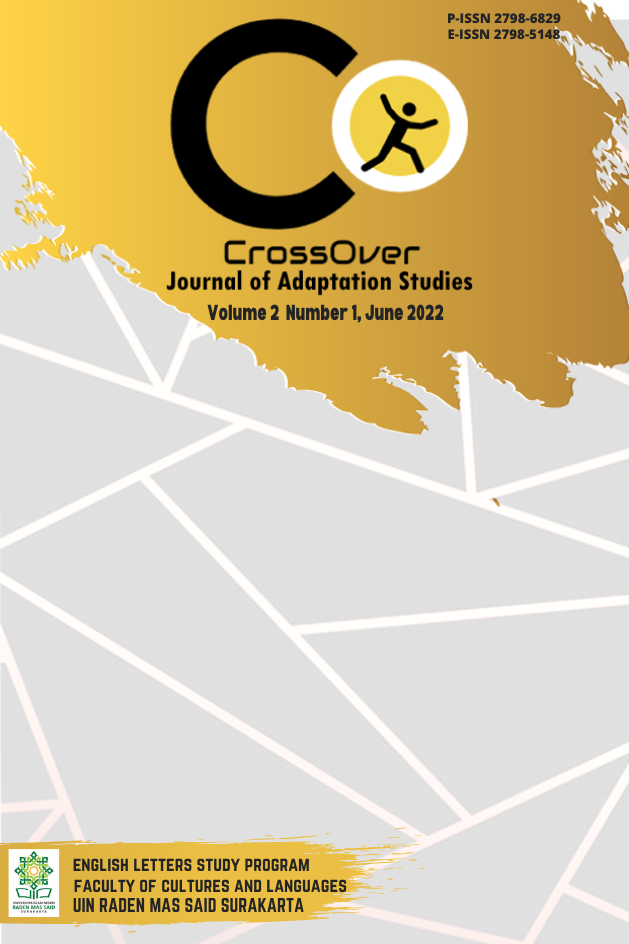 Downloads
License
Copyright (c) 2022 Fauzia Mely Ermanda -
This work is licensed under a Creative Commons Attribution-NonCommercial 4.0 International License.
Authors retain copyright and grant the journal right of first publication with the work simultaneously licensed under a Creative Commons Attribution 4.0 International License that allows others to share the work with an acknowledgment of the work's authorship and initial publication in this journal.