The Implementation of the Jigsaw Technique to Increase Students' Listening Achievement and Motivation Aspects
Keywords:
jigsaw technique, listening achievement, motivation aspects
Abstract
Teaching listening needs improvement because many students get low scores on the listening test. This condition should be improved by providing a new teaching technique. Students in Mutiara Senior High School have problems in mastering a listening skill. They are difficult to catch the meaning while the listening test is given. The purposes of this study are to find out whether there is a significant increase after being taught by jigsaw technique and which motivation aspects (effort, goal, persistence, and frequency) have the most influence on students' achievement in learning English. This experimental study was measured by pretest and posttest designs. The research subject was class XI of science class in even semester of Mutiara Senior High School in South Lampung. The instrument to measure students' listening achievement was a listening comprehension test which consisted of 30 multiple choices. Another instrument was a close-ended questionnaire with 20 questions to know which motivation aspect had the most influence on students' English achievements. The data were analyzed by using the t-test formula. The computation result showed that t-ratio in the experimental class had a significant increase from pretest (49.13) to posttest (71.45) after being taught by the jigsaw technique. The result of the computation showed that the value of the two-tailed significance was 0.000. Since the sign < α (0.000 < 0.05), the value indicated that the numbers represented the significance. It means that the treatment given had a better effect on students' ability. In addition, it revealed that the most influential motivation aspect was an effort. Therefore, students' personal or group tasks should be supported by giving rewards and punishment to improve students' efforts in learning.
References
Adams, F. H. (2013). Using jigsaw technique as an effective way of promoting co-operative learning among primary six pupils in Fijai. International Journal of Education and Practice, 1(6), 64-74.
Alfaruqy, Doni. (2012). The implementation of jigsaw technique in teaching listening skill to increase students' listening achievement (unpublished thesis). Lampung University.
Brown, H. D. (2001). Teaching by principles: An interactive approach to language pedagogy. Addison Wesley Longman.
Dörnyei, Z. (2005). The psychology of the language learner. Lawrence Erlbaum Ass. Inc.
Güngör, Z. Y. (2018). Using the cooperative learning for teaching idioms on French foreign language students. European Journal of Education Studies, 5(8), 143-164.
Latief, M. A. (2012). Research methods on language learning: An introduction. Universitas Negeri Malang.
Liang, T. (2002). Implementing cooperative learning in EFL teaching: effect and process (thesis). National Taiwan University.
Muniandy, J. (2012). Teaching and learning constructive listening skills: A study among EFL learners. Journal of Social Sciences and Humanities, 7(1), 149-160.
Nor, H. (2014). The techniques in teaching listening skill. Journal on English as A Foreign Language, 4(1), 41-51.
Prastiyowati, Santi. (2018). Extensive listening for EFL students' listening comprehension. Issues in Applied Linguistics & Language Teaching, 1(2), 40-46.
Putri, A. R., Sutarsyah C., & Suparman U. (2016). Using jigsaw technique through authentic materials to reduce students' anxiety. Unila Journal of English Teaching, 5(1), 25-36.
Rahman, A. (2011). The role of motivation in language learning. Jurnal Linguistika, 2(1), 18-24.
Setiyadi, Ag. B. (2006). Metode penelitian untuk pengajaran bahasa asing. Graha Ilmu.
Thohir, L. (2017). Motivation in a foreign language teaching and learning. Vision: Journal for Language and Foreign Language Learning, 6(1), 20-29. http://dx.doi.org/10.21580/vjv6i11580
Yasin, Muhammad. (2010). Improving student's listening ability through using jigsaw technique (unpublished thesis). Universitas Sebelas Maret.
Yue, Yu. (2012). A study of English learning motivation of less successful students. Contemporary English Teaching and Learning in Non-English-Speaking Countries, 1(2), 1-20.
Zhu, C. (2002). Psychology in foreign language teaching and learning. Shanghai Foreign Language Education Press.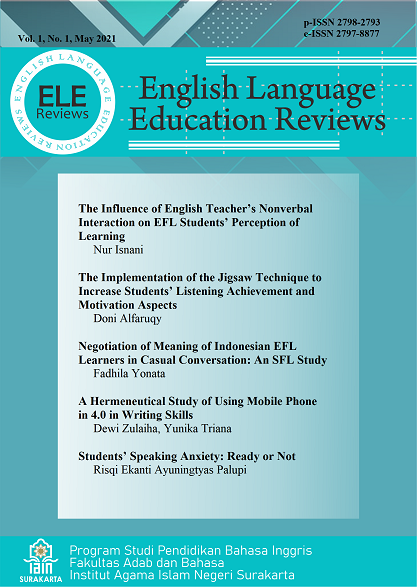 Downloads
How to Cite
Alfaruqy, D. (2021). The Implementation of the Jigsaw Technique to Increase Students' Listening Achievement and Motivation Aspects. ELE Reviews: English Language Education Reviews, 1(1), 22–40. https://doi.org/10.22515/ele-reviews.v1i1.3447
License
Copyright (c) 2021 Doni Alfaruqy
This work is licensed under a Creative Commons Attribution-NonCommercial 4.0 International License.
Authors retain copyright and grant the journal right of first publication with the work simultaneously licensed under a Creative Commons Attribution License that allows others to share the work with an acknowledgement of the work's authorship and initial publication in this journal.
This ejournal system and its contents are licensed under
a Creative Commons Attribution-NonCommercial 4.0 International License