Exploring First-Year EFL Students' Problems in Essay Writing
Keywords:
essay writing, problems, suggestions, EFL students
Abstract
Writing has been considered the most difficult skill to master by EFL university students. It needs more effort and time for mastery. Some challenges in writing can make students confused. This condition has inspired the researchers to conduct the study. The study aims to identify the common errors in first-year students' essay writing and provide suggestive solutions for the problems encountered by the students. This study was implemented using quantitative and qualitative approaches (mixed method). The researchers analyzed 205 students' essays to identify the writing errors. After that, they randomly interviewed selected students to find the specific problems and suggestions. The data gathered were then classified and analyzed thematically. Based on the analyzed data, the most frequent error was faulty sentences which was 60.41%, grammar as the second error was 16.88%, the third error was mechanics with 13.1%, and vocabulary and other errors were 5.38% and 4.22%. The result shows that most students got difficulty writing sentences correctly. Therefore, providing appropriate learning materials for students and giving feedback on their writing are suggested.
References
Ayana, T. G. (2020). An investigation of EFL students' essay writing: Problems and suggestions: Ambo university first-year students in focus. Research on Humanities and Social Sciences, 10(1), 37-42.
Brown, H. D. (1980). Principle of language learning and teaching. Prentice Hall Inc.
Brown, H.D. (2000). Principle of language and teaching (4th ed.). Longman.
Byrne, Donn. (1997). Teaching writing skills. Longman.
Corder, S.P. (1981). Error analysis and interlanguage. Oxford University Press.
Creswell, J., & Poth, C. (2018). Qualitative inquiry & research design: Choosing among five approaches (4th ed.). Sage.
Dulay, et al. (1982). Language two. Oxford University Press.
Fallon, M. (2016). Writing quantitative research. Sense Publishers.
Farred, M., Ashraf, A & Bilal, M. (2016). ESL learners' writing skill: Problems, factors, and suggestions. Journal of Education and Social Science, 4(2), 81-92. https://doi.org/10.20547/jess0421604201
Hatch, E. & Brown, C. (1995). Vocabulary, semantics, and language education. Cambridge University.
Hendrawati, N. (2018). An analysis on students' errors in writing sentence patterns. Loquen: English Studies Journal, 11(1), 63-85.
James, K. (1998). Errors in language learning and use: Exploring error analysis. Longman.
Jordan, R. R. (2003). Academic writing course study skills. Longman.
Kisnanto, Y. P. (2016). The effect of written corrective feedback on higher education students' writing accuracy. Jurnal Pendidikan Bahasa dan Sastra, 16(2), 121-131.
Muliyah, P., Rekha, A., & Aminatun, D. (2020). Learning from mistakes: Students' perception towards teacher's attitude in writing correction. Lexeme: Journal of Linguistics and Applied Linguistics, 2(1), 44-52.
Musa, F. M. (2021). The effect of grammar teaching methods on students' writing skill. International Journal Online of Humanities, 7(4), 27-39. https://doi.org/10.24113/ijohmn.v7i4.236
Pinter, A. (2006). Teaching young language learner. Oxford University Press.
Ramadhani, T. (2021). Teachers' error correction strategies of students' writing at senior high school in Pekanbaru. Journal of Education and Teaching, 2(2), 159-167. https://doi.org/10.24014/jete.v2i2.10430
Rejab, H., Ismail, Z., & Jamaludin, S. (2015). Teacher's feedback on Arabic student writing process. Mediterranean Journal of Social Sciences, 6(2), 608-614. https://doi.org/10.5901/mjss.2015.v6n2p608
Richards, J.C., & Renandya, W.A. (2002). Methodology in language teaching: An anthology of current practices. Cambridge University Press.
Rizaldy, A. & Cahyani, A. D., (2020). Exploring EFL learners' grammatical error in paragraph writing. Journal of English Education, Linguistics and Literature. 7(1), 158-170.
Sabarun, S. (2020). Direct teacher corrective feedback in EFL writing class at higher education: What students perceive. Vision: Journal for Language and Foreign Language Learning, 9(1), 18-33. https://doi.org/10.21580/vjv9i14652
Setiyawan, Harits. (2012). Analysis of students' errors in using correlative conjunctions at the third year students of SMP Karya Bakti Gadingrejo based on surface strategy and communicative effect taxonomies. [Unpublished thesis]. Lampung University.
Shang, H. (2013). Factors associated with English as a foreign language university students writing anxiety. International Journal of English Language Teaching, 1(1), 1-12.
Wang, J. (2018). Qualitative research in English language teaching and learning. Indonesian EFL Journal: Journal of ELT, Linguistics, and Literature, 4(2), 116-132.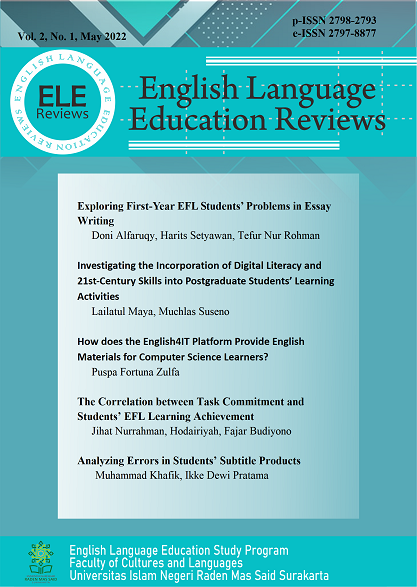 Downloads
License
Copyright (c) 2022 Doni Alfaruqy, Harits Setyawan, Tefur Nur Rohman
This work is licensed under a Creative Commons Attribution-NonCommercial 4.0 International License.
Authors retain copyright and grant the journal right of first publication with the work simultaneously licensed under a Creative Commons Attribution License that allows others to share the work with an acknowledgement of the work's authorship and initial publication in this journal.
This ejournal system and its contents are licensed under
a Creative Commons Attribution-NonCommercial 4.0 International License