THE INFLUENCE OF TRAINING ROLES, SELF-EFFICACY, CREATIVE PROBLEM-SOLVING ON IMPROVING EMPLOYEE PERFORMANCE
Keywords:
Training, Self-Efficacy, Creative Problem-Solving, Employee Performance
Abstract
Employee performance is an essential component of comparing a company with its employees to achieve productive and efficient results. It can be found in any organization, especially in the Bantul Trade Service. This quantitative study aims to find information about training, self-efficacy, creative problem solving on the performance of employees in the Bantul Trade Service. At the same time, 57 employees were involved in the study, with 34 state civil apparatus and 30 contract employees. The research procedure used is a sample saturated with the amount available. The information collected by the questionnaire is then processed and evaluated using SPSS 24, a descriptive statistical system. The findings of this study showed that the training did not have a positive or significant impact on the performance of employees at the Bantul trade service. The absence of training offered by the Department to each employee affects this issue. Self-efficacy and creative problem solving, on the other hand, have a beneficial and considerable impact on employee performance. To improve employee performance at the Bantul Trade Office, training, self-efficacy, and creative problem solving must be maximized through suitable training and education for staff.
References
Anggapraja, Indra Taruna. 2016. "Pengaruh Penerapan Knowledge Management Dan Pengembangan Sumber Daya Manusia Terhadap Kinerja Karyawan PT Telkom Tbk. (Studi Explanatory Survey Pada Karyawan Unit Human Capital Management PT Telkom Tbk.).†Jurnal Aplikasi Manajemen 14(1): 140–46.
Antonio, Tony, Sri Lanawati, T.A. Wiriana, and Lucya Christina. 2014. "Correlations Creativity, Intelligence, Personality, and Entrepreneurship Achievement.†Procedia - Social and Behavioral Sciences 115(Iicies 2013): 251–57. http://dx.doi.org/10.1016/j.sbspro.2014.02.433.
Barba Aragón, María Isabel, Daniel Jiménez Jiménez, and Raquel Sanz Valle. 2014. "Training and Performance: The Mediating Role of Organizational Learning.†BRQ Business Research Quarterly 17(3): 161–73.
Beattie, Stuart, Tim Woodman, Mohammed Fakehy, and Chelsey Dempsey. 2016. "The Role of Performance Feedback on the Self-Efficacy-Performance Relationship.†Sport, Exercise, and Performance Psychology 5(1): 1–13.
Hartanti, Hennry. 2018. "Pengaruh Kompetensi, Disiplin Kerja, Pendidikan Dan Pelatihan Terhadap Kinerja Pegawai Pada Dinas Perdagangan Bantul.†Tesis: 74.
Hidayat, Herman, and Ivan Aries Setiawan. 2018. "PENGARUH SELF ESTEEM DAN SELF EFFICACY TERHADAP KINERJA KARYAWAN (Studi Pada Karyawan PT. Tomo Food Industri, Sumedang) Herman.†Sains Manajemen dan Akuntansi VIII(2): 65–85.
Hidayatun, Nunung. 2016. "Problem Solving Sistem Penggajian Karyawan Dalam Manajemen Operasional Komputer Menggunakan Pendekatan Sistem.†Ijcit 1(2): 1–9. https://ejournal.bsi.ac.id/ejurnal/index.php/ijcit/article/view/1320.
Iii, B A B. 2013. "Aini Qurrotullain, 2013 Penggunaan Metode Preview, Resd, Summarre, Test (PQRST) Dalam Meningkatkan Kemampuan Pada Siswa Tunarungu Universitas Pendidikan Indonesia | Repository.Upi.Edu | Perpustakaan.Upi.Edu.â€
Kurniawan, Muhammad. 2019. "Faktor-Faktor Yang Mempengaruhi Prestasi Kerja Karyawan Pada PT. Excelcomindo Engineering IndonesiaSumatera.†Jurnal Media Wahana Ekonomika 15(3): 39.
Rosliani, Sri Mawar. 2017. "Pengaruh Pemberian Reward and Punishment Terhadap Motivasi Belajar Siswa Kelas X Pada Mata Pelajaran Pkn Di Sma Pasundan 3 Bandung.†NASPA Journal 33: 26–36.
Shamoon, Sumaira, Sukena Sadia, and Saiqa Tehseen. 2011. "Interdisciplinary Journal of Contemporary Research in Business.†Ijcrb: 653.
Shaukat, Hafsa, Namrah Ashraf, and Shahzad Ghafoor. 2015. "Impact of Human Resource Management Practices on Employees Performance.†23(2): 329–38.
Sitzmann, Traci, and Gillian Yeo. 2013. "A Meta-Analytic Investigation of the Within-Person Self-Efficacy Domain: Is Self-Efficacy a Product of Past Performance or a Driver of Future Performance?†Personnel Psychology 66(3): 531–68.
Strawberry, Ekstrak Buah. 2018. "Jurnal Manajemen Dan Bisnis MEDIA EKONOMI, Volume XVIII, No. 2 Juli 2018.†XVIII(2): 144–52.
STYORO CAHYO WIBOWO, AGUS. 2013. "Pengaruh Pelatihan Dan Kreativitas Terhadapkinerja Karyawan Bagian Teknisi Pada Pt. Perusahaan Listrik Negara (Persero)Area Bojonegoro.†Jurnal Ilmu Manajemen (JIM) 1(4).
WIDYAWATY MASHAR. 2014. "Jurnal Pengaruh Pelatihan Terhadap Prestasi Kerja Pegawai Pada Inspektorat Kabupaten Rokan Hulu.†Jurnal pengaruh pelatihan terhadap prestasi kerja pegawai pada inspektorat kabupaten rokan hulu: 151.
Zaki, Waqas, Asad Ali, Abou Bakar, and Bilal Sarwar. 2019. "Role of Self-Efficacy in the Relationship of Training and Employee Performance.†Paradigms 13(1): 67–74.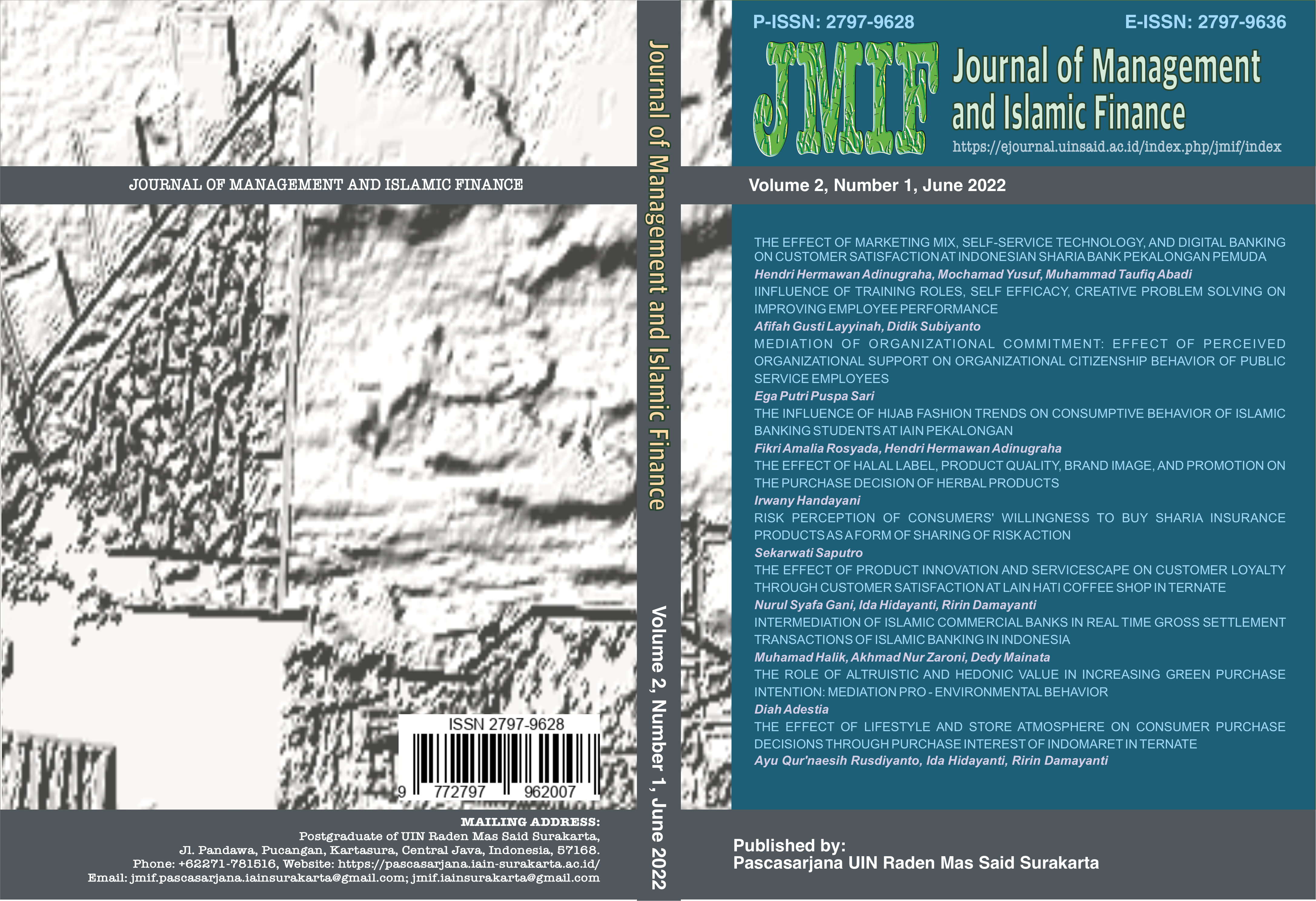 Downloads
License
Copyright (c) 2022 Afifah Gusti Layyinah, Didik Subiyanto
This work is licensed under a Creative Commons Attribution-ShareAlike 4.0 International License.
Authors who publish with this journal agree to the following terms:
Authors retain copyright and grant the journal right of first publication with the work simultaneously licensed under a Creative Commons Attribution License that allows others to share the work with an acknowledgement of the work's authorship and initial publication in this journal.
Authors are able to enter into separate, additional contractual arrangements for the non-exclusive distribution of the journal's published version of the work (e.g., post it to an institutional repository or publish it in a book), with an acknowledgement of its initial publication in this journal.
Authors are permitted and encouraged to post their work online (e.g., in institutional repositories or on their website) prior to and during the submission process, as it can lead to productive exchanges, as well as earlier and greater citation of published work.