IMPLEMENTATION OF QUALITY FUNCTION DEPLOYMENT (QFD) IN UD. PRODUCTION FURNITURE TO DESIGN SCANDINAVIAN STYLE WARDROBE PRODUCTS
Abstract
The product is an important aspect for the company because it is what the company can produce for consumers. The products created by the company must meet consumers' wants and needs. Therefore, consumer's wants and needs are important aspects of the company that can be reviewed to improve product quality at the company. This study aims to determine the implementation of the Quality Function Deployment (QFD) method as a problem-solving solution in designing Scandinavian-style wardrobe products at UD. Furniture Production. This research was conducted using a quantitative method with a few qualitative methods to conduct a survey related to the voice of desire and consumer satisfaction. This data collection technique used interview methods and questionnaires. Meanwhile, the sampling technique used a non-probability sampling technique, namely consumers or customers from UD. Furniture Production.
References
Afnina, A., & Hastuti, Y. (2018). Pengaruh Kualitas Produk terhadap Kepuasan Pelanggan. Jurnal Samudra Ekonomi Dan Bisnis, 9(1), 21–30. https://doi.org/10.33059/jseb.v9i1.458
Apriyani, D, A., & Sunarti. (2017). Pengaruh Kualitas Pelayanan Terhadap Kepuasan Konsumen (Survei pada Konsumen The Little A Coffee Shop Sidoarjo). Jurnal Administrasi Bisnis (JAB)|Vol, 51(2), 1–7. www.bisnissurabaya.com
Ato'Illah, M. (2015). Analisis Pengembangan Produk untuk Meningkatkan Volume Penjualan Pupuk. WIGA: Jurnal Penelitian Ilmu Ekonomi, 5(1), 68–73.
Azizah, I. N., Lestari, R. N., & Purba, H. H. (2018). Penerapan Metode Quality Function Deployment dalam Memenuhi Kepuasan Konsumen pada Industri Komponen Otomotif. Jurnal Teknik Industri, 19(2), 127. https://doi.org/10.22219/jtiumm.vol19.no2.127-136
Indriani, F. (2006). Studi Mengenai Orientasi Inovasi, Pengembangan Produk Dan Efektifitas Promosi Sebagai Sebuah Strategi Untuk Meningkatkan Kinerja Produk. Jurnal Studi Manajemen Dan Organisasi, 3(2), 82–92. http://ejournal.undip.ac.id/index.php/smo
Joegijantoro, R. (2012). Penerapan Quality Function Deployment(QFD) Untuk Mengembangkan Kualitas Pelayanan Rawat Jalan Berorientasi Pelanggan Di Rumah Sakit Paru-Paru. Jurnal Ilmiah Kesehatan Media Husada, 1(1), 65–75. https://doi.org/10.33475/jikmh.v1i1.82
Kasan, A., & Yohanes, A. (2017). Improvement Produk Hammock Sleeping Bag dengan Metode Quality Function Deployment (QFD). Dinamika Teknik, 10(1), 40–49.
Kotler, P., & Armstrong, G. M. (2012). Principles of Marketing. Pearson Prentice Hall.
Kotler, P., & Keller, K. L. (2008). Manajemen Pemasaran (1st ed.). Erlangga.
Kurnia, M., & Suwiknyo, M. (2018). Kepuasan Konsumen: Faktor-Faktor Yang Mempengaruhi. BALANCE: Economic, Business, Management and Accounting Journal, 15(01). https://doi.org/10.30651/blc.v15i01.1264
Lantos, G. P., Brady, D. L., & Mccaskey, P. H. (2009). New product development: An overlooked but critical course. Journal of Product and Brand Management, 18(6), 425–436. https://doi.org/10.1108/10610420910989749
Nailuvary, S., Ani, H. M., & Sukidin, S. (2020). Strategi Pengembangan Produk pada Handicraft Citra Mandiri di Desa tutul Kecamatan Balung Kabupaten Jember. Jurnal Pendidikan Ekonomi Jurnal Ilmiah Ilmu Pendidikan, Ilmu Ekonomi Dan Ilmu Sosial, 14(1), 185. https://doi.org/10.19184/jpe.v14i1.11872
Natsir, K. (2018). Faktor-Faktor Yang Mempengaruhi Kepuasan Konsumen Apartemen Mediterania Garden Residence Di Jakarta Barat. Jurnal Muara Ilmu Ekonomi Dan Bisnis, 2(1), 164–173.
Nurochim, S., Rahman As'ad, N., & Nana Rukmana, A. (2019). Perancangan Produk Waistbag dengan Menggunakan Metode Quality Function Deployment ( QFD ) ( Studi Kasus : Home Industry Kindustries ). Prosiding Teknik Industri, Vol 5, No, 188–200.
Purnomo, B., & Purnomo, B. R. (2017). Pengembangan Produk dan Inovasi Produk pada Teh Hijau Cap Pohon Kurma (Studi pada PT Panguji Luhur Utama). Jurnal Maksipreneur: Manajemen, Koperasi, Dan Entrepreneurship, 6(2), 27. https://doi.org/10.30588/jmp.v6i2.300
Putra, H., & Irwansyah. (2021). Perancangan Interior Masjid Pasujudan Jannatun Naim Dengan Konsep Skandinavia. Jurnal FSD, 2(1), 1–11.
Rahman, A., & Supomo, H. (2012). Analisa Kepuasan Pelanggan pada Pekerjaan Reparasi Kapal dengan Metode Quality Function Deployment (QFD). Jurnal Teknik ITS, 1(1), G297--G302.
Santoso, J. B. (2019). Pengaruh Kualitas Produk, Kualitas Pelayanan, dan Harga terhadap Kepuasan dan Loyalitas Konsumen. Jurnal Akuntansi Dan Manajemen, 16(01), 127–146. https://doi.org/10.36406/jam.v16i01.271
Suryaningrat, I.B Djumarti Ruriani, E., & Kurniawati, I. (2010). Aplikasi Metode Quality Function Deployment (QFD) Untuk Peningkatan Kualitas Produk Mie Jagung. Argotek, 4(1), 8–17. http://jurnal.unej.ac.id/index.php/JAGT/article/view/2309
Tarigan, C. A., Machfud, M., & Safari, A. (2019). Pengembangan Produk Baru Untuk Mendukung Strategi Bisnis Perusahaan Mineral Industrial (Studi Kasus: Pt. Xyz). Jurnal Aplikasi Bisnis Dan Manajemen, 5(3), 397–409. https://doi.org/10.17358/jabm.5.3.397
Ulrich, D. (1998). Intellectual capital= competence x commitment. Sloan Management Review, 39(2), 15.
Yustian. (2015). Analisis Pengembangan Produk Berbasis Quality Function Deployment (QFD). Jurnal Ekonomi Dan Bisnis, XVIII(3), 23–42.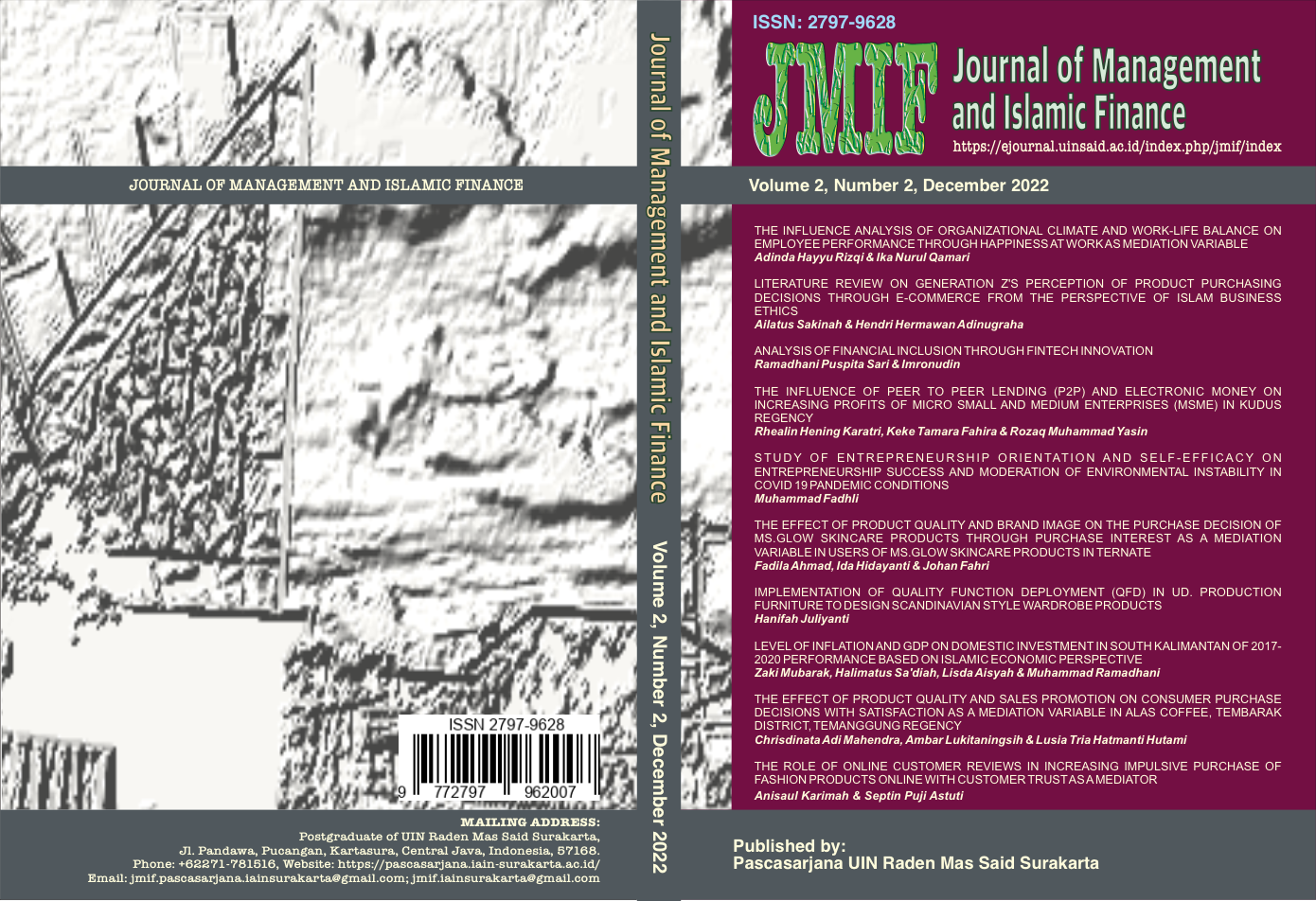 Downloads
License
Copyright (c) 2022 Hanifah Juliyanti
This work is licensed under a Creative Commons Attribution-ShareAlike 4.0 International License.
Authors who publish with this journal agree to the following terms:
Authors retain copyright and grant the journal right of first publication with the work simultaneously licensed under a Creative Commons Attribution License that allows others to share the work with an acknowledgement of the work's authorship and initial publication in this journal.
Authors are able to enter into separate, additional contractual arrangements for the non-exclusive distribution of the journal's published version of the work (e.g., post it to an institutional repository or publish it in a book), with an acknowledgement of its initial publication in this journal.
Authors are permitted and encouraged to post their work online (e.g., in institutional repositories or on their website) prior to and during the submission process, as it can lead to productive exchanges, as well as earlier and greater citation of published work.