THE EFFECT OF HALAL LABEL, PRODUCT QUALITY, BRAND IMAGE, AND PROMOTION ON THE PURCHASE DECISION OF HERBAL PRODUCTS
Keywords:
Halal label, Product quality, Brand image, Promotion, Purchase decision, HNI-HPAI
Abstract
Study this aim for know effect of halal label, quality product, image brand and promotion to decision purchase herbal product international network herbal antidote to al wahida Indonesia (HNI-HPAI) marketing area of Bolon Colomadu Karanganyar. Study this use approach quantitative with population inhabitant Bolon Colomadu village Karanganyar , sample taken with use formula slovin and technique taking sample use random sampling . Data analysis with using multiple linear regression model. Research results this by Partial influential variable only promotion whereas by Partial halal label variable , quality product , and image brand influential no significant to decision purchase HNI-HPAI products in the Colomadu Bolon Marketing Area Karanganyar.
References
Alfian, I., & Marpaung, M. (2017). Analisis Pengaruh Label Halal, Merk dan Harga terhadap Keputusan di Kota Medan. At-Tawassuth, 2(1), 122–145.
Desmayonda, A., & Trenggana, A. F. M. (2019). Pengaruh Label Halal Terhadap Keputusan Pembelian Dengan Religiusitas Sebagai Variabel Intervening Di Mujigae Resto Bandung. Ekonomi Dan Bisnis, 12(1), 1–95.
Effendi, Z. R., Endri, S., & Nursina. (2020). Pengaruh Citra Merek, Kualitas Produk Dan Promosi Terhadap Keputusan Pembelian Minuman Isotonik Mizone. Ekonomika, 5(March), 25–27.
Fauziah, S., & Amin, N. H. Al. (2021). The Influence of Product Knowledge, Religiusity, Halal Awareness of Purchasing Decisions on Halal Products With Attitude as A Mediation Variable. Journal of Management and Islamic Finance, 1(1), 75–90.
Febrianto, F. X. (2019). Pengaruh harga, kualitas produk, dan pelayanan terhadap keputusan pembelian produk. http://repository.usd.ac.id/id/eprint/35186
Fure, F., Lapian, J., & Taroreh, R. (2015). Pengaruh Brand Image, Kualitas Produk, Harga Terhadap Keputusan Pembelian Konsumen Sari Roti. Jurnal EMBA, 3(1), 367–377. https://doi.org/10.21831/jim.v11i2.11788
Ganesha, T. P., Rinanda, S., & Sanjaya, V. F. (2020). Pengaruh Harga , Kualitas Produk , Dan Kepuasan Konsumen. Jurnal Enterpreneur Dan Bisnis (JEBI), 1(2), 129–136.
Halimatus, S., & Rafikasari, E. F. (2022). Pengaruh Labelisasi Halal, Citra Merek dan Kualitas Informasi Terhadap Keputusan Pembelian Produk Scarlett Whitening. Maro; Jurnal Ekonomi Syariah Dan Bisnis, 5(1), 129–136.
Kotler, P., & Armstrong, G. M. (2012). Principles of Marketing. Pearson Prentice Hall.
Kotler, P., & Keller, K. L. (2008). Manajemen Pemasaran (1st ed.). Erlangga.
Muhammad. (2008). Metodologi Penelitian Ekonomi Islam. Jakarta: Rajawali Pers.
Njoto, D. P., & Sienatra, K. B. (2018). Pengaruh Promosi Terhadap Keputusan Pembelian Konsumen Wenak Tok. PERFORMA: Jurnal Manajemen Dan Start-Up Bisnis, 3(5), : 612-618.
Nurnaningtias, M., & Aswad, M. (2020). Pengaruh Labelisasi Halal dan Brand Ambassador Terhadap Keputusan Pembelian Mie Instan Pada Generasi Z Di Kabupaten Tulungagung. Jurnal Manajemen Dan Ekonomi, 3(2), 2620–7680. http://repository.usu.ac.id
Ong, I. A., & Sugiharto, S. (2013). Analisa Pengaruh Strategi Diferensiasi, Citra Merek, Kualitas Produk Dan Harga Terhadap Keputusan Pembelian Pelanggan Di Cincau Station Surabaya. Manajemen Pemasaran, 1(2), 1–11.
Prasetya, D. E., & Farida, N. (2021). Pengaruh Brand Image Dan Service Quality Terhadap Repurchase Intention Melalui Cutomer Value Sebagai Variabel Intervening (Studi pada Pengguna Jasa Bus PT Pahala Kencana Cabang Kudus Jurusan Kudus-Jakarta Kelas Eksekutif). Jurnal Administrasi Bisnis, X(1), 697–706. https://ejournal3.undip.ac.id/index.php/jiab/article/view/29732
Prastya, Y., & Suryadi. (2020). Pengaruh Labelisasi Halal dan Citra Merek terhadap Keputusan Pembelian Produk Mie Korea pada Konsumen di Kota Metro. Jurnal Manajemen Diversifikasi, 1(1), 1–11.
Putra, G. P. (2017). Pengaruh Kualitas Produk Terhadap Keputusan Pembelian dan Dampaknya Terhadap Kepuasan Konsumen (Survei pada Mahasiswa Administrasi Bisnis Fakultas Ilmu Administrasi angkatan 2013 dan 2014 Universitas Brawijaya yang Melakukan Pembelian Paket Data Kampus). Jurnal Administrasi Bisnis/JAB, 48(1), 124–131.
Rakhmawati, A. (2018). Pengaruh Label Halal dan Religiusitas Terhadap Minat Beli dan Keputusan Pembelian Studi Pada Wardah Beauty House Surabaya. Sketsa Bisnis, 5(1), 49–59.
Safitri, A. N. (2021). Pengaruh brand image, persepsi harga dan kualitas layanan terhadap minat beli ulang pada Lazada. Entrepreneurship Bisnis Manajemen Akuntansi (E-BISMA), 1(1), 1–9. https://doi.org/10.37631/e-bisma.v1i1.212
Sari, R. L., Mandey, S. L., & Soegoto, A. S. (2014). Citra Merek, Harga dan Promosi Pengaruhnya Terhadap Keputusan Pembelian Perhiasan Emas Pada PT. Pegadaian (Persero) Cabang Manado Utara. Jurnal EMBA, 2(2), 1222–1232.
Subandi, S., & Hamid, M. S. (2021). Student Satisfaction, Loyalty, and Motivation As Observed From the Service Quality. Journal of Management and Islamic Finance, 1(1), 136–153. https://doi.org/10.22515/jmif.v1i1.3552
Sugiono. (2017). Metode Penelitian Kuantitatif, Kualitatif, Dan R&D. Alfabeta.
Susanti, E., Nilam, S., & Khairul, A. (2018). Pengaruh Labelisasi Halal Terhadap Keputusan Pembelian Makanan Kemasan (Studi Kasus Pada Mahasiswa Fakultas Ekonomi Dan Bisnis Islam). Jurnal Ekonomi Dan Bisnis Syariah, 2(1), 44–50.
Wulansari, R. (2019). Pengaruh Promosi Terhadap Keputusan Pembelian Pada PT. Boga Sejahtera Di Cikarang. Jurnal Ekonomi Efektif, 1(4), 255. https://doi.org/10.32493/jee.v1i4.10706
Zahroq, E. L., & Asiyah, B. N. (2022). Analisis Penentu Keputusan Pembelian dan Implikasinya Terhadap Minat Beli Ulang Pada Pengguna Shopee Generasi-Z. Juremi: Jurnal Riset Ekonomi, 2(1), 83–98.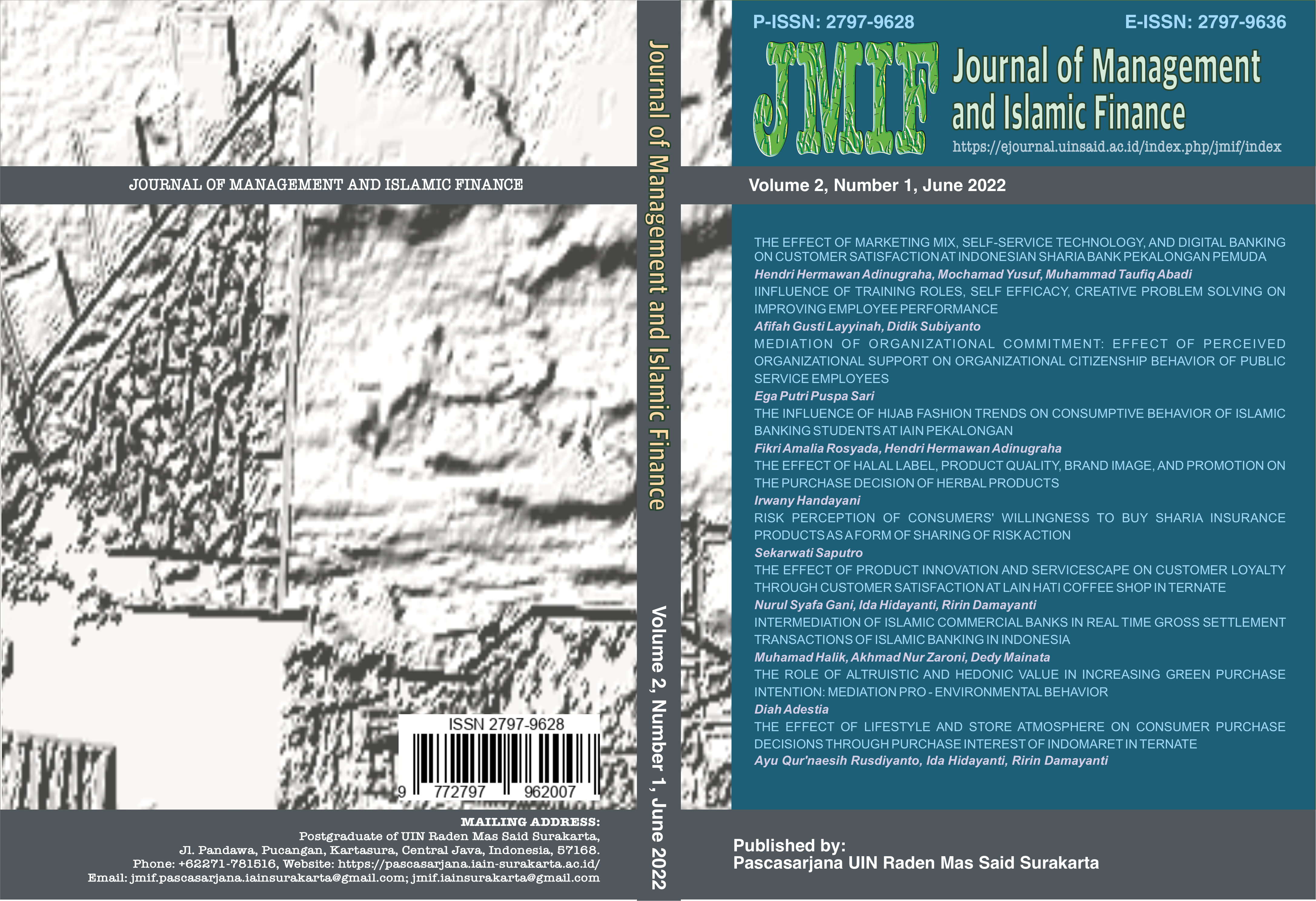 Downloads
License
Copyright (c) 2022 Irwany Handayani
This work is licensed under a Creative Commons Attribution-ShareAlike 4.0 International License.
Authors who publish with this journal agree to the following terms:
Authors retain copyright and grant the journal right of first publication with the work simultaneously licensed under a Creative Commons Attribution License that allows others to share the work with an acknowledgement of the work's authorship and initial publication in this journal.
Authors are able to enter into separate, additional contractual arrangements for the non-exclusive distribution of the journal's published version of the work (e.g., post it to an institutional repository or publish it in a book), with an acknowledgement of its initial publication in this journal.
Authors are permitted and encouraged to post their work online (e.g., in institutional repositories or on their website) prior to and during the submission process, as it can lead to productive exchanges, as well as earlier and greater citation of published work.