ANALYSIS OF ROE AND BOPO OF INDONESIA SHARIA BANK COMPANY ON FINANCIAL PERFORMANCE: USING EVIEWS 9
Keywords:
ROE, BOPO, Stock Price, Indonesia Sharia Bank
Abstract
This research is motivated by the merger between Bank Rakyat Indonesia Sharia (BRIS) company which change into Indonesia Sharia Bank (BSI) company. Several factors influence it, one of which is the stock price. This share price is also influenced by financial ratios including ROE and BOPO. ROE and BOPO have reports that are very influential on BSI's share price because in sharia banking reports the second value has a significant value in the financial statements in the quarter when BRIS merged into BSI. This type of research was a quantitative descriptive research. The company was Indonesia Syaria Bank company. The data used in this research was secondary data in the form of time series data obtained from the financial reports of Indonesia Syaria Bank company. The analysis technique used  multiple linear regression analysis with the help of the Eviews 9 program. The results show that simultaneously the ROE and BOPO financial ratios have a significant effect on stock prices. Partially, the financial ratio variable ROE has an effect but not significantly on stock prices. Meanwhile, the financial ratio variable BOPO partially has a negative and significant effect on stock prices.
References
Ang, R. (1997). Pasar Modal Indonesia. Mediasoft Indonesia.
Anoraga, P. (2000). Pengantar Pasar Modal (Revisi). PT. Rineka Cipta.
Arifin, A. (2002). Membaca Saham. Deepublish.
Bangun, N., & Hardiman, S. (2012). Analisis Pengaruh Profitabilitas, Cash Position, Debt to Equity Ratio (Debt), dan Kesempatan Investasi Terhadap Kebijakan Deviden Pada Perusahaan Manufaktur yang Terdaftar di Bursa Efek Indonesia (BEI) Pada Tahun 2008-2010. Journal of Capital Market and Banking, 1(2).
Dewi, R., & Wahyudi, S. (2012). Analisis Pengaruh Rasion Keuangan dan Makro Ekonomi Terhadap Harga Saham pada Perusahaan LQ 45 yang Terdaftar di BEI Tahun 2007-2011. Diponegoro Journal of Management, 1(1).
Harianto, S. (2017). Rasio Keuangan Dan Pengaruhnya Terhadap Profitabilitas Pada Bank Pembiayaan Rakyat Syariah Di Indonesia. Esensi: Jurnal Bisnis Dan Manajemen, 7, 41–48. https://doi.org/10.15408/ess.v7i1.4076
Hartono, J. (2008). Teori Portofolio dan Analisis Investasi (5th ed.). BPFE.
Husnan, S. (1998). Dasar-Dasar Teori Portofolio dan Analisis Sekuritas (5th ed.). UPP STIM YKPN.
Irawati, S. (2006). Manajemen Keuangan. Pustaka.
Lestari, W. D., & Sari, D. E. (2013). Analisis Pengaruh Rasio Profitabilitas Terhadap Harga Saham Pada Perusahaan Perbankan Yang Terdaftar di Bursa Efek Indonesia tahun 2008-2010. Proceeding Seminar Nasional Dan Call for Papers Sancall.
Mulyadi. (2012). Akuntansi Biaya. UPP STIM YKPN.
Munawir, S. (2012). Analisis Informasi Keuangan. Liberty.
Noviyanti, A. D., & Rusnaeni, N. (2021). Pengaruh Return On Equity Dan Net Profit Margin Terhadap Harga Saham Pada PT. Ace Hardware Indonesia Tbk. KREATIF : Jurnal Ilmiah Prodi Manajemen Universitas Pamulang, 9(1), 20–26.
Pahlevi, C., & Anwar, V. (2022). Rasio Keuangan dalam Pendekatan Modal Intelektual Kapital dan Struktur Modal. Pacal Books.
Putri, G. D. (2016). Pengaruh Kinerja Keuangan Terhadap Harga Saham Perbankan Yang Listing Di Bei Periode 2013-2015. Jurnal Ilmiah Mahasiswa FEB, 4(2).
Rolianah, W. S., Miftahurrahman, & Sari, D. (2021). Analisis Rasio Keuangan Bank Pembiayaan Rakyat Syariah Sebelum Dan Selama Pandemi Covid-1. Iqtishaduna, 12(2), 136149.
Susilowati, W. T., & Siregar, B. (2022). Apakah rasio keuangan perbankan berdampak pada penilaian kesehatan bank syariah? AKUNTABEL: Jurnal Akuntansi Dan Keuangan, 19(2), 209–219. https://doi.org/10.29264/jakt.v19i2.11080
Widiadmojo, S. (2000). Cara Sehat Investasi di Pasar Modal (Pengetahuan Dasar). PT. Jurnalindo Aksara Grafika.
Zahra, S. (2019). Analisis Perbandingan Harga Saham Dan Volume Perdagangan Saham Sebelum Dan Sesudah Stock Split Dalam Prespektif Ekonomi Islam (Studi Pada Perusahaan Manufaktur Sektor Industri Dasar & Kimia Yang Terdaftar Di Index Saham Syariah Indonesia Tahun 2013-2017). Universitas Islam Negeri Raden Intan Lampung.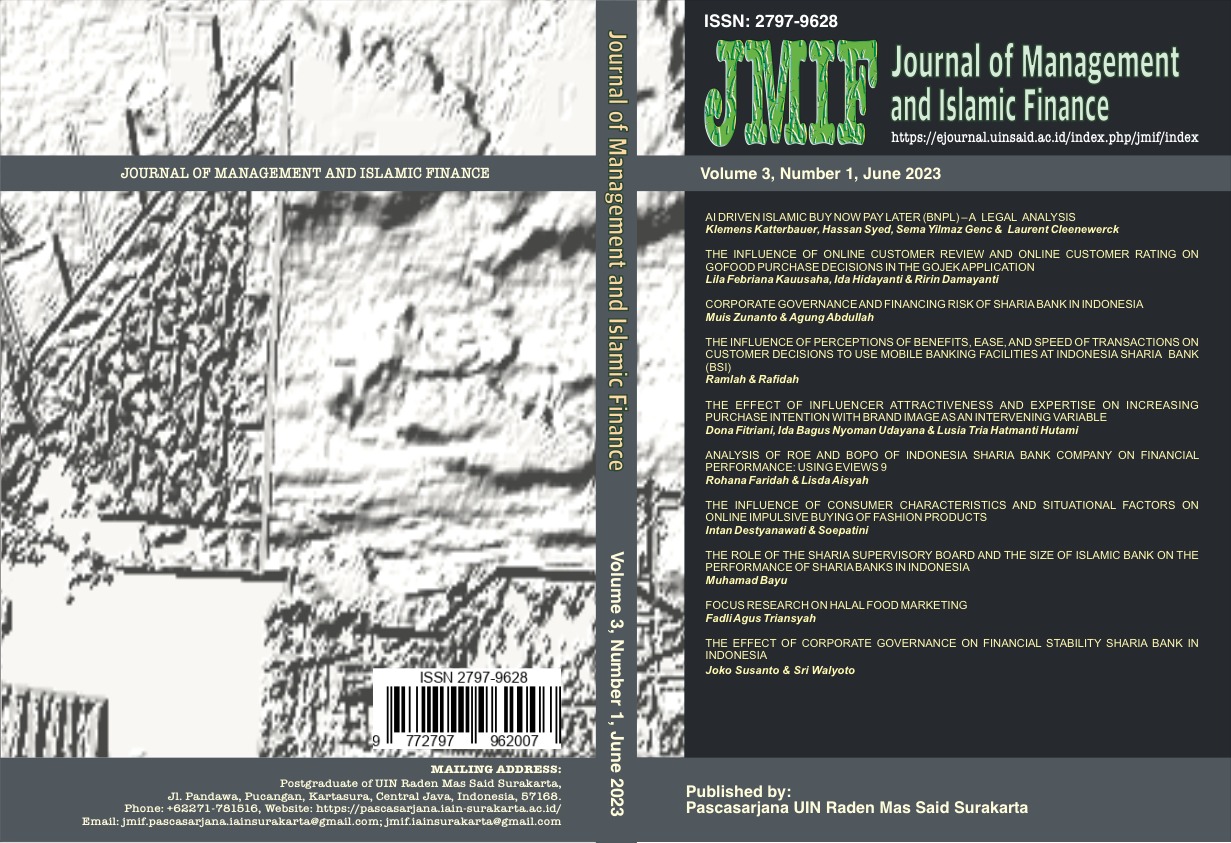 Downloads
License
Copyright (c) 2023 Rohana, Lisda Aisyah
This work is licensed under a Creative Commons Attribution-ShareAlike 4.0 International License.
Authors who publish with this journal agree to the following terms:
Authors retain copyright and grant the journal right of first publication with the work simultaneously licensed under a Creative Commons Attribution License that allows others to share the work with an acknowledgement of the work's authorship and initial publication in this journal.
Authors are able to enter into separate, additional contractual arrangements for the non-exclusive distribution of the journal's published version of the work (e.g., post it to an institutional repository or publish it in a book), with an acknowledgement of its initial publication in this journal.
Authors are permitted and encouraged to post their work online (e.g., in institutional repositories or on their website) prior to and during the submission process, as it can lead to productive exchanges, as well as earlier and greater citation of published work.